Empire: Small Town, Big View, Big Heart
Have you ever heard of Empire? Many outside of Michigan probably have not. Locals can even be found bragging about Empire's slow pace of life in the heart of the awe-inspiring Sleeping Bear Dunes National Lakeshore. Real people of all walks of life (just shy of 400 of them) live year 'round in Empire, more come just for the summer. And who can blame them?
Photo Courtesy of Experience 231
It's one of those places you think just exists in stories. Stunning natural beauty in all four seasons, friendly shop owners selling gourmet chocolate, freshwater surf boards and bikes, antiques, local art and of course, great burgers, whitefish, perch and ice cream. But there's something about the people and environment here that draws you in and makes you never want to go back home. The community is known for working hard together to make a living while at the same time enjoying themselves, creating a quirky community and not taking life too seriously.
These are the people who cut a big hole in the ice in February and jump in and come together to celebrate spring's coming and its first local crop with the renowned Empire Asparagus Festival. Parades in Empire "are so nice, they go around twice." All we've got is time some days so why not?

There's incredible beauty to be found in Empire no matter the season
Locals migrate west down to the public beach right on
Lake Michigan
for sunsets in the summer, almost the latest one in the eastern time zone. After looking for the infamous green flash as the sun dips below the horizon, bonfires are built and people gather to sing songs of Great Lakes pirates, rogue waves and the Edmund Fitzgerald.
Surely you'll come for the incredible Lake Michigan waves to surf, shallows of North Bar, Platte or Otter Creek to play all day and possibly pick up a skim board habit, miles of epic trail to
hike
,
bike
,
ski
or
horseback ride
and the incredibly legendary vistas of Dunes and Caribbean-like azure and emerald water, but it's the people you'll meet in the businesses and walking down the street that will get you wondering, "people get to live here too? Lucky."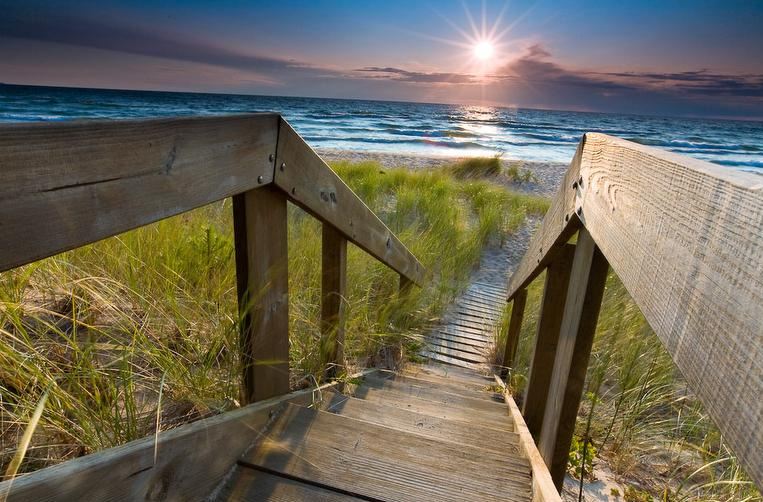 Photo Courtesy of Chris Arace
So don't just tell your friends about the green flash, the parade that goes around twice or the miles of sugar sand beach...experience it for yourself.
What do you love most about Empire? Share with us by commenting below!