Every year, Steve Slack, a contributing writer for
Michigan Travel Ideas
, vacations with his family along the shore of Lake Michigan.This trip, they drove an RV and based their vacation in Muskegon, spending two days at Michigan's Adventure, then exploring regional state parks and the downtown area
.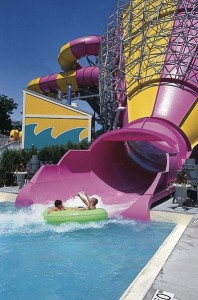 Michigan's Adventure - The Funnel of Fear
Despite gas prices, RVing can still be one of the best bargains for extended getaways—RV park rates cost half of most hotel rooms. Cable, Wi-Fi, a heated pool and a climbing wall keep the kids happy at the Duck Creek RV Resort, directly across the road from Michigan's Adventure.
I'm not sure who's more excited—me or the kids—to ride the terrifying Thunderhawk and rattling Shivering Timbers wooden coaster, just two of more than 60 rides, but we make a goal to try every ride at least once. We love the Grand Rapids, a wild raft ride that shoots through waterfalls and around geysers before careening into a rocky canyon. There's barely time to dry off before the kids convince us to try another soaking ride, which launches us through a 300-foot tunnel into the appropriately named Funnel of Fear. After two days, we're exhausted! We tried almost every ride (our favorites more than once!) and even caught some surf in the wave pool in the adjacent water park, Wild Water Adventure.
The remainder of the week, we take it easy and explore the downtown and area state parks. Nature trails at
P.J. Hoffmaster State Park
and the natural history exhibits at the
Gillette Nature Center
inside the park are my wife's favorite, and to make the kids happy we cool off at
Duck Lake State Park
in Whitehall (north of
Muskegon
). As dusk falls we find an activity that everyone enjoys (although the kids claim we're embarrassing them)—a double feature at the
Getty 4 Drive-In
, which first opened in 1949.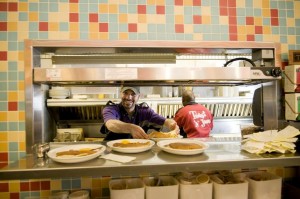 Toast 'N Jams
Breakfast the next morning is memorable at quirky, colorful
Toast 'N Jams
, a restaurant south of downtown
Muskegon
with '50s-era decor and a hearty menu with creative omelets. After breakfast, we head to
Muskegon's
harbor to explore the
USS LST393
, the transport ship that carried infantrymen to the beaches of Normandy. The six decks and engine room are chock-full of memorabilia, plus there's a small museum of WWII artifacts.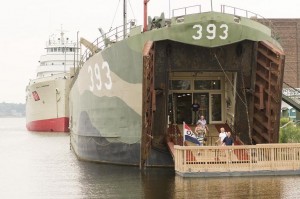 USS LST393
The last meal of the trip was at the
Muskegon Athletic Club
, a family-style restaurant in downtown where the initials MAC provide justification for the seven different macaroni and cheese dishes on the menu. While we wait for our food, I challenge the kids to several rounds of Wii bowling—and lose. Oh well, perhaps next time.
Every summer, I look forward to vacationing along the Lake Michigan shore, and every summer, my "favorite" place seems to change. Right now, it's
Muskegon
.
Steve Slack writes for Midwest Living, Condé Nast Traveler, Food and Wine, Spirit and several in-flight magazines and guide books.