Five Great Lakes in 24 Hours
Kathryn Kinville and Shelby Kear are two proud Michiganders who met in college. They recently took on the challenge of conquering all five Great Lakes in one day. Today, Kathryn shares their adventure on our blog.
Shelby Kear and I have been friends since 2003 when we met our freshman year at Aquinas College in Grand Rapids. Shelby is from
Petoskey
and I am from
Northville
, and we are both proud to be called Michiganders! When Shelby saw someone wearing a t-shirt that said, "I swam in all five great lakes in one day," we knew what we had to do – a great adventure to all the Great Lakes. And what a perfect day: 5-24-2012, 5 great lakes in 24 hours!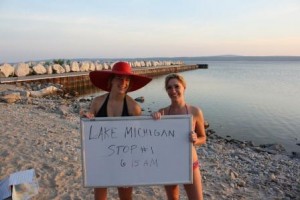 The Chevy Equinox was packed with beach towels, swimsuits, and a cooler full of Guernsey Farm Dairy Chocolate Milk and water. Waking up at 5:45 a.m., we grabbed a quick breakfast, brushed our teeth, and put on our swimsuits. By 6:15, we were at stop number one – beautiful
Lake Michigan
. Let's just say there was no need for coffee; the chilly water woke us right up!
Stop number two was
Lake Superior
at 8:30 a.m. in
Sault Ste. Marie
. The water was low so we had far to walk until the water was deep enough to swim. By that time our toes were popsicles, but we still managed to go under water and swim around. It was a beautiful morning, but we couldn't stay long, as we still had three more lakes to swim in that day.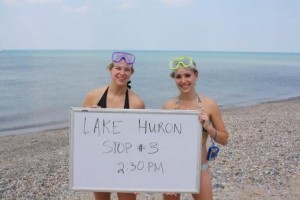 The longest drive of the trip was from Sault Ste. Marie to Sarnia, Ontario. We made one stop to get gas, ate our turkey sandwich lunches in the car, and cruised right along. After 5.5 hours we were ready to get out of the car and there was no hesitation getting into the water at
Lake Huron
. It was 2:30 p.m. and the water felt refreshing! It was a hot day and there were many people at the park. It was a perfect beach day, but we couldn't stay. We had places to go and more lakes to swim in.
By 6:00 p.m. we had arrived at Hamilton, Ontario, just in time for rush hour traffic. After a couple of "navigational corrections," we finally found the lake front to swim in Lake Ontario. It had already been 12 hours and we had been to so many amazing places.
The sun was setting over
Lake Erie
at Port Stanley, Ontario at 9:00 p.m. It was beautiful! The water was rejuvenating. We were overjoyed by what we had just accomplished! Something any Michigander would be proud of!
Two friends, 15 hours of driving, 882 miles, swimming in all five
Great Lakes
in one day! Mission Complete!
Along the way there were a few things we learned and some advice we want to share:


Bring a waterproof camera.


Remember cell phones (and GPS on cell phones) do not work in Canada.


The advice my dad gave me, "Don't be shy about it. Don't think how cold the water is, just get in."


Remember your passport.


Enjoy every minute of the trip!


Have you ever thought about taking an adventure like Kathryn and Shelby? For fun information on the Great Lakes, ideas for Michigan road trips and more, visit michigan.org.