Get Your Fall Foliage Fix at Pictured Rocks National Lakeshore
As we say goodbye to summer and welcome the root of fall, we face new explorations of Pure Michigan. Known for its abundance of autumnal colors, the Pictured Rocks National Lakeshore is unique not only for its rock formations and shoreline but also for its hiking trails and waterfalls. Whether you're planning to experience the lakeshore by water or land, there are many ways to get your fall foliage fix.
Read more on four ways to see fall foliage near the Pictured Rocks National Lakeshore.
1. Cruise the Lakeshore
Travel alongside the picturesque 40-mile stretch of vibrantly colored trees, sandy beaches, waterfalls, caverns and rare rock formations on a
Pictured Rocks Cruise
. The clear blue water and red and orange hues of the rocks rising vertically out of the shoreline add a nice touch to the fall foliage that lines the Lakeshore. The tour features the most iconic landmarks of Pictured Rocks including the
East Channel Lighthouse
, Miners Castle, Lovers Leap and other iconic landmarks. This family-friendly cruise also offers complimentary dog kennels on-site for the duration of the cruise. The 2 ½ hour-long cruises are an ideal way to see parts of Pictured Rocks that you cannot see from land.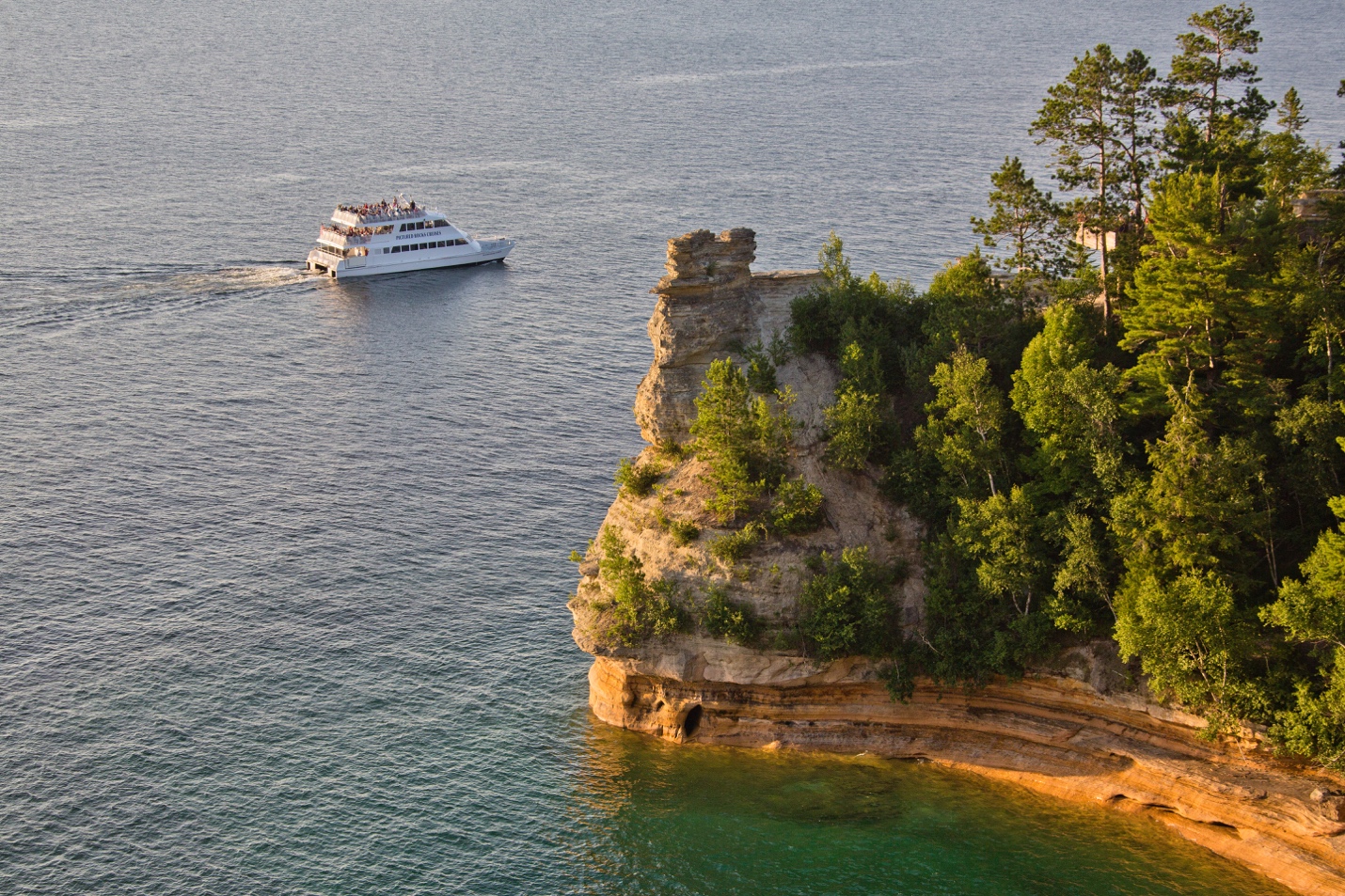 2. Paddle Pictured Rocks
Get up close and personal on a
Pictured Rocks Kayaking
tour of the most iconic stretch of the Lakeshore. On this 5 hour-long tour, you'll get the chance to paddle through caves, under arches, and alongside waterfalls. Glide through the crystal clear water of
Lake Superior
and enjoy the vibrant hues of fall foliage surrounding the Lakeshore. The journey features many landmarks including Miners Castle, Lovers Leap, Rainbow Cave, Indian Head, Gull Rookery, Grand Portal, Chapel Cove and Chapel Rock. Pictured Rocks Kayaking provides all paddling equipment and ensures that paddling will be done with the wind at the paddlers back whenever possible.
3. Hike the Trails
Experience Pictured Rocks from a different perspective. While
hiking
the shoreline, you are at the heart of the fall foliage, with a breathtaking view of Lake Superior below. The Lakeshore offers a variety of recognizable sites to see and should be on every Michigander's bucket list. With over 60 miles of hiking trails within Pictured Rocks National Lakeshore, you'll experience fall color like never before.
Photo Courtesy of Pictured Rocks Cruises
4. Take a Drive
An explosion of vibrant red, orange and gold adds an entirely new dimension to a Pictured Rocks road trip. The route to the Lakeshore offers an astounding look at fall foliage with towering trees and royal blue lakes encompassing most of your drive. With many areas to stop and admire the scenery, you won't mind taking the long route.
Celebrate Pictured Rocks National Lakeshore's 50
th
anniversary this autumn with a cruise, kayak or hike—we guarantee you'll fall in love.
What is your favorite memory from Pictured Rocks National Lakeshore? Share with us by commenting below!
Blog provided by Pictured Rocks Cruises. Follow PRC on Facebook, Twitter, and Instagram!
---