Here's Where to Go and What to Do in Cheboygan
Summertime in Michigan is unlike anything else. Between the waves, beaches and trails, you're sure to make memories that will last a lifetime. There are many areas in particular that make for incredible summer fun, and Cheboygan is near the top of the list. Read more on a few areas, and things to do, when visiting Northeast Michigan this summer and let us know what else you love to do when visiting the area!

Welcome to Cheboygan

At the confluence of the Cheboygan River and Lake Huron sits a community far and away from the hustle and bustle of everyday life. Located on the picturesque Straits of Mackinac, Cheboygan is the gateway to the famous "Inland Waterway" - a navigable series of waterways encompassing three rivers, three lakes and 40+ miles of inland boating pleasure. A cruise from the mouth of the Cheboygan River into Lake Huron can take you to Bois Blanc or Mackinac Islands, both a leisurely boat ride away.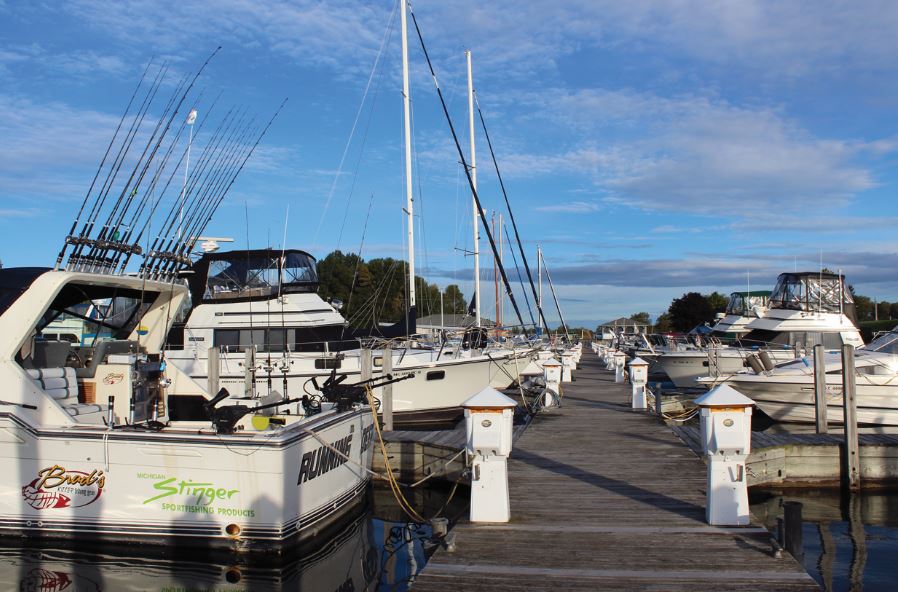 Photo Courtesy of Missy Koszegi

Cheboygan offers opportunities for fishing, hiking, cross country skiing, kayaking, hunting, and numerous other outdoor activities. For those that prefer to stay indoors, our local merchants will warmly welcome you to a variety of novelty shops, retail outlets, entertainment facilities, casual and fine dining, and much more. You will find that our way of life here is warm, genteel, and inviting. Locals will be glad to show you around, give you recommendations, and make your experience memorable. Base your "up north" vacation here and be in the center of all that the area has to offer.

Explore Indian River

Indian River is at the center of all that makes Northern Michigan a treasured vacation destination and place to call home. Indian River, named after the river which flows through it, is nestled between Burt Lake and Mullett Lake along the 40 mile long Inland Waterway. Conveniently located off I-75, 25 miles south of the Mackinaw Bridge, Indian River is a place that visitors of all ages find many pleasures to enjoy during any season of the year. Truly Nature's Mecca, Indian River is the ideal location to boat, fish, hunt, camp, bike, golf, kayak, canoe, raft, tube, stand up paddle board, sail, snowmobile, Off-Road Vehicles (ORV), motorcycle, ski, bird watch, mushroom hunt, hike, skate, dine, and shop. By water or by land, quiet sport or motor, fun with nature is certain with so many activities available to you.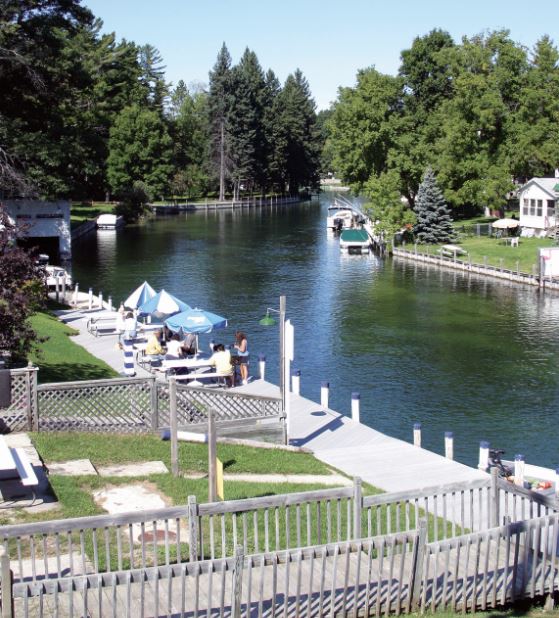 Photo Courtesy of Indian River Chamber of Commerce

Discover Mackinaw City

Historic Mackinaw City is one of Michigan's leading vacation destinations. From world-famous fudge to the impressive beauty of the Straits of Mackinac and Mackinaw City, this "Up North" region offers plenty for visitors. Mackinaw City offers incomparable natural beauty, historical museums, state and local parks and forests, two marinas, boutique shopping, free music concerts, laser light shows, fine dining, and of course, that famous fudge. The Mackinaw City area is the place to come if you appreciate the beauty of nature, adventure and old-fashioned hospitality. Mackinaw City is renowned for its summer beauty, but all four seasons provide countless breathtaking views and numerous activities for all ages. There are beautiful sunrises over Lake Huron, gorgeous sunsets over Lake Michigan, and acres of unspoiled woods filled with numerous wildflowers in the summer and brilliant colors of the fall palette. Marked trails are perfect for hiking, biking, and geocaching.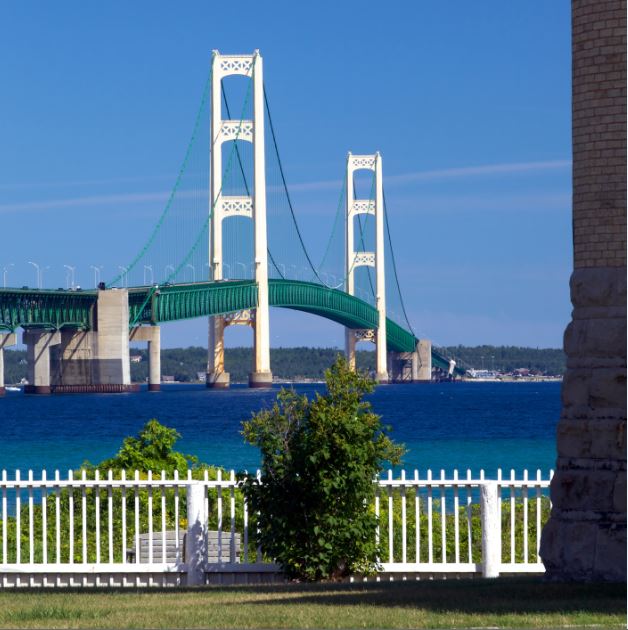 Photo Courtesy of Straits Area Printing

Experience the world-famous inland waterway

Northern Michigan's Inland Waterway offers you a boating trip unlike any in the world. The approximately 42 mile trip takes you through three rivers and three lakes and surrounds you with some of the most beautiful scenery and captivating communities in Michigan. A voyage on the Inland Waterway can begin at the north end in Cheboygan, the middle in Indian River or the south end in Conway. Boat launches are conveniently located at many places along the route. The trip can be made in a day or over a weekend, with the communities of Cheboygan, Topinabee, Aloha, Indian River, Alanson, Oden and Conway all located on the water. Dining, lodging, supplies, and banking facilities can be found in most of these communities. Numerous marinas also dot the Inland Waterway where marine fuel, boat rentals, and ships stores are situated for your convenience. Whether you choose to make the Inland Waterway journey in a day or make it a weekend, you will see a side of Northern Michigan that cannot be seen along a highway or freeway. Sit back, relax, and enjoy a boating excursion unlike any other!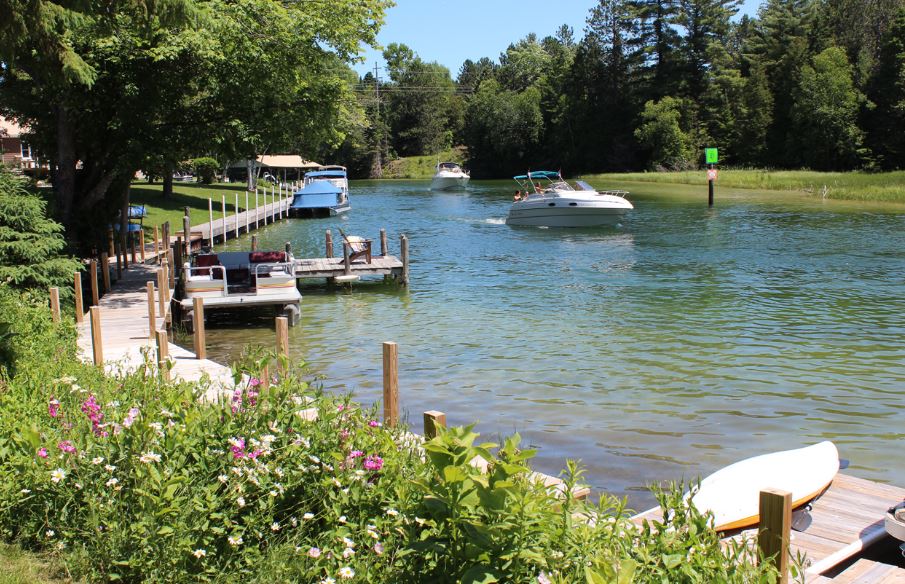 Photo Courtesy of Indian River Chamber of Commerce

Ride along the area's incredible trail system

The Cheboygan area is blessed with one of the finest multi-purpose trail systems in the United States. Michigan has a larger rails-to-trails system than any other state in the nation, and Cheboygan County has more of those trails than any other county in Michigan. The highly acclaimed North Central State Trail and the newly finished North Eastern State Trail (Mackinaw City to Alpena) are more and more the destinations of choice when it comes to groomed trails for cyclists and hikers alike. And the trails intersect right in Cheboygan. The Black Mountain Recreation Area offers a vast network of marked trails for hiking, ATV excursions, horseback riding, snowshoeing, and snowmobiling. With over 30 miles available for hiking, 60 miles for off road vehicles, and 80 groomed miles for snowmobiling, the area is ideal for any type of outdoor adventure. Parking and trail access at Black Mountain are conveniently located.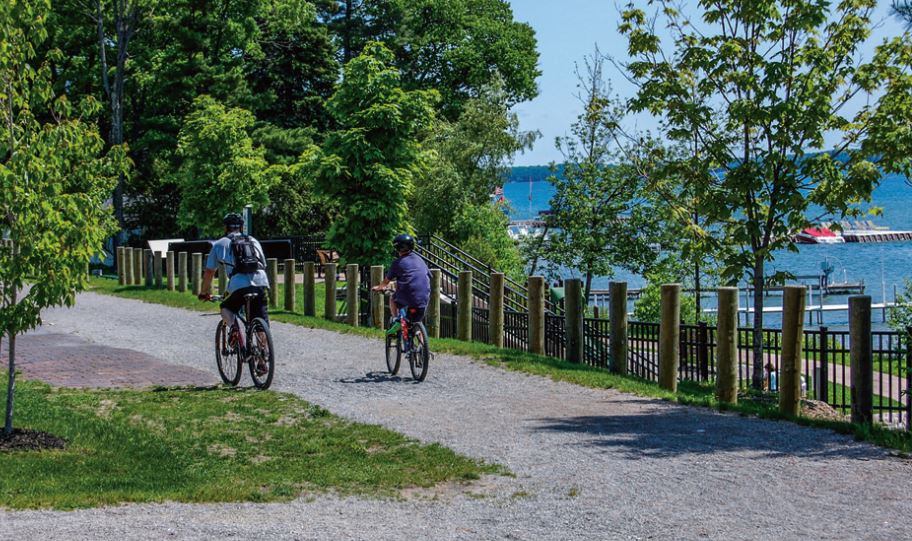 Photo Courtesy of Top of Michigan Trails Council

What is your favorite thing to do in the Cheboygan area? Share with us by commenting below!