From the Petoskey stones in her jewelry to the photographs in her house, Lynn Petrak describes how keepsakes of Michigan help her survive the cold winter months. Hear more on how she carries these mementos from Living in Michigan all year-round on Pure Michigan Connect!
I am trudging across a city street on a day with subzero wind chills and not a speck of sunlight. As I pull my hat down over my ears to keep warm, I brush my hand against my earrings, with their smooth stone and gritty glass, and actually smile.
A bit of Michigan shoreline does that to you.
On days that are seemingly light-years away from sunny beaches, I like to wear the earrings that I bought at an outdoor Michigan craft fair a few years ago. A local artisan fashioned them from sky-blue beach glass and
Petoskey
stones, and the jewelry is as pretty as it is comforting to me.
I have bits and pieces of Michigan all over my home, in fact. I like to think they keep me connected to my parents' summer home on
Hamlin Lake
in
Ludington
, a stretch of spectacular dunes, clear water and clean air in central Western Michigan. 2011 marks our family's 40
th
summer in
Ludington
and the 14
th
summer I've shared the experience with my own four children.
We may only spend two weeks on our beloved lake and at the jewel that is the
Ludington State Park
, but they are the highlight of our year. Given the special place that Hamlin Lake,
Ludington
and Michigan hold in our hearts, we bring back reminders of our trip every year, to sustain us through the long winter and spring.
In addition to my earrings, I often wear a necklace with a
Petoskey
pendant that my son gave me a few years ago. I once bought a watch made from dune sand.
Each of my three sons has a
Petoskey
stone on their desk. My sons and daughter also have t-shirts from
Redamaks
in
New Buffalo
, where we always stop for burgers on our trip to the cottage.
Last year, I bought a framed map of Hamlin Lake that now hangs in our TV room, underneath a wooden sign reading, "Memories are Made in Michigan" and next to a picture of a lakeside sunset snapped by my photographer sister. She has taken hundreds of pictures of our favorite Michigan places and people over the years, and I've used many of them in scrapbooks and frames. Photos of the area also grace my house, courtesy of two stunning coffee table books by
Ludington
photographer Todd Reed and his son, Brad.
Looking around our house, one can see Michigan mementoes in almost every room, from the vintage resort postcards on the mantle to the lighthouse and carferry ornaments that hang on our Christmas tree to the jar of Lake Michigan rocks in my children's bathroom.
As with those rocks that line so many stretches of the Great Lakes, each year brings a new opportunity to find a keepsake that is Pure Michigan. On the bitterest days of an urban winter, those keepsakes are like sand in my shoes after a long day at the beach: a reminder of where I've walked and where I joyfully will return.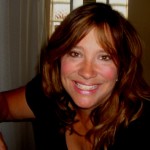 Lynn Petrak has spent every summer since she was two years old on Hamlin Lake, in Ludington Michigan and plans to retire there with her husband, who is an avid fly fisherman. A writer in La Grange, Illinois and a mom of four, she'll always have room for more Michigan mementoes.