Thank you to Jess Venlet for reminding us of how important it is sometimes to slow down and appreciate the beauty that surrounds us.
Last summer I traveled to Northern Michigan's
Sleeping Bear Lakeshore
for the first time ever. I was making the trip with my boyfriend, and my excitement dwindled as we drove. We took the scenic way. Gas was running low. We were behind schedule by an hour. My boyfriend was singing every song on the radio. And just as it felt like we would never get there, just as I almost threw myself from the car (from the singing!)—I caught a glimpse of my sulky reflection in the rearview mirror.
Was I actually complaining that we took the scenic way? Did we even have a schedule? It's not like the dunes were going to blow away.
Our "schedule" consisted of arriving at the dune climb area of the lakeshore, and completing the walk to Lake Michigan. Though we were "late" we did get there eventually. We paid ten dollars for a park pass, parked, and stepped out of the car a bit surprised. Looming in front of us was the first climb. The people on top looked small. It's over a mile to reach the water. But no big deal, right? We are young. We are athletic. Let's do this!
Dune after dune…after dune…after dune I eagerly anticipated Lake Michigan. Each time we climbed up I expected to see the lake just yards away. But at the top of each dune, the only thing in close distance was sand. Way up in the distance, Lake Michigan glistened with the familiar dark blue I had seen many times before at
Pere Marquette Beach in Muskegon
.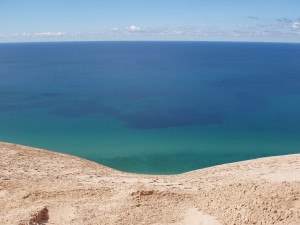 The view from the top
I tried my best not to complain, but my excitement was again dwindling.
And is he humming? Is he going to sing more? Why am I still slugging through sand to reach such a familiar lake?
But each time I looked back, I decided that I had come too far to quit. The sun was shining; the air was warm and breezy.
It is a beautiful day.
Forty-five minutes of walking later, my jaw dropped. Chilling waves of intense calm washed over me, erupting my skin into tingles. I do not consider myself religious, but that first glimpse of the waters surrounding the Manitou islands was unbelievably spiritual.
Turquoise water. Glimmering rocks, not wet with water, but shining pinkish from a natural glitter deep within them. For a moment I could imagine nature untouched by human development.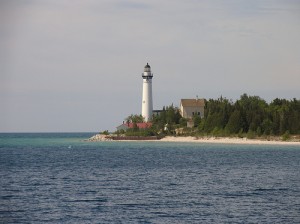 The lighthouse on South Manitou Island
Sitting, dune grass swaying behind him, my boyfriend leaned back to relax. I waded into the turquoise, letting it lap up at my knees and shorts. Gazing towards
South Manitou Island
—a thin, sleepy haze blanketing it—the island seemed the epitome of patience.
On the walk back, I didn't think about the schedule. Dune after dune after dune spoke to me as we climbed. This time I listened. They said, "slow down," as my feet slipped backward in warm sand. They firmly said, "shut up!" to negative, busy thoughts. They softly murmured, "isn't this magic?"
"Yeah," I replied, "I think this is."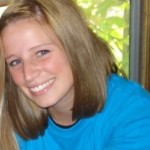 Jess is a recent graduate of Aquinas College, an aspiring writer, a runner, and a beach bum. She grew up in Conklin, MI, and now lives and works in Grand Rapids. You can share your comments and thoughts with her on Twitter (@JessVenlet), or by leaving a comment below.