Top Five Things You Must Do Before Summer Ends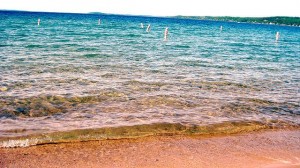 College senior Ashley Prescott winds down her summer in Traverse City with some advice about the best ways to have fun in her adopted hometown.
During the two months I've called Traverse City home, I've tried to immerse myself in the entire northern Michigan experience.
I've watched the sun sparkle on Grand Traverse Bay, breathed the fresh smell of pine while driving through open land, and felt the warmth of beach sand beneath my bare feet. And now it's almost over!
Well, not really. There's still a little bit of summer left, so I'm going to give you a list of things that everyone should experience before we turn in our flip-flops, bathing suits, and towels to prepare for the cool nights and changing colors of fall.
5. Drop a line, sit back, and relax.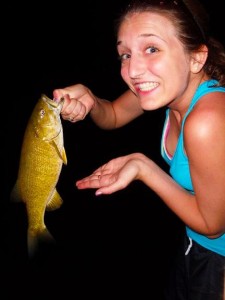 Traverse City is home to many different lakes, rivers and bays – all of them great for fishing! Right in the city itself, there's Boardman Lake, Grand Traverse Bay and the Boardman River (a great fly-fishing stream). To the west, there's Bass Lake, North or South Bar lakes near Empire, and even Lake Michigan if you're feeling really adventurous. To the south, you'll find the cool serenity of the open water, without the interruptions of other visitors, at Duck Lake or Green Lake in Interlochen. I've been very successful in both places. (I'm still waiting to see a particular pike again. I'm sure that even after two years, he still has my lure in his mouth.)
4. Want a fun workout on vacation? Climb the dunes!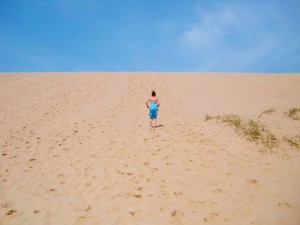 Climbing the Sleeping Bear Dunes
Climbing the huge Sleeping Bear Dunes can be intimidating, once you see the size of the first hill – then you get to the top of that one and, guess what? All you see for miles is more sand! But don't be discouraged; conquering this 3.5 mile hike brings many rewards. At the end, you'll be able enjoy Lake Michigan in all its glory – and you'll be able to feel it in your legs the next morning. One more reward, if you have children you'll have exhausted offspring, and a silent ride back to Traverse City!
3. Spend a day at the beach without leaving downtown.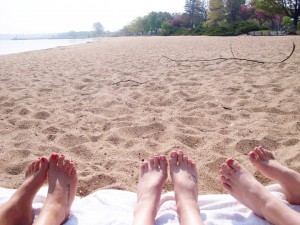 Should we shop or should we tan? There's no need to choose between them! Clinch Park is a long stretch of clean sand with direct access to West Grand Traverse Bay – just across the street from the shops and restaurants of downtown Traverse City. There are public restrooms, a snack bar, kayak rental and a beautiful marina right in the park – and plenty of shady spots with benches and picnic tables if you've had enough of the sun for one day.
2. Taste the wines of northern Michigan.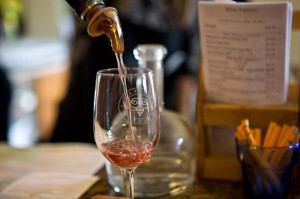 Traverse City Wine
The Leelanau and Old Mission peninsulas have so many wineries that you couldn't visit them all in a single day. But you could make a good start by hopping onto M-22 in Traverse City and heading north. Near Suttons Bay you'll hit Shady Lane Cellars, Black Star Farms, and Ciccone Vineyards, just to name a few. At each vineyard, the atmosphere is every bit as important as the taste of the wine. Continue north and you'll come to Omena, the home of Leelanau Cellars, which not only has some tasty wines, but offers a breathtaking view overlooking Omena Bay.
1. Ride the Old Mission Peninsula
There is a reason why I've saved this one for last. The 20-mile drive along this narrow strip of land features orchards and vineyards, winding roads, and magnificent views. At its very end is a park with a log cabin and a century-old lighthouse. The lighthouse is no longer used to guide ships safely home, but it still reminds you of a different time when life was more simple. Walk the crooked steps down to the shore – if you arrive at sunset, you will understand why people call the Traverse City area, "God's Country." No cars, no homes, no buildings – just you and the peaceful serenity of the calm bay.
Ashley Prescott, a native of Ortonville, just got her bachelor's degree in Integrated Public Relations from Central Michigan University and is spending the summer in Traverse City. Her favorite pastime is fishing on Green Lake and the Betsie River.
Related Posts –