Cross Country Skiing in Pure Michigan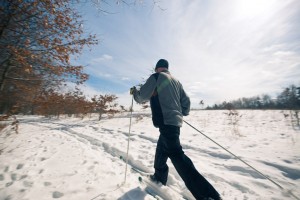 The start of a new year means new goals and for many of us, getting in shape is on the list.
A Michigan winter provides the perfect terrain and scenery to get in shape outdoors while enjoying the sights and sounds of nature. One activity that is great for families, beginners and experienced athletes alike is cross country skiing. You can burn up to 500 calories per hour while enjoying the peaceful Michigan winter landscape far away from the crowds at the gym.
Michigan cross country skiing trails stretch over 3,000 miles and the Michigan Department of Natural Resources grooms various state forest pathways to provide trails across the northern Lower and Upper Peninsulas. It is also a great way to observe wildlife – from tracks in the snow to seeing birds and animals up close, it's an experience that you can only get outdoors.
With cross country skiing being one of the many activities featured in
A Pure Michigan Winter
, we compiled a list of just a few trails to check out this winter. For a complete list of cross country skiing trails in Michigan, visit Cross Country Ski Trails in Michigan State Parks and Recreation Areas.
Cadillac Pathway
has 11.3 miles of groomed trail with varying terrain that allow users to determine the length of trail and degree of difficulty they desire. Trailhead parking lots are located five miles northeast of Cadillac on 13th Street and on Seeley Road, north of Boon Road.
Bring your skis, snowshoes or just your hiking boots to
Van Riper State Park
for enchanted evenings of fun in the snow from 6-9 p.m. on Saturdays, Jan. 19 and Feb. 16. Experience the beautiful lit trail at Van Riper with your family and friends or make it a romantic date night. The trail will be lit from 6-9 p.m. For details, call the park, 906-339-4461. The park is located at 851 County Road AKE in Champion, Mich. 49814 in Michigan's Upper Peninsula.
Enjoy an evening ski or snowshoe along a lantern-lit trail through the snow covered forests of the Upper Falls at
Tahquamenon State Park
during one of their Lantern-Lit Cross-country ski and strolls. Events take place from 6 to 8:30 p.m. on Saturdays, Feb. 2, 9, 16 and 23. Warm up by the bonfire with refreshments along the 1-mile loop. A limited number of snowshoes are available to borrow at no charge. Participants must provide their own cross country ski equipment. A headlamp is recommended during overcast evenings. Meet at the Upper Falls Fact Shack. The park is located at 41382 W. M 123 in Paradise, Mich., 49768 in Michigan's Upper Peninsula. For details, call 906-492-3415.
Pine Baron Pathway
, southwest of Gaylord, provides beginners and intermediate skiers with nearly 9 miles of well-groomed trail that meanders through beautiful woods. The trailhead parking lot is located on Lone Pine Road. Three of the four loops are fairly level, and the remaining loop has several good downhill runs that will interest the intermediate skier.
Join other cross-country skiers for a magical winter evening from 6 to 8:30 p.m. on Saturday, Feb. 9 when the snow-covered forest at
Hartwick Pines State Park
is warmed by the glow of lantern light. Skiers can traverse the 1.25-mile, groomed cross-country trail, guided by more than 75 lanterns along the way. Meet at the Hartwick Pines Logging Museum. It is recommended that skiers be of intermediate skill to participate in this event.
Wildwood Hills Pathway
, a three-looped trail covering approximately 9 miles of beautiful rolling hills in Indian River near Petoskey, offers a more challenging course for the intermediate skier.
Porcupine Mountains Wilderness State Park
, located on the south shore of Lake Superior near Silver City in Ontonagon County, is offering cross-country skiing and snowshoeing by lantern light in late December, and on Saturday evenings in January and February. Nearly 80 old-fashioned kerosene lanterns will illuminate a 1-mile trail for a unique and memorable experience. Stop halfway around the loop at the warming shelter and join the park naturalist for a campfire and refreshments.
Blueberry Ridge
, just south of Marquette, has the bumps for advanced skiers, the flats for beginners and is very well maintained. There are 12 miles of groomed trails. The three north loops have side-by-side diagonal-groomed tracks so people can ski next to each other. The 1.7-mile lighted central loop is groomed for both diagonal-stride and ski-skating, as are the south two loops.
Algonquin Pathway
, located south of Sault Ste Marie on 16th Avenue West. This pathway has 15 km (9 miles) of groomed trail that is laid out in three loops. The 1.6 mile lighted trail is the first loop off the trailhead parking lot. This pathway straddles old beach ridges and passes through mixed-age aspen intermixed with pine and hardwood.
Learn more in Cross Country Skiing | A Pure Michigan winter, from the Pure Michigan winter video series.
Do you have a favorite cross country skiing trail in Michigan? Share with us below!