Eight Extraordinary Photos to Inspire Your Summer Vacation in Pure Michigan
There is nothing like a Pure Michigan summer. The warm weather, abundance of outdoor activities and refreshing waters make Michigan the perfect warm-weather escape. Here are eight photos that will inspire you to begin planning a summer getaway in the Great Lakes State!
Pictured Rocks National Lakeshore
offers multicolored sandstone cliffs, beaches, sand dunes, waterfalls, inland lakes, streams, forests and wildlife among this scenic area on Lake Superior. Plan a family trip to go sightseeing, camping, kayaking, backpacking, hiking, fishing...the list is endless.
With more than 3,200 miles of shoreline, from
Keweenaw Peninsula
to
Beachtowns
to the
Sunrise Coast
, you'll find the perfect stretch of beach. Dig your toes into the warm sand. Relax to the sound of the soft lapping of the waves. Watch your children build sandcastles. Float in the lake. Get ready to refresh and reconnect where the water meet the sand.
Au Train
is in the heart of the Hiawatha National Forest and within a mile of Lake Superior. Explore everything it has to offer and find your own picture perfect moment.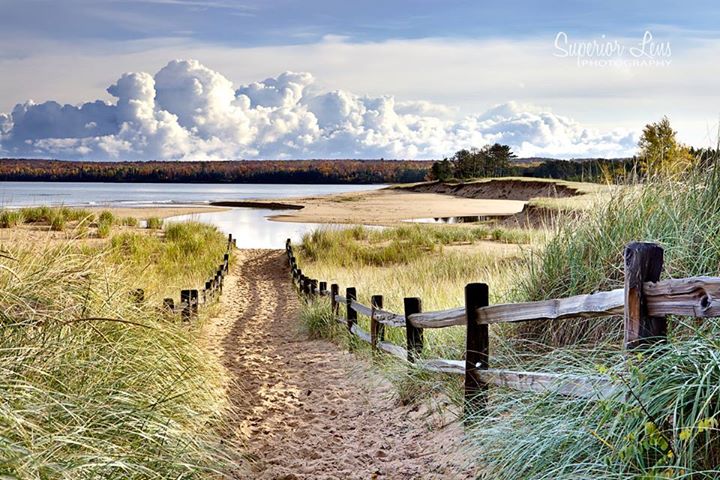 The 40-mile stretch of the
Menominee River
provides a beautiful setting for wildlife watching. Numerous campgrounds and boat access points along the river cater to wildlife watchers with canoes - you may even see a bald eagle! The scenic Piers Gorge area of the river contains some of the fastest-moving water in Michigan and is a great place to go white water rafting.
Take me out to the ballgame! Grab a hot dog and your favorite cold drink and enjoy America's favorite pastime by catching a Detroit Tigers game at
Comerica Park
.
Lake Superior is the largest freshwater lake in the world, with its surface covering 31,700 square miles! Venture over to
Isle Royal National Park
for an experience and views you won't forget.
The Eben Ice Caves are a popular sight to see in the winter, but the scenery in the summer can't be beat!
Michigan's Great Lakes are a
boater's delight
. Lift the sails or start the motor. Let the deep waters of the Great Lakes be a backdrop of alluring scenery, mesmerizing sounds and amazing adventure.
Where is your favorite Pure Michigan destination in the summer?