Embrace the Snow with Winter Sports in Traverse City
In Michigan, winter shouldn't simply be endured – it should be celebrated! This beautiful state offers hundreds of ways to get outside and enjoy the beauty and enchantment of the season. Here, Mike Norton of
Traverse City Tourism
explains how he learned to stop shivering and embrace the snow!
Winter and I were not always friends.
I grew up in the city, where this time of year meant dark gray skies, dirty gray slush, icy sidewalks and wet feet. Skiing was something rich people did. Snowshoes were for Eskimos. How could I ever have foreseen how much I'd come to love the winter season once I moved to
Traverse City
?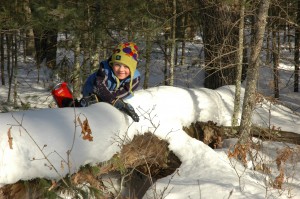 Here, winter is a different creature entirely
. Maybe it's this rolling, glacier-carved terrain with all its wide vistas and high lookouts; maybe it's the predominance of pine, spruce, hemlock and fir (so much prettier in winter than those scraggly hardwoods). Or maybe it's just that rural settings are better suited to winter than cityscapes.
The secret, of course, is that you have to embrace winter in all its chilly wonder – and although some people can do this while looking out the window, I find I just have to get outdoors and
do
something. Doesn't matter what, really — cross-country skiing, snowshoeing, or just tramping around in the woods.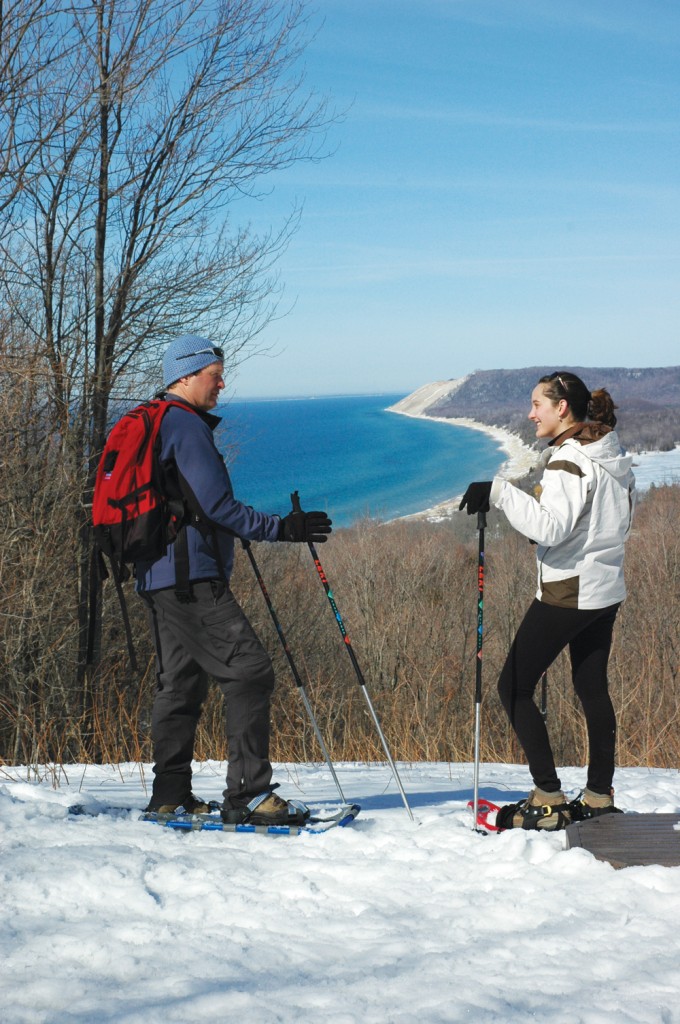 And here's the payoff: to come around a corner on the trail and see a herd of deer raise their heads, steam snorting from their noses as they look at you and silently bound off into the trees. To stand in the moonlight in a forest clearing as a fine dusting of diamond-bright powder sifts through the branches around you. To emerge from the woods onto a high bluff at
Sleeping Bear
, the broad blue sweep of Lake Michigan below you like a giant polished turquoise, and feel as though you're the first (or last) person on Earth.
Speaking from personal experience, I know that winter-sports newbies can sometimes be discouraged by all the unfamiliar gear, terminology and techniques they're confronted with. But really, it's a lot easier and a lot less expensive than you think. And fortunately, there are all kinds of people and organizations here in the
Traverse City
area who are eager to help you get into your winter groove.
Actually, it doesn't take a lot of skill or training to use snowshoes. They're easy to slip on and off, and they're less likely to suddenly slide out from under you than skis. That's why I seem to find myself doing more snowshoeing than cross-country skiing these days. Apparently, I'm not the only one, either, since snowshoeing has become America's top snowsport choice. Last winter over 5 million Americans strapped on a pair of snowshoes and went for a winter hike, and the sport has grown by around 17 percent each year over the past decade.
Traverse City
is full of great places for snowshoeing, and one of the best is just south of town on the
Muncie Lakes Pathway.
This scenic DNR trail system along the Boardman River, with its rolling forested terrain and small lakes, is a microcosm of the area's natural beauty and its special winter delights.
The nice thing about the pathway is that it provides a variety of loops and distances so you can easily customize a snowshoe excursion to meet your own endurance and ability levels. Distances range from an easy two-mile hike to treks of up to 8 or 9 miles, and it's always possible to take off cross-country and boldly go wherever you like. A couple of nice side trips along the pathway include snowshoeing along the frozen Muncie Lakes and out across the ice to visit the small islands that dot the lakes, and accessing overlooks of the Boardman River and valley from high bluffs.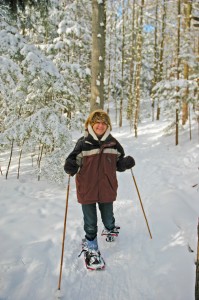 Some of my other favorite trail systems include the trail system at Mission Point at the tip of the Old Mission Peninsula, the
Pelizzari Natural Area
off Center Road, the
Lost Lake Pathway
near Interlochen, the 3,500-acre
Sand Lakes Quiet Area
near Williamsburg and the
Vasa Pathway
, one of the finest cross-country ski trails in the Midwest. Inside the city, the 300-acre
Grand Traverse Commons
features great skiing and snowshoeing in parklike grounds among century-old, European-style buildings and stands of old-growth pines.
But seriously, some of the best snowshoeing in the area is at the
Sleeping Bear Dunes National Lakeshore,
which has eight marked trails, some leading up to panoramic overlooks high above the Lake Michigan. I just found out about one that I haven't tried yet, and as soon as I've had a chance to check it out I'll give you a report.
There are a lot of places in the area where you can rent snowshoes for a small fee, by the way.
Brick Wheels
, the
Don Orr Ski n' Beach Haus
, and
GT Cycle
are several outlets that have snowshoe rentals available.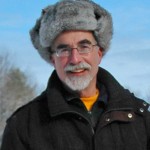 Mike Norton spent 25 years as newspaper writer and columnist before starting a second career as media relations manager at Traverse City Tourism. An avid cyclist, kayaker and snowshoer, he lives in the village of Old Mission.