Five Helpful Tips for a Late Season Ride on the Upper Peninsula Adventure Trail
Today, guest blogger and off-road vehicle enthusiast Bryan Much shares his top tips for enjoying a late season motorcycle or ORV ride along the Upper Peninsula Adventure Trail.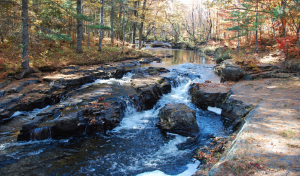 Photo courtesy of Bryan Much

Winter may be somewhere up ahead, but there is still time to get in that last great motorcycle ride of the season. Late fall riding allows us to be comfortable in our riding gear without the sweat, bugs, and discomfort of hot summer days.

As autumn colors fade and leaves begin to fall, the fields and forests offer another aspect of their beauty for us to appreciate. We soon are able to enjoy the now unrestricted views that penetrate the forests. Features hidden in summer and early fall are now there for us to discover and enjoy. What better time than now to take that stroll to a hidden waterfall or a scenic overlook?

Wander off the Beaten Path
One of the best ways to enjoy scenery unique to late autumn, and to discover some of the remarkable history of the Upper Peninsula, is to tour the forests and towns by dual sport or adventure motorcycle. Many know that road riding is great for traditional bikes, but riding dirt and gravel paths through the backcountry provides an experience not available to many.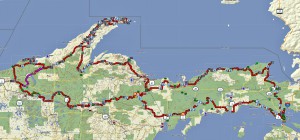 Upper Peninsula Adventure Trail

The Upper Peninsula Adventure Trail (UPAT) is a GPS guided 1,250 mile loop of the UP. The path is principally off-pavement often following twisty and rolling paths through the forest. Points of interest that detail the location of historic and scenic places that are not to be missed are included in the GPS file.

Take Your Time
It takes 5-6 days to navigate the entire loop, but riders have the option of riding either the east or west loop over a long weekend. I've enjoyed some stimulating wildlife encounters including a wolf that lingered long enough for me to take a few photos. I've also encountered bears, moose, and a variety of other wildlife along the way.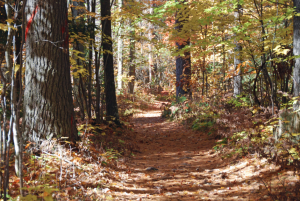 Photo courtesy of Bryan Much

A Little Research Goes a Long Way
Points of interest on the trail offer riders the opportunity to explore the fascinating maritime, mining, and logging history of the UP. A little advance reading provides a rich background that makes in-person visits to these sites a fascinating experience.

It's Nearly Impossible to 'Pick a Favorite'
I tried to sort out a few locations on this ride that I might consider favorites. In the end, I had to admit that nearly every section had some element that propelled it to near the top of the list. The technical riding, the scenery, the wildlife, the history, and so much more. Touring the mining towns and camping at the very tip of the Keweenaw Peninsula certainly is near the top. But so are the long rides through uninterrupted forest and visits to the now small towns that were once major logging and fishing centers.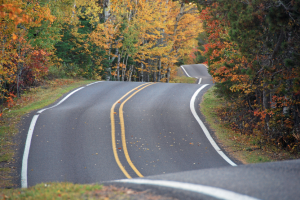 Photo courtesy of Bryan Much

Customize Your Route
Some people might be wondering if this ride is within the capabilities of their motorcycle or their skills as a rider. To help people explore the route and answer these questions as they plan a trip of their own, I've prepared a "ride report" that gives detailed information and photographs. View the report here or download the GPS file.

For those that don't ride, but enjoy overland travel, there is a version of the path tailored specifically for standard four-wheel drive vehicles.

So what are you waiting for? Get started on that late season motorcycle adventure. See you in the UP!

Where is your favorite place in Michigan for a motorcycle or ORV tour?

Bryan Much retired from the military after having advanced from Private to Colonel. He now spends much of his time advocating for off-highway motorcyclists and exploring and recording paths for them to ride and enjoy. He serves on two councils relating to trails and is a member of many organizations related to this recreational interest.