Michigan Golf Courses Put a New Spin on the Sport with FootGolf
FootGolf, a hybrid of golf and soccer, has been popping up at Michigan golf courses this summer. Today, guest blogger Janina Jacobs tells us how these Michigan courses are putting a new spin on the sport.

Love it or hate the idea, FootGolf has arrived. What is this phenomenon that's bringing new life to area golf courses and why is it here?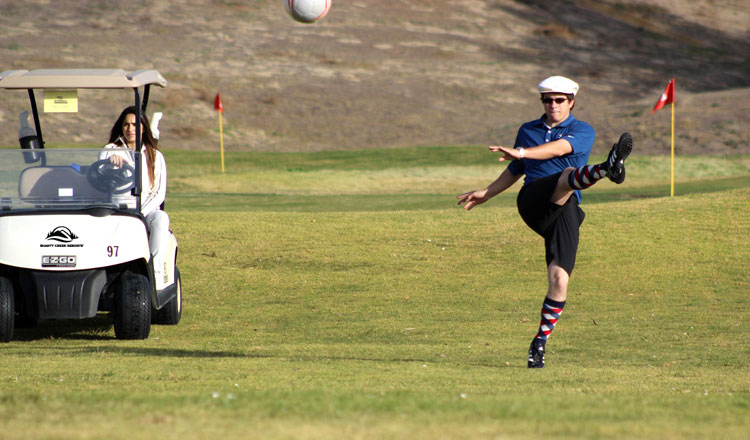 Photo courtesy of Shanty Creek Resort

First, the why: There is no debate that overall, golfer numbers have declined in recent years, even in this golf rich state. Assuming the downturn comes from core golfers playing less and newer golfers slowly trickling in, new markets are needed. The Pure Michigan campaign is beginning to bring people in from all over the U.S., but it does take time for folks to pack their clubs and head over. For us long-time golfers – those growing up in the 50's, 60's, and 70's - soccer was not what we did; a little kickball maybe, but not the local, regional, and national traveling leagues and organizations that abound today. Almost every kid born after 1980 was introduced to soccer primarily in school, along with parents who drove them to every game and practice. And so, enter FootGolf. Sort of a hybrid between soccer and golf, some facilities are embracing the concept and allowing footgolfers access to tee times along with regular golfers. Other than the initial shock of watching four players, likely dressed in Hogan caps, plus-fours, and argyle socks kicking soccer balls up the fairway ahead, regular golfers will experience no interference from the relatively new sport, which has actually been around since the 1980's but is fresh to Michigan. In fact, golfers would do well to keep up considering FootGolf holes are shorter and flatter, the only club selection necessary is which foot to use, no time is spent looking for lost balls, and can take half the time to play.

Here's how it works: Ideally, holes are mapped out along a portion of the normal course routing but using more level ground. Tees are placed in a closely mown area on the fairway, usually away from regular tee boxes. Footgolfers use their own #5 Soccer ball and the kicking commences until reaching the green which is actually a closely mown fairway, about 30-feet in diameter and often near a regulation green. So you can erase any idea of greens becoming mutilated from footgolfers stomping and kicking all over the beautiful bent grass greens so beloved to Michigan golfers…..or worry about what happens if you should accidently hit your golf ball into the 21-inch cup. If you do, take it out please! You will find it at the bottom of the 'normal' size cup where the flagstick is nestled within the larger hole.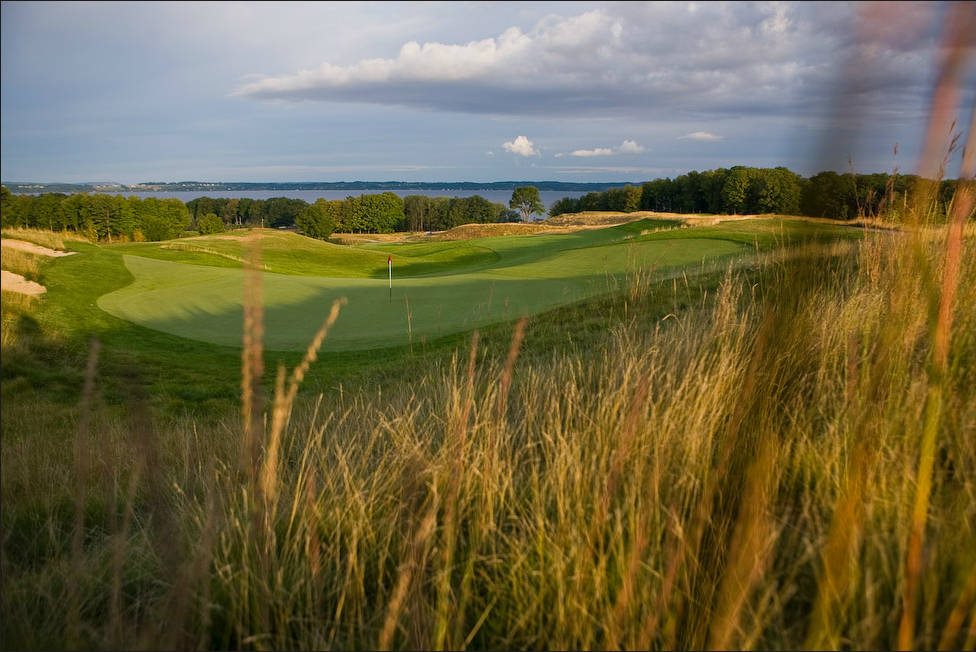 It is not as easy as you think. I was introduced to FootGolf at Shanty Creek Resort in Bellaire, which has transformed the lesser-used but magnificently conditioned Summit Golf Course into a multi-use facility. Director of Golf Brian Kautz came from a very traditional club in Florida, and no one is more surprised than he at the transformation taking shape: You can 1) play regular golf using standard 4 and ½ inch cups; 2) play regular golf using the 8-inch cups cut into every green; 3) play the par-3 tees on each hole using either cup; or 4) play FootGolf using the alternate greens and oversized cups. I hadn't kicked a soccer ball in years, so after a few holes of 6 or more kicks, where even the slightest elevation and rough will make you aware of leg and hip muscles you didn't know existed, you'll gain new respect for the sport. The kids will get a kick out of it…pardon the pun…because for them, it's easy and familiar. Even better, they can walk; and in the process, they may also observe regular golf and get the urge to try that as well. Watch for the possible re-introduction of the pull cart, which in the last decade or two virtually disappeared from golf clubs. How better to solve the problem of trying to walk and play FootGolf while transporting adult beverages?

In case you think that rules are relaxed even for this seemingly tame sport, you should know that there is an international governing body, the Federation for International FootGolf (FIFG), and its Rule Book is 47 pages long. Rules govern ball size, weight, hole dimensions, and many other situations that regular golf rules cover. And there are leagues and tournaments…plenty of them.

Other courses around the state are offering FootGolf, including Elmbrook Golf Course, which celebrates their 50th anniversary this year. Owner Carolyn Olson felt it was ideal considering their location: "at first we thought it was for kids or birthday parties and such. But it's a perfect fit for Traverse City, with all the elite soccer clubs and coaches in the area." Ironically, the median age for footgolfers is about 20-35 years old.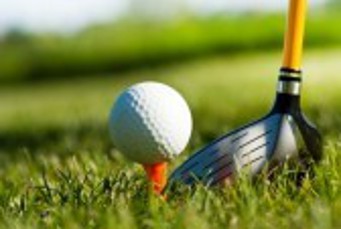 Photo courtesy of Fox Hills Golf Course

In the metro Detroit area, Fox Hills Golf and Banquet Center in Salem Township opened their FootGolf course on the renowned Strategic Fox, a popular 18-hole par-3 layout, in May. They are already seeing interest. In Grand Blanc, even the stately Warwick Hills, a private club that hosted multiple PGA Tour Buick Opens, is contemplating the idea. Treetops Resort in Gaylord offers every FootGolf customer on the Rick Smith Tradition course a deal sweetener: a voucher for a free golf clinic. Prices average about $10-$20 per round at most facilities.

For the naysayers, one cannot argue that Footgolfers bring a different energy to the course: high fives, acrobatics - including doing cartwheels down the fairway – and more yelling. All of these formerly frowned-upon outbursts certainly change the dynamics of golf courses where everyone is often afraid to cheer, shout, or even talk. Sometimes people cannot use the words 'fun' and 'golf' in the same sentence. With FootGolf, it is hard not to.

About the Author: Janina Parrott Jacobs is a lifelong Michigan resident but her passion as a multi-media golf and business specialist and international golf and travel writer takes her all over the world. Her website, www.janinajacobs.com, features many other entrepreneurial adventures as a motivational speaker, professional musician and performer, owning Capers Steakhouse in Detroit, and volunteer efforts with the U.S. Navy where she advocates for and mentors young people concerning health, nutrition, and fitness issues.