Guest Post: Quiet Places in The Most Beautiful Place in America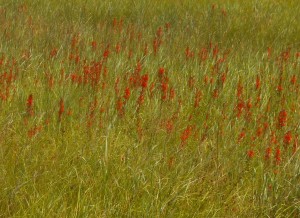 Many people are aware that Sleeping Bear Dunes National Lakeshore was recently voted the Most Beautiful Place in America on ABC's "Good Morning America" show. But besides the obvious beauty of the dunes, there are some lesser-known parts of the park well worth exploring. I recently explored some of these and wanted to share them with you.
If you enjoy solitude with your beauty, there are several less-traveled parts of the park that enjoy the same great beaches or sand dunes of the busier areas. I discovered a very secluded beach at the end of Peterson Road. This road is a gravel and dirt road in the park that is located just about opposite the end of Benzie County 708 at highway M-22, just north of the busy Platte River area. Out at the end of the road is a beautiful beach with few people! If you're staying at the Platte River Campground, you can even hike out to this beach; it's less than 1.5 miles away.
Another pleasant place is Esch Road Beach, where Otter Creek empties into Lake Michigan. This stream is much smaller than the Platte River and consequently it's not crowded with tubers, canoeists and other watercraft. But at the beach, it's still a fun stream flowing into the lake, complete with a sandbar to wade on. And just like the Platte River, Otter Creek is a warm water creek that contrasts nicely with the cold water of Lake Michigan where they merge. This spot is located at the end of Esch Road; turn west off highway M-22. Besides the beach, there is a trail system so you can hike to Otter Lake and other small lakes. Maybe the creek's namesake river otter are up there, or maybe beaver.
Whether you're hiking or driving through Sleeping Bear Dunes, make sure to enjoy the wildflowers. There is a constantly changing seasonal display, with big white trillium blossoms covering whole hillsides in the early spring, or bright red cardinal flower patches in the marshes in late summer. Field areas in midsummer have purple milkweed and orange butterfly weed, both providing chances to watch butterflies as a bonus.
Of course you're here to see the dunes too and there are some quiet spots with vistas to rival any along the busy Pierce Stocking Scenic Drive. You won't see these other dunes from your car though; you'll have to hike a bit. The area at the end of Peterson Road that I mentioned earlier has one such scenic outlook. Two others can be accessed from here also. One is a hike of about a half mile west, and the other is about 1.2 miles east. But if you enjoy your viewing away from the crowds, these are good locations. I hope you've enjoyed discovering some of Sleeping Bear Dune's hidden gems as much as I did!
Donald Dale Milne is a former traffic engineering technician and currently makes maps for county road commissions and others. He loves to travel, especially enjoying hiking the woods. He is currently writing a travel blog at http://www.roadtrip62.com/, where he discusses travel in the context of the year 1962.