High Energy: Snow Falling On Cedars
Thanks to Dan Donarski for sharing this guest blog piece on the high-octane excitement of snowmobiling in Michigan.
When the snow starts falling on cedars, and all the other trees across Michigan,
snowmobile
enthusiasts like Gordie Gilray of
Sault Ste. Marie
begin to get excited - really excited. "Michigan is at her best in the winter and the best way to see her is by snowmobile. This state is just so beautiful, and snowmobiling is too much fun to even think about staying indoors," he says.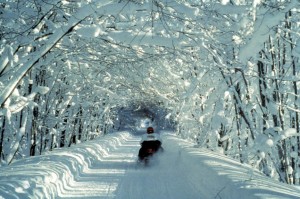 Snowmobiling in Keweenaw
Gilray isn't alone. Thousands of other Michigan residents are joined each winter by visitors from across the country to experience the majesty of the winter landscape from their snowmachines. In small groups and on larger guide-lead snowmobile safaris, these riders cruise across thousands of miles of immaculately groomed crystalline highways that crisscross the countryside through stately forests of pines and hardwoods and along miles of shoreline.
It is a fact that once you hit northern Michigan there's no reason to get off your sled even if your journey takes you to the western Upper Peninsula. This state's trail system is the envy of the snowmobile world and is perennially ranked among the top two snowmobile destinations in North America by
SnoGoer
magazine.
It's no wonder that snowmobiling is thought of so highly. The trails here bisect such natural wonders as the Pigeon River State Forest, where it's not unusual to see elk slipping through the forest shadows. Snowmobile friendly towns such as
Cadillac
,
Gaylord
and
Grayling
welcome riders with open arms to explore the countryside and organize special weekend events to show off their area. Cadillac's North American Snow Festival held in early February draws thousands of riders for four fun-filled days of riding and entertainment.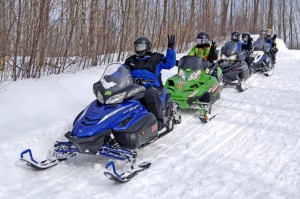 Tearing up the trails
In the state's storied Upper Peninsula, riders whisk through vast tracts of both the
Ottawa
and
Hiawatha National Forest
, and along Lake Superior's rugged shoreline. Brockway Mountain, located near the top of Keweenaw Peninsula, gives riders an impressive view of the forest below, as well as the big lake, after first taking them along her shoreline through Eagle River and Eagle Harbor. On the east end riders based out of
Sault Ste. Marie
,
Newberry
, or
Paradise
have the frozen wonder of
Tahquamenon Falls
and the beauty of
Drummond Island
to explore.
Don't think that you need to own your own sled to enjoy discovering winter in the Wolverine State. There are numerous snowmobile rental outlets scattered throughout the north country. If it's your first time they are happy to give you some instruction before you head out on the trails.
There's simply no reason to feel cooped up this winter. With all Michigan has to offer snowmobilers on her thousands of miles of groomed trails, it's time to celebrate the season.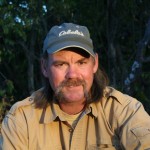 Dan Donarski is an award-winning journalist/photographer and author. He specializes in the outdoors and adventure travel. When he's not out and about he lays his head in Sault Ste. Marie.