Hiking 924 Miles of Michigan
Christopher Hillier loves spending time outdoors, and a lot of that time is spent on Michigan's hiking trails. Since April 2011 alone, Chris has hiked nearly 6,000 miles. To continue his adventures, he'll take on the newly proposed trail that runs 924 miles from Belle Isle all the way to the border with Wisconsin in the western Upper Peninsula. Read about it below and follow his journey at WolverineHikesMichigan.blogspot.com.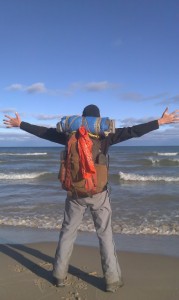 I like to be out-of-doors. A lot. I spent 7 months and 9 days hiking the 2,100 mile Appalachian Trail from Georgia to Maine. It took me 5 months and 25 days to hike the 2,600 mile Pacific Crest Trail from Mexico to Canada. More recently, I've been hiking all the
best trails in Michigan
: the
Shore-To-Shore Trail
, the
Kal-Haven Trail
, the
Waterloo-Pinckney Trail
, etc... My next big hike is a trail that was just proposed by Governor Snyder in November of 2012 that runs 924 miles from Belle Isle all the way to the border with Wisconsin in the western Upper Peninsula. I intend to be the first person to thru-hike this trail. That is, to hike the entire distance over about 10 weeks this spring. I want to use this hike to bring attention to all the great trails we have to offer here in Michigan, as well as for the health benefits of hiking. I want people to know that they don't have to hike thousands of miles like I do, but they need to get out and walk more often.
People sometimes ask me if my six years in the US Army started my passion for long distance hiking. I explain to them that marching with a rucksack is a world away from hiking with a backpack. But the Army did prepare me for an 18 year career in cardiovascular technology and during that time I saw lots of vascular disease caused by inactivity. If I can encourage people to walk more, I will be doing a good thing.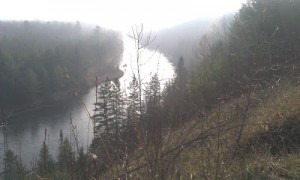 So far, I've been working with the good folks at the Polly Ann Trail, the Detroit Free Press, the City of Warren, the Caroline Kennedy Library, Moosejaw gear stores and the Downriver YMCA. I receive incredible support from my family and friends. I am very proud to have been born and raised in Michigan and I am honored to have been selected as a finalist for the 2013 Governor's Council Veteran of the Year Award as part of the Governor's Fitness Awards. The award will be presented April 25
th
at Ford Field. Wish me luck and follow me at WolverineHikesMichigan.blogspot.com.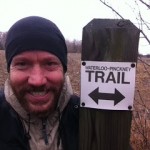 Chris has hiked almost 6,000 miles since April of 2011. You can read about his adventures at WolverineHikesMichigan.blogspot.com or learn more in this story from the Detroit Free Press.