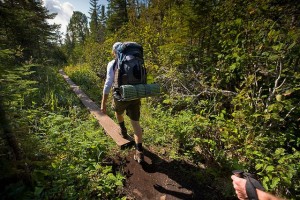 Embark on an outdoor adventure this summer by means of Michigan's hiking trails. With a variety of trails to choose from, hikers can trek through forests, hike along the shores of the Great Lakes, explore Michigan's sand dunes, and even travel down into urban canyons. Michigan's trail network includes more than 600 trails throughout its upper and lower peninsulas. Here are just a few of Michigan's many hiking trails to explore this summer.Bay de Noc-Grand Island Trail

Take on Michigan's Upper Peninsula and hike the
Bay de Noc-Grand Island
trail. Stretching over 40-miles, this trail overlooks the Whitefish River basin and follows the ancient portage route of the Chippewa Indians.
Leelanau Trail

For a trail that features nature's variety, visit
Leelanau Trail
. This trail connects
Traverse City
and Suttons Bay and includes rolling hills, lush forests, peaceful meadows, and a variety of water types. The Leelanau Trail ranges 15 miles and is part of a network of four trails located in the Grand Traverse and Leelanau County.
Sleeping Bear Dunes Lakeshore

Enjoy the "
The Most Beautiful Place in America
" and hike through
Sleeping Bear Dunes National Park
. This park includes 35 miles of shoreline including Lake Michigan's eastern coastline, as well as North and South Manitou Islands. Forests, beaches, dune formations and ancient glacial phenomena can all be found here, as well as cultural features such as an 1871 lighthouse.
Wagner Falls Scenic Site

Discover the beauty of a scenic waterfall while hiking through
Wagner Falls Scenic Site
. This Munising destination includes a half-mile trail with an observation deck overlooking the falls. Hike about the virgin pine and hemlock trees and watch Wagner Creek flow into a shallow gorge containing the Anna River.
Warren Woods Forest Preserve

For a more rustic trail, hike
Warren Woods Forest Preserve
. Open from dawn to dusk, Warren Woods Forest Preserve is a first growth forest with trails that follow the Galien River. Visitors will find abundant wildflowers, a mature beach and maple trees.
Where do you like to hike in Michigan? Share with us below!