Denise Semion shares a little about Michigan's maple syrup processing, and tells us where we can see and experience syrup tapping (and fresh maple syrup!) for ourselves.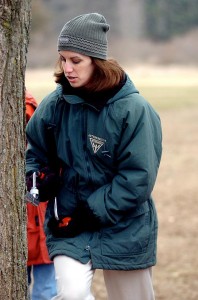 Ever wonder where the syrup on your pancake comes from? Is there a difference between real maple syrup and the other stuff found on the grocery shelf?
Maple syrup is only made in North America, and Michigan ranks fifth in the country for producing about 82,000 gallons of syrup last year. The natural range of the sugar maple tree, the preferred maple for sap collection, is the northeast portion of the United States and the southern sections of Ontario and Quebec. It is here, too, where the proper springtime weather exists to create the "sap runs" when trees are tapped to collect sap.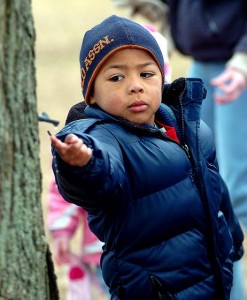 As spring approaches, daytime temperatures begin to rise, yet it is usually cold at night. This see-saw effect of warm days and cold nights causes pressure changes within the trees. If the tree's internal pressure is greater than the external barometric pressure, sap will be pushed out of a hole drilled into the tree, much like a pressurized garden hose will leak if a nail is punched into it. The best daily temperature range for this process is 20 to 41 degrees Fahrenheit, and these conditions are only found during a few short weeks, typically during March in Michigan.
Maple sap is mainly water with dissolved sugars (about two percent), minerals, and organic and amino acids. To turn the sap into syrup, most of the water must be boiled away. It takes about 40 gallons of sap to make one gallon of syrup.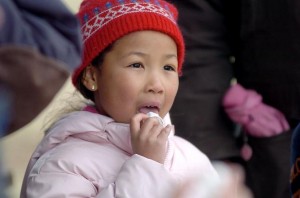 Sap Tasting
If you live in Southeast Michigan, there's still time to experience the mystery of transforming watery sap into sweet maple syrup. Discover the maple sugaring process, including how trees are tapped and sap is collected, along with a history of maple sugaring, from historic American Indian times to present, during one of the maple sugaring programs offered at
Hudson Mills
,
Indian Springs
,
Kensington
and
Wolcott Mill
Metroparks. All of the programs, except Wolcott Mill, have evaporators operating, where you can watch sap boiling down into syrup. Bring hungry stomachs to Kensington and Hudson Mills, where you can also purchase a pancake and sausage breakfast, complete with real maple syrup. And, the next time you bring out the syrup at breakfast, check the label – is it real maple syrup or a maple-flavored corn syrup? There is a difference! To help support our local Michigan farmers, look for Michigan-made syrup at your grocery store, farmer's market, or other locale where Michigan-made products are sold.
Where to see maple sugaring demonstrations
(Fees associated with all programs, with Pre-registration required at some. Find more Information at
www.metroparks.com
.)
"Maple Sugaring: Journey to the Sugar Bush,"
Hudson Mills Metropark, near Dexter, at 10 a.m., 11 a.m. and noon, Saturdays and Sundays, March 19 & 20, 26 & 27, by appointment. See how to tap trees, collect sap and boil it into maple syrup. All-you-can-eat pancakes and sausage with real maple syrup, is served from 9 a.m. to 2 p.m. Fee: $3 per person. Pancake breakfast sold separately. Reservations required for the guided tour. 734-426-8211 or 800-477-3191.
"Maple's Sweet Story,"
Kensington Metropark Farm Center, near Milford/Brighton, noon – 4 p.m. Saturdays and Sundays in March. Stop in for a hot breakfast from 9 a.m. to 2 p.m. at the Farmhouse Grille, and then head on a guided tour to the sugar bush to see the maple sugaring process, including tapping trees and boiling down the sap. Guided tours begin at noon; the last guided tour leaves at 2:30 p.m. After 4 p.m., the sugar bush will remain open for self-guided visits. A re-enactment of an Algonquin winter camp is also located within the woods from noon – 4 p.m. Registration is
not
required for the weekend programs. Fee: $3 for adults; $1 for seniors and kids 3 to 12 years; kids under 3 are free. Pancake breakfast sold separately. 1-800-477-3178 or 248-685-1561.
"Maple Sugaring,"
Indian Springs Metropark, near White Lake,
11 am, noon, 1 p.m. and 2 p.m.,
Saturdays and Sundays in March. Learn the history of maple sugaring and take a hike out to the sugar bush. Discover how to choose and tap a sugar maple, then go to the sugar shack to see how the collected sap is boiled down to make maple syrup. Pre-registration is required; call for times. Fee: $3 per person. 1-800-477-3192 or 248-625-7280.
"Maple Sweetness,"
Historic Center of Wolcott Mill Metropark in Ray Township, Saturdays and Sundays, March 19 & 20, 26 & 27 at 1 p.m. and 3 p.m. Learn the basics of making maple syrup; from identifying trees and how to tap them, to boiling down the sap into syrup. Dress for the weather as part of the program will be outdoors. Prior registration with payment of $3 per person is required. 1-800-477-3175 or 586-749-5997.
"Maple Sugar Day,"
Willow Metropark Food Bar, near New Boston, Saturday, March 19 at 10 a.m. and noon. Enjoy hot pancakes, sausage and a beverage, and learn the history of maple sugaring. Pre-registration is required. Fee: $4 per child (ages 10 and under) and $6 per adult. For more information or to register, call Oakwoods Metropark Nature Center at 1-800-477-3182 or 734-782-3956.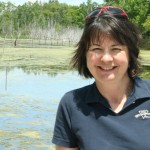 Denise Semion is the Chief of Communications for the Huron-Clinton Metroparks. She ventures outdoors year-round - biking, kayaking or cross-country skiing. Semion, of Plymouth Township, lives with her husband, travel/outdoor writer and author Bill Semion, and son, Greg Mogos.