A Beginner's Guide to Michigan Kayaking

My love affair with kayaking began when I learned about kayak touring – multi-day paddling trips carrying camping gear in the kayak. I was an experienced hiker and backpacker, and the idea that I could use a kayak to explore rivers was entrancing.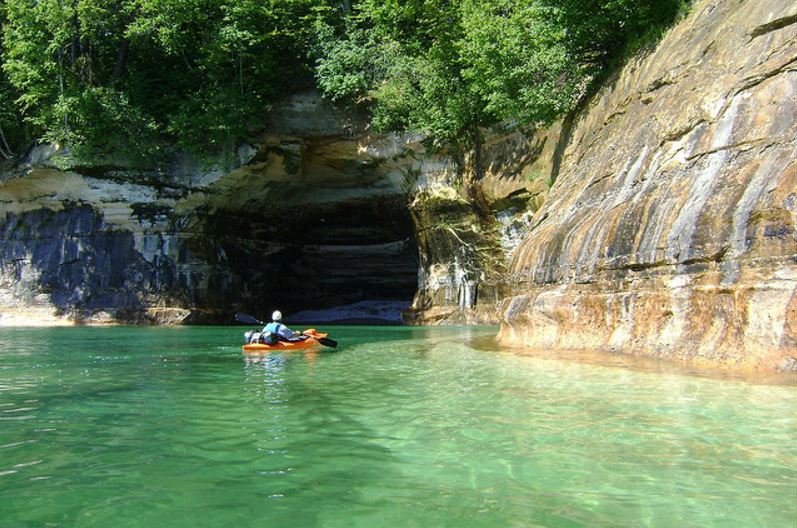 My first kayak touring experience was a three day paddle on the James River in Virginia. The slow, lazy river was just right for a beginner, and I delighted in pulling my kayak ashore each night and falling asleep to the sounds of the river. Since then, I've explored sea kayaking on beautiful Lake Superior, gnarly whitewater kayaking, and more challenging wilderness paddling trips on the Au Sable River.

Kayaking is one of the most popular water sports today, and Michigan is fortunate to have some of the best paddling opportunities in the country. Paddlers can enjoy quiet inland lakes and rivers as well as kayaking along Michigan's more than 3,200 miles of freshwater coastline.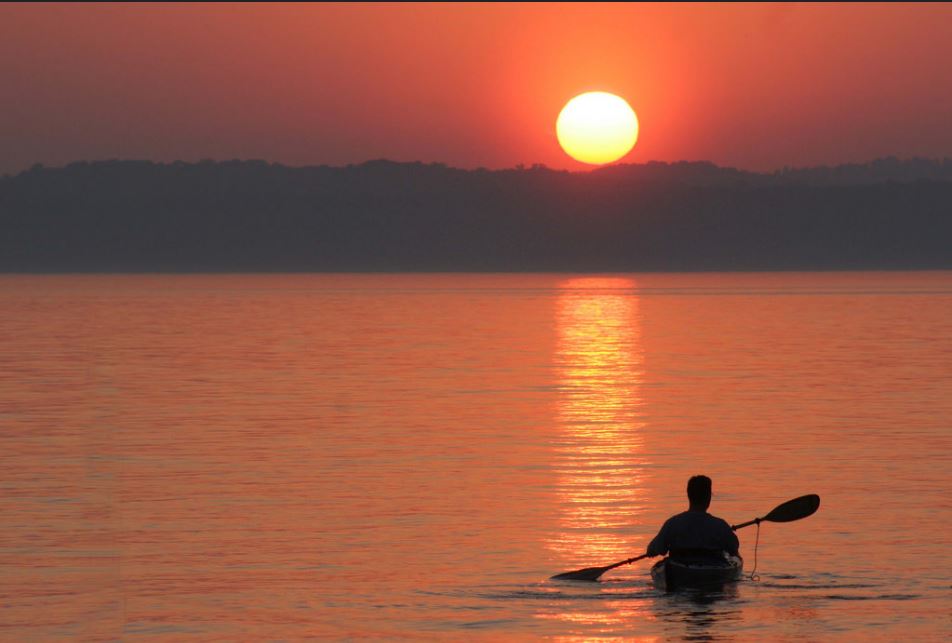 Most kayaking falls into three broad categories:
Recreational kayaking is done on lakes and slow-moving flat rivers. This is the type of kayaking best suited for beginners, so that they can focus on learning proper paddling techniques without worrying too much about fast moving water and waves. Photographers and fishermen often prefer the stability and size of recreational boats.

Sea kayaking, sometimes called kayak touring, is done on open bodies of water like lakes, bays, and oceans.

Whitewater kayaking is possibly the most extreme form of adventure paddling and involves paddling in river rapids classified as class 2 and above. Whitewater kayaks are short and maneuverable, and always have spray skirts to keep water out and paddlers in!

5 Tips for Kayak Beginners
1. Take a basic paddling class:
A kayaking class will teach you the basics of entering, exiting, paddling, and other important techniques. You'll have the opportunity to learn under the guidance of an expert and be able to ask questions. The Michigan Department of Natural Resources offers summer kayaking classes, races, and events throughout the state. Many Michigan university outdoors clubs sponsor pool days and outings to teach basic paddling techniques and give beginners a safe place to practice. Outfitters in your area can also help you learn about paddling clubs, nearby rivers and streams, and local hazards. Classes and clubs are a great way to meet new paddling buddies.

2. Learn how to enter and exit a kayak safely:
It's important to learn how to get into a kayak without overturning it, and how to safely exit the boat. The key to entering a kayak is to keep your weight centered and low. Always enter a kayak from calm, shallow water, so that you can do so in a controlled manner.
Exiting a kayak safely is probably the most important skill to learn. If your kayak requires a spray skirt, then you must learn and practice wet exits in case of a capsize, since the spray skirt is designed to keep you in the boat even underwater. Practice exiting an open kayak in shallow water and try to avoid flooding it. Practice entries and exits in deep water so that you learn how your kayak behaves when you're not in it.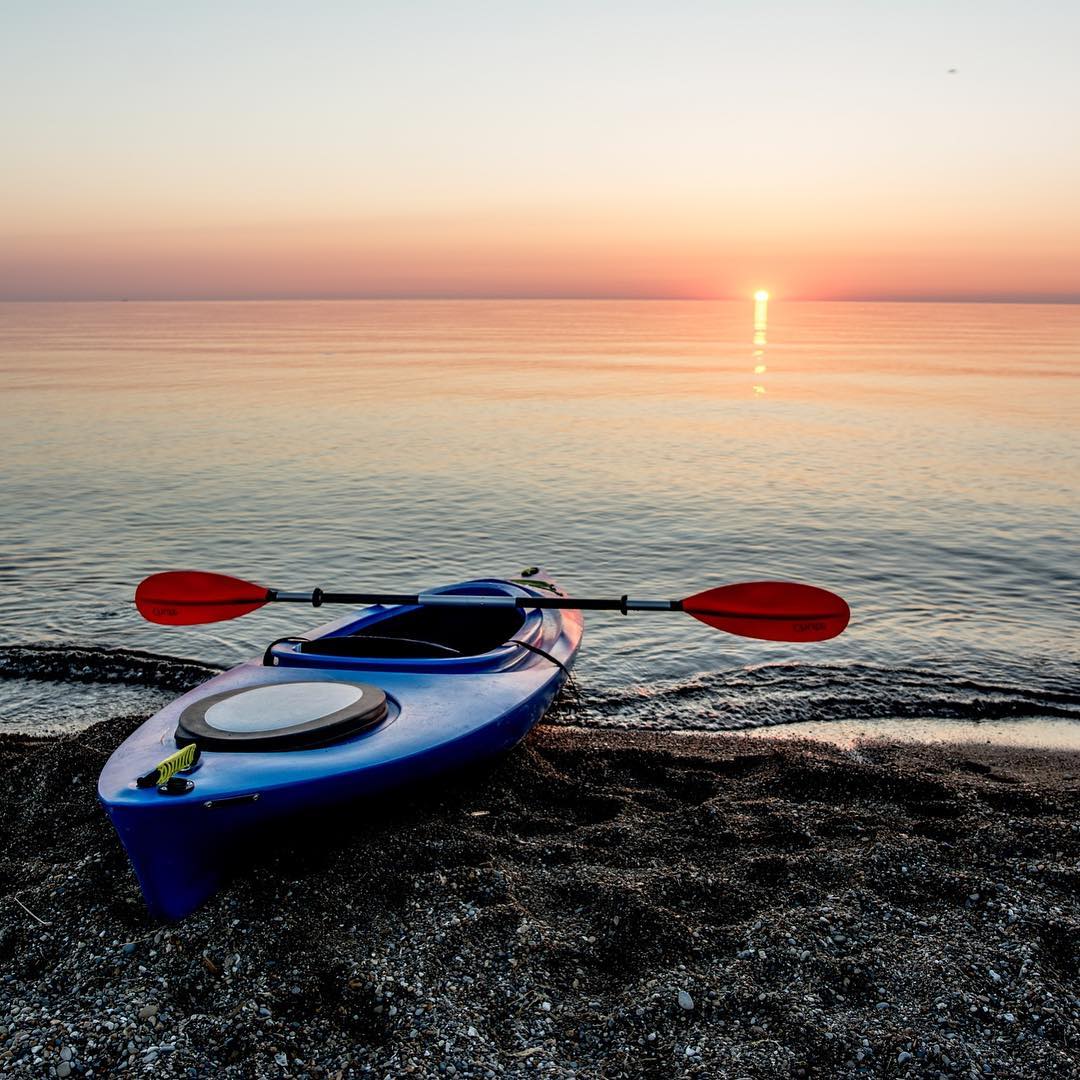 3. Learn and practice basic paddling techniques:
Basic paddling is all about becoming comfortable in a boat and learning how to move it efficiently in the water. Learn to relax while paddling and use your legs and core more than your arms when you paddle. Basic strokes like the forward and sweep strokes move your boat forward and turn it. Try and paddle your boat forward in a straight line. The back or reverse paddle is important to learn as a building block to the emergency stop. Practice holding your paddle lightly and reversing your boat in a straight line.

4. Learn about local hazards and carry safety equipment:
Each region and waterway is home to its own hazards. Talk to local paddlers or read forums to learn about how to spot and avoid water hazards like sweepers (trees/debris pushing out of the water), strainers (hard-to-see underwater trees), and other obstacles. Lowhead dams are particularly deadly hazards in waterways running through developed areas. These "drowning machines" are responsible for many water deaths because of their deceptive appearance (many have drops of only a few inches) and unpredictable hydraulics.
The Michigan DNR reports that more than 70% of boating fatalities are caused by drowning. Always paddle with a life jacket and file a float plan with a friend or family member, letting them know the "who, what, where, and when" of your trip. Paddle with more experienced kayakers and learn the basics of water rescue so that you can help someone else in an emergency.

5. Learn which kayak is right for you:
Don't rush out to buy a kayak at the beginning. Spend some time in rented or borrowed kayaks while learning and practicing basic techniques. Once you've gotten some experience, you can make a better decision about which kind of kayak suits your style. Whatever choice you make, fit and comfort are supremely important.
Recreational and sea kayaks are easy to find in outdoor stores and many offer kayak demo days where you can try out boats in the water. Some dealers offer beginner packages that include paddles and life vests. Whitewater kayaks can be difficult to find in areas outside of well-known whitewater areas. You can often find deals by buying used rental boats at the beginning or end of the season, or cruising local classifieds.

Types of Kayaks
Sit-On-Top Kayak: Cheap, stable, easy to get into/out of, commonly used for recreational paddling and fishing in calm water:

Tandem Kayak: Designed to seat two paddlers, found in recreational and sea kayaks;

Inflatable Kayak: Low-cost, versatile, can be broken down for easy transport and storage, but is not suitable for shallow rivers;

Sea Touring Kayak: Long, fast, and tippy, 10-18 feet in length; used on coastal waters, bays, and big lakes; designed for cargo hauling, speed, and long distance paddling;

Whitewater Kayak: Shorter than recreational and sea kayaks, designed for maneuverability and short bursts of speed;

Playboat: Short, stubby, highly maneuverable whitewater kayak designed for surfing river waves, and playing in rapids.

Hopefully you've learned enough in this article to get you out there and paddling! Most areas have at least a few rivers, streams, or lakes suitable for recreational kayaking and lessons are easy to find through clubs and local outdoor outfitters. Don't be afraid or intimidated to meet local kayakers; most paddlers are friendly and are happy to mentor newbies. Kayaking is a wonderful way to explore new parts of your home while getting exercise and fresh air.

Here are a few Michigan kayak day trips that will whet your appetite for adventure:
South Branch of Au Sable: Easy paddling in a fishing and birding paradise near Roscommon. Three hours of paddling from Chase Bridge to Smith Bridge takeout.


Pictured Rocks National Lakeshore: Spectacular paddling along steep sandstone cliffs and clear waters in the world's largest freshwater lake. Paddle the same waters as voyageurs, fur trappers and early explorers of the Upper Peninsula. Put in/take out at the Munising Falls Interpretive Center in Munising.


Two-Hearted River: The river made famous in Ernest Hemingway's Nick Adams short stories is a world-class trout fishing destination and the only Michigan stream to be a designated wilderness river. It is navigable from the High Bridge on County Road 407 near Mason Tract to the river's mouth.

About the Author: Daniela Baker is a social media advocate at CreditDonkey. When she's not busy exploring the outdoors, she shares her insights on travel rewards credit cards on her blog.


---