Michigan's Best Kept Secret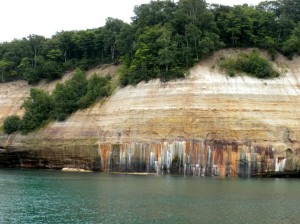 These bright deposits on the side of the bluffs are from copper.
Guest Blogger Jacqlyn Ucinski and her boyfriend weren't just on a road trip to the Pictured Rocks Lakeshore, they were on a mission. Enjoy this story of a special road trip to Michigan's Best Kept Secret.
I couldn't believe it. There I was staring at a rock face dusted in vibrant colors from copper deposits with a waterfall careening down into serene turquoise waters. Is this real life? Heck, you could have told me I was in the Caribbean and I probably would have believed you. But I wasn't in the Caribbean; I was looking at the Pictured Rocks in
Munising, Michigan
. A little town tucked away in the coves of the
great Lake Superior
. Their motto, Michigan's best kept secret, waves proudly on the flags throughout their cozy town and all I can wonder is why did it take me this long to discover it?
It started as a request, this road trip, about a year ago to be exact, from my boyfriend's grandfather. He told Ben he had to experience the Pictured Rocks just before losing his battle with cancer. Jumping into the two-door Colorado pickup, we weren't just on a road trip, we were on a mission.
After stopping for a picnic along the
Mackinac Island
coastline we tromped to the
Upper Peninsula
across the grand
Mackinac Bridge
. Dense forest lined the highway, along with signs for pasties and smoked fish. I'm a born and raised Michigander and am embarrassed to say this word, pasty, confused me. I had to get a taste of this treat being broadcasted on every street corner. What a glorious thing! Meat, potatoes, and carrots wrapped up in a neat little mound of dough.
Oh, but the pasty was just the beginning.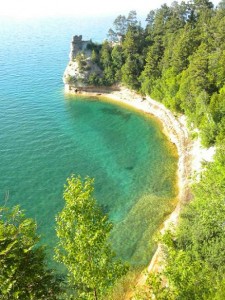 The beautiful Pictured Rocks shoreline, a birds eye view.
Driving along the northern coastline, cars were parked along the road to have an encounter with Lake Superior. The biggest, deepest great lake is not to be tampered with. It has a tendency to swallow ships and spit them back to shore. But don't worry, that's only on a bad day.
We finally reached Munising, a place of humble and hard working people. After thrifting at a local shop (or as it said on the door "good junk") we headed to the
Pictured Rocks Cruises
. We cruised along the coastline on a two and a half hour voyage with picturesque rock formations encroached with sandy beaches that were being
discovered by kayakers.
In the past, people would imagine faces in the side of the rock, and so the name Pictured Rocks was born. Indians would put their captives in the caves along the shoreline, so when the monster waves came crashing in to shore the captives would… well, you know, the outcome wasn't good.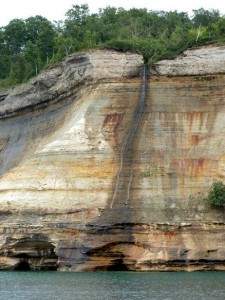 A waterfall on our cruise around the Pictured Rocks.
The history was just as rich as the view. A true natural and untouched beauty, the land hasn't changed much in the past century. People come from all over the world to see this sight unique to the Michigan landscape. Take for instance, the couple sitting next to us, from Switzerland. Switzerland! (We secretly think they were on their honeymoon)
No, this wasn't just a road trip, it was a mission. On our way back, looking in my rearview mirror, seeing the sun setting with the outline of our bicycles in the truck bed, I can truly say, mission accomplished.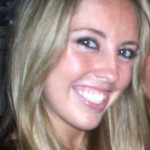 Jacqlyn Ucinski of Leonard wrote about her Pictured Rocks experience for Pure Michigan Connect. You can reach her on Twitter,
@jucinski, or by email.