Morel mushroom hunting is like a treasure hunt. Once a well-stocked area is found, a 'Shroomer will always remember it, and sometimes will refuse to share the locations with their closest family members. There are even stories of people finally revealing the treasured spots in their last will!
For those of you who have wanted to try Morel hunting but didn't know where to start, we found a 'shroomer willing to dish some secrets. Anthony Williams is the owner of
Freshwater Studio
, a gallery that features only Michigan artists, and is a
designer of beautiful furniture
made from locally grown trees. In his spare time, he is a lifelong Morel mushroom hunter, as well as the
Morel Mushroom Festival
's "expert in residence."


It's important to dress appropriately. Keep in mind that this activity often takes place in the woods, so be mindful of the foliage that your skin might touch, as well as the weather. It might help to bring along a compass or GPS, as well as a cell phone. Many people get lost while on a mushroom hunt.


Plan to spend a lot of time on your hunt. You want to cover a lot of ground, so remember to move briskly, and keep moving. It's important to look ahead of you, not right at your feet, and pan your eyes from left to right. Learn your trees. You will find the Black Morel near trees such as a large, mature Poplar tree, and White Morels near a large, mature Ash tree. If you are healthy enough to climb hills, do it! Most people look for the easiest path, therefore you are more likely to find Morels up the ridges.


Gathering the Morel - once you spot a Morel, you can start to walk slower. . When gathering the Morel, remember to pinch the stem at the ground level, do not pluck it from the ground. It's important to leave the root system intact. If you see a cotton-like substance in the stem, that is a "false Morel," and you do not want to eat it. Be sure to search a 200x200 foot area around the site for more!


Do's and Don'ts of Morel care:


Do NOT store in plastic bags – The Morel is mostly made up of water, and if stored in a plastic bag, the moisture has no place to go, starting a breakdown of the mushroom


DO store the Morel in paper bags


Do NOT soak the mushrooms overnight in salt water - it loses flavor


DO keep the Morel clean while gathering. You can do a quick rinse, or just use a small brush before eating


DO cut the Morel in half and check the inside for dirt or bugs


DO store fresh Morels in the refrigerator for up to 4-5 days (if they stay in your house that long! )


DO change the paper bag every day to prolong their usability


DO freeze some Morels so that you can enjoy them throughout the year!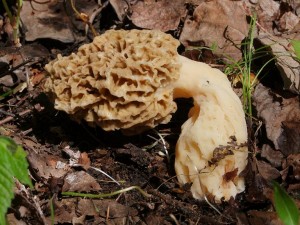 We hope that you first-timers out there find this information helpful. If you want to learn more information about Morel hunting direct from the expert, join his seminar during the upcoming Morel Mushroom Festival, May 12 – 15, in
Boyne City
. After attending the seminar, try joining one of the three guided mushroom hunts, with expert guides on hand to answer your questions.
While at the festival, you will find many opportunities to enjoy the flavor of the Morel firsthand. Many local restaurants will be serving dishes featuring the Morel, and the Taste of Morel event on Saturday includes an all-Morel menu, as well as cooking demonstrations. If you are feeling ambitious, you can try your hand at replicating the recipe (see below) being served by
Café Sante
during the festival – Michigan Wild Leek and Morel Chicken Fricassee, or you could take the easy way out and try it at the festival for yourself!
Michigan Wild Leek and Morel Chicken Fricassee




Chicken
Kosher Salt
Fresh Cracked Pepper
Unsalted Butter
Onions
Carrots
Celery
Flour
Chicken broth
White wine
Heavy cream
Bay leaves
Fresh thyme
White Pepper
Fresh morels
Ramps
Maple syrup
Fresh Lemon Juice
Egg


1, cut into 8 pieces
to taste
to taste
1/4 lb + 2 tbsp
1 small, sliced
1 small, sliced
1 stalk, sliced
1 tbsp
4 cups
1/4 cup
1 cup
1 each
2 sprigs
1/4 tsp
1/4 lbs, cleaned
4 each, thinly sliced
1 tbsp
2 tsp
1, whipped




Step 1:

Season chicken liberally with salt and pepper. In a pan large enough to fit the chicken pieces, melt butter over medium-high heat. When foam subsides, add chicken to the pan and cook until browned on all sides. Remove from pan and hold warm.
Step 2:

Add vegetables to pan and cook for 5 minutes. Add Flour and stir to mix well, cook for 1 minute.
Step 3:

Add to vegetable mix and bring to a boil. Place chicken back in pan and cover, simmer on low for 20 minutes. Remove chicken to a serving dish when internal temperature reaches 160F, and let rest while finishing sauce. Strain sauce and discard the vegetables.
Step 4:

While chicken is cooking, sauté ramps and morels in butter until aromatic.
Step 5:

Add syrup, lemon juice and egg to warm sauce and stir in leeks and morels. Serve with wild rice.
Enjoy!