Motorcycling the Leelanau Peninsula
During the week, Brad Van Dommelen is president of the Traverse City Convention & Visitors Bureau -- but on weekends he loves to get on his Harley and explore the back roads of the Grand Traverse region. Here he shares one of his favorite rides: the beautiful Leelanau Peninsula.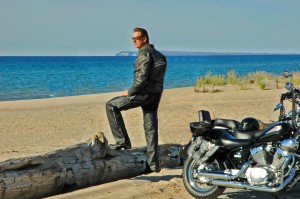 One thing about riding a motorcycle: it teaches you that sometimes a ride is more than just a way to get from one place to another, that there are times when the journey is more important than the destination.
Of course, there are also those rare times when the journey and the destination are equally exciting. And that's when you know you've found
a biker's paradise
.
I've found that kind of riding experience here in the scenic countryside around Grand Traverse Bay. Roads that twist and bend around wooded hillsides, past lakes and bays of clear turquoise and deep blue, through towering sand dunes and small towns with rural "Up North" charm.
Traverse City
, at the southern end of the bay, serves as a natural hub for this magnificent region, with a wide variety of
lodging choices
, restaurants, pubs, shopping and
entertainment
. And the area offers so many touring options that my toughest decision at first was choosing where to start. Fortunately, no matter which way you're headed you're almost guaranteed a great ride.
Just a short distance to the northwest, for example, M-22 provides a great day ride along the coastline of the beautiful Leelanau Peninsula. Heading north along the west arm of Grand Traverse Bay, there are picturesque villages like Suttons Bay, Omena and Northport with plentiful dining and shopping options, as well as the Indian community of Peshawbestown, home to the Leelanau Sands Casino.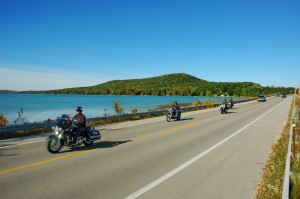 Personally, I can't help riding to the northernmost tip of the peninsula, where the Grand Traverse Lighthouse stands guard over the rocky shoals just has it has for nearly 150 years. There's also a secluded Lake Michigan beach nearby at Christmas Cove, and some fine views from the high bluffs at Peterson Park.
From here, M-22 heads south again – this time along the peninsula's Lake Michigan shore, through the lakeside village of Leland with its picturesque Fishtown district -- a unique fishing port whose old shanties and sheds are now filled with galleries and gift shops. Just a few miles to the south, the road enters one of America's most beautiful natural areas:
the Sleeping Bear Dunes National Lakeshore
. One of my favorite side trips here is the seven-mile Pierce Stocking Scenic Drive with its beautiful views of the lake and dunes. You might even stretch your legs with a climb up the dunes, though I don't recommended trying this in riding boots!
One can't-miss stop in the Sleeping Bear area is Cherry Republic in the village of Glen Arbor, the world's largest exclusive retailer of cherry products. After all, the
Traverse City
area produces about 75 percent of the world's tart cherries! I love browsing through their amazing stores. A few miles farther on, in the village of Empire, is a great public beach and a laid-back little restaurant, the Friendly Tavern, where I usually stop for a burger and some cold wet refreshment before picking up M-72 for a fast ride back to
Traverse City
.
The M-22 loop is a great way to see the edges of the Leelanau Peninsula, but it doesn't begin to exhaust the wonders of that beautiful place. In fact, some of the best riding in the
Traverse City
area is on the interior roads that circle Lake Leelanau or the two Glen Lakes and pass through villages like Lake Leelanau, Cedar and Maple City. Here, as you wind your way among vineyards and orchards, the pace is more agricultural. (And there are lots of wineries offering tastings.)
Take it from me: riding the Leelanau Peninsula is a treat no biker will soon forget. But it will only whet your appetite to try
other rides through this beautiful region
. Maybe the Old Mission Peninsula? Antrim County's beautiful Chain of Lakes? Hard to make choices here in Michigan's True North.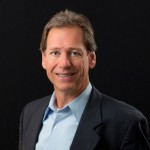 Brad Van Dommelen is president of the Traverse City Convention & Visitors Bureau, but he's been riding motorcycles for many years, both on road and off road, starting at the young age of 10 with his Bonanza mini-bike. His current ride-of-choice is a 100th anniversary edition 2003 Harley Fat Boy.