Out On the Water in Traverse City
Maybe it was his landlubberly upbringing, but it took writer Mike Norton quite a while to stop thinking of the water as "forbidden territory" and start thinking of it as a big blue playground. Now, after 35 years as a resident of Traverse City, he loves to get out on Grand Traverse Bay in almost any way he can.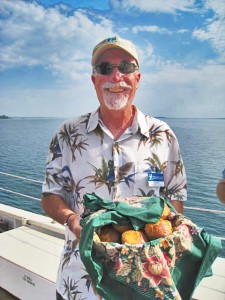 I first came to
Traverse City
to be near the water. That's not surprising, I guess; so do thousands of other people.
Water, after all, is what defines this place. It's the beautiful backdrop for our family photos, the sparkling blue boundary to our
beaches
, the ever-changing spectacle that mesmerizes us at sunrise and sunset and all the hours in between.
Pretty? Of course it is. But beauty is really only half the story -- because I've learned that once you venture out on its shimmering surface, the water becomes more than part of the scenery. It becomes a highway to adventure.
With more than 150 inland lakes and hundreds of miles of Lake Michigan shoreline,
Traverse City
has always attracted active vacationers who enjoy interacting with water – whether that means sailing, boating, kayaking, fishing, or high-speed sports from waterskiing to kiteboarding. The reason? Grand Traverse Bay, a two-pronged "freshwater fjord" that's sheltered on three sides from the wind and waves that can make the open waters of Lake Michigan too intimidating for many novices.
Kayaking Lake Michigan near the Sleeping Bear Dunes
Probably the quickest way to get out on the water is in a canoe or kayak. Long a favorite canoe destination, the area has become hugely popular with kayakers in recent years. Today almost every coastal community in the
Traverse City
area has at least one canoe/kayak rental outlet, and there are several full-service outfitters who offer instruction and guiding services. (And take it from me, it doesn't take long to learn!)
I love paddling effortlessly down a tree-shaded river without a care in the world, or heading out along the beach in a sturdy kayak. Most of our rivers are tame enough for novice paddlers, with just enough current to keep things interesting, and today's kayaks are made for people of every age and aptitude. Just pack some sunscreen and a shore lunch -- and don't forget your camera!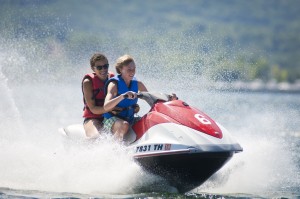 Jet-skiing on Grand Traverse Bay
For those who are looking for something a bit different,
stand-up paddleboarding
is one of the recent crazes on our lakes and harbors. Instead of sitting on a board, you stand up – getting great views of your surroundings, including the watery depths beneath your feet! SUP'ing is great fun, wonderful exercise, and easy to learn, and there are plenty of places to rent a board if you don't already own one.
As long as we're on the subject of boards,
Traverse City
has long been a major destination for
kiteboarding
, where you harness the wind to pull you across the water on a small surfboard. This takes some instruction– which can fortunately be acquired in a few hours – but using a special kite and a control harness, you can really move, skimming across the lake and launching 30-foot jumps over the waves!
There are easier ways to speed across the water of course. Jet skis and other
personal watercraft
can be rented at several location around
Traverse City
– and although they're faster than ever, they're a far cry from the noisy, smelly, uncomfortable machines of the past. Today's personal watercraft are actually more like small speedboats, a useful way to get from one place to another. (And yes, to have a lot of fun buzzing up and down the shore.)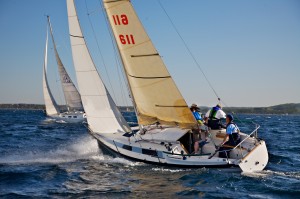 Sailboats on Grand Traverse Bay
Of course, the proliferation of all these boards and machines doesn't mean there aren't still lots of regular boats on the water in
Traverse City
. Flocks of sailboats are always winging up and down the Bay in breezy weather, and there are plenty of
powerboats
, too – usually towing water-skiers or heading out to do a little fishing. If
fishing
is your private passion, this is the perfect place – whether it's battling a high-powered salmon from the deck of a charter boat or outwitting the wily walleye and smallmouth bass of our inland lakes.
And for those who prefer their excitement a little more organized, how about a sunset cruise in a 19th-century "
tall ship"
or an exhilarating ride over the waves aboard a giant catamaran?
Undoubtedly, the most easily recognized vessel in the
Traverse City
fleet is the Tall Ship Manitou, a 114-foot, 62-passenger schooner that offers three two-hour cruises across the bay each day of the week, as well as a number of specialty cruises (a Microbrew & Pizza Cruise, a Wine Tasting Cruise, musical cruises and "ice cream sails"). And now the Manitou has a little brother, the cutter Scout, that's available for small-group cruises of up to six people.
An even livelier sailing experience can be had aboard the Nauti-Cat, a 47-foot catamaran based near the mouth of the Boardman River. Measuring 29 feet from side to side, it offers up to four cruises per day during the summer months, often cruising as fast as 14 knots on a breezy day.
Can you tell how eager I am to get back out on the water?
Mike Norton, a native of Grand Rapids, spent 25 years as newspaper writer and columnist before starting a second career as media relations director at the Traverse City Convention & Visitors Bureau. An avid kayaker and an enthusiastic (if somewhat clumsy) small-boat sailor, he lives in the village of Old Mission.