Pure Michigan Fly Fishing with Matt Supinski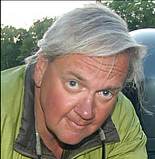 Matt Supinski is a fly fishing expert from Newaygo, Michigan. He has been fly fishing since the age of seven and was kind enough to answer a few of our questions. Earlier this year, Field and Stream magazine selected Michigan as the top state for fly fishing.
Q: What is different about fly fishing compared to traditional fishing?
A: More books, articles and magazines have been written about flyfishing since 1493 than any other sport. It is an art form of precision, elegant and artistic presentation that differs from traditional fishing. The line and the rod casts the fly. Many think it is very difficult, but it isn't. The flies are tied with natural animal furs and feathers along with synthetic materials to imitate insects, baitfish and everything a fish could feed on.
Q: Why is Michigan considered a great fly fishing location?
A: The state of Michigan has more miles of rivers and lakes to fly fish than anywhere in the United States - no wonder it was voted best fly fishing state by
Field and Stream
and many other magazines!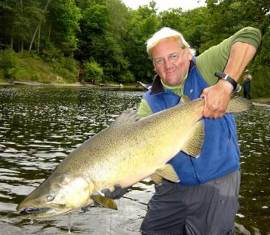 Q: Where are the best places in Michigan to fly fish?
A. Trout: The whole state from southern parts to the northern U.P are loaded with brown, brook, rainbow and lake trout. Some of the more historic streams are the Au Sable, Manistee, Pere Marquette, Muskegon, Rogue, Jordan, Sturgeon, Escanaba and thousands more. Virtually every county, even the Detroit area, has trout in their lakes and streams.
Almost every lake imaginable, including Lake St. Clair, the Detroit River, Grand, St. Joseph, Kalamazoo and the Great Lakes abound with bass, walleye, pike, perch, carp and more.
Salmon/Steelhead: These west coast transplants could be found in virtually all four of Michigan's Great Lakes tributaries all year long.
Q: What items/gear do you need to hit the streams?
A: All you need are waders, some flies, a fly rod, reel and line and some knowledge and you are ready to hit the water!
Q: What types of fish are commonly found it Michigan's streams?
A: As mentioned, Michigan streams are a trout, salmon and steelhead rainbow trout wonderland. We fish 12 months a year and though all seasons- that is the beauty of the Great Lakes vast intertwining systems of streams and tributaries. The first brown trout was brought to America in 1883 and planted in the Pere Marquette. The first rainbow trout were brought to the east coast and Midwest and planted in the Au Sable River in 1876. The brook trout and lake trout, along with Grayling, were indigenous to Michigan.
Michigan currently holds the world record brown trout taken out of the Manistee at 43 pounds, and I and my client caught the world record Landlocked Atlantic Salmon last year in Torch Lake. Michigan, as you see, is a land of records! Its Great Lakes Salmon run as big as 40 pounds.
Q: Where can people learn more about fly fishing?
A: To learn more about Michigan fly fishing, there are lots of books, blogs and web sites out there. Bob Linsenman wrote "
Michigan Trout Streams
" and "
Michigan Blue-Ribbon Fly-Fishing Guide
." I wrote "
Steelhead Dreams
," and "
Pere Marquette (River Journal)
," and many Web sites have great information. Check out my site: www.graydrake,com and my blog:
www.graydrakelodgeandoutfitters.blogspot.com/
For more information, the
Michigan Department of Natural Resources
Web site at
www.michigan.gov
has a lot of great information.