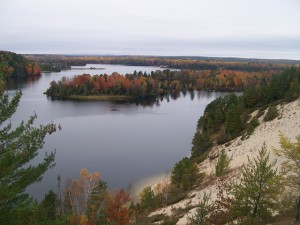 Follow the gentle curves of the Au Sable River through forests along the
River Road National Scenic Byway
. The 22-mile drive from Oscoda is lovely, but make sure to get out of your car to really experience it. There are plenty of sightseeing options: pullover for a picnic, hike along the river with views of Huron-Manistee National Forest, fish the rushing waters. Grab your binoculars and camera and come along as the editors of
Michigan Travel Ideas
®
share some of their favorite stops.
Lower Au Sable Scenic Overlook
(less than 5 miles west of Oscoda): A wide wooden staircase adjacent to the parking lot leads anglers and those who want a close look at the river waterside. Fish for steelhead here or trout above the dam. But know that this section of the river can be dangerous, so even when it looks calm, wading is not advised.
Foote Pond Scenic Overlook
(5 miles west of Oscoda): A sand dune cascades below a stone overlook less than 100 yards from the parking lot. Enjoy a picnic lunch while perched on the ledge soaking in panoramic views of the river and bald eagles reeling overhead.
Au Sable River Queen
(6 miles west of Oscoda): The red, white and blue paddleboat makes daily two-hour trips on the river late May through early September. It's especially popular for seeing fall color. Not far from the dock, children love to play in the nearby sandy beach; picnic tables are perfect for relaxing and spotting wildlife.
Lumberman's Monument Historic Site
(15 miles west of Oscoda): The star of the site may be the 14-foot-tall bronze monument of three lumbermen, but there's much more to see—and do. Allow at least one hour, a half-hour more if you plan to hike the Forest Discovery Interpretive Trail. The Sand Dune Trail, an easy 10-minute walk, leads to incredible views of the river. For a closer look of the river, descend 272 steps to Cooke Dam Pond. The reward? A peek at a replica wanigan: A floating cook shack that supported men working on the river.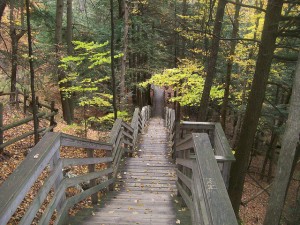 Iargo Springs Interpretive Site
(18 miles west of Oscoda): Get inspired by panoramic vistas from the 200-foot high overlook, then brave a long staircase down to a system of boardwalks winding through forest and past gurgling springs that flow into the river. Benches make the trek back up to the overlook manageable. Once there, hikers can access the Highbanks Trail and the two points of interest along its 6-plus miles: Canoer's Memorial (1.75 miles) and Lumberman's Monument (3.5 miles).