Shipwrecks and waterfalls and bears, oh my!
Special thanks to Shannon Kuchera for sharing her Pure Michigan U.P. Adventure! Learn about the diversity the U.P. has to offer with Pure Michigan Connect!

Prior to last week, I hadn't been to Michigan's Upper Peninsula since I was a kid. I'm not sure what took me so long, but rediscovering this gem of vacation spots (and so close to home!) was a thrill. To put things in perspective - for our last two vacations, my husband and I went to Ecuador and Spain (which were phenomenal, don't get me wrong) - but we had more fun last week in the U.P.

Our first destination was Whitefish Point to see the Great Lakes Shipwreck Museum. The museum campus of white historic buildings is set against the rocky beach and churning waters of Whitefish Point. The clouds looked angry and the wind was high for our visit, creating the perfect atmosphere to learn stories of shipwreck and see the museum exhibits.

Next, we went to nearby Tahquamenon Falls State Park. With trails all around the upper and lower falls, visitors can spend days exploring the area or just a relaxing couple of hours catching the highlights. The upper falls were spectacular, and we followed it up with a nice lunch and micro-brewed beer from the Tahquamenon Falls Brewery & Pub, conveniently located within the state park itself. On our way out of the park, we made a point of visiting Oswald's Bear Ranch for rescued cubs - a definite highlight of the trip! For just $5 extra, we got our picture with one of the bear cubs and got to feed him Fruit Loops - absolutely worth it!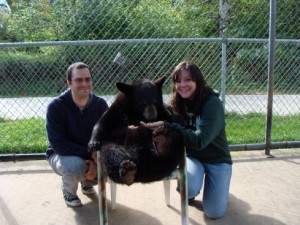 We then drove west, to the eastern end of Pictured Rocks National Lakeshore at Grand Marais. From here, a short hike to the Grand Sable Falls and Grand Sable Dunes at sunset were amazing. Back to Grand Marais itself for dinner at the West Bay Diner, which was delicious, and a really cool old-time diner atmosphere to boot. The diner also sold lots of random, U.P.-made or related goodies, from thimbleberry jam to mittens to guidebooks & maps.

At last, we got to Pictured Rocks National Lakeshore, something I'd been looking forward to for months. We started our day by trekking to Chapel Falls, Chapel Rock, and Chapel Beach - a more challenging hike than the ones so far, but what a huge payoff! Chapel Rock was awesome and probably the best formation to see from the shore rather than the water, and the beach offered a fantastic picnic spot.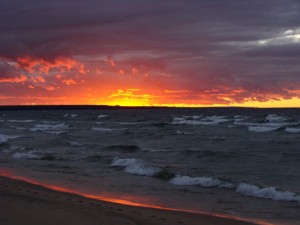 On our way back to Munising we checked out Miner's Castle, the only Pictured Rocks formation accessible by vehicle. From Munising we bought tickets for the sunset boat tour of Pictured Rocks. At first the $35 per person price tag seemed a bit steep, but it was absolutely worth it. Although we had bad luck with the weather (overcast, cold, and rainy), the boat ride was beautiful! Even my rainy pictures turned out great.

Following Pictured Rocks, it was off to Houghton and the Keweenaw Peninsula. The home of Michigan Tech, Houghton boasts a lot of great places to eat and drink (my favorites: Suomi Restaurant, Keweenaw Brewing Co.), beautiful red sandstone buildings, rolling hills surrounding rivers and lakes, and some extremely cool smelting factory ruins. The Quincy Mine was another fun thing to see in Houghton / Hancock, with the mine shaft on a hill towering over both cities. A beautiful old building houses a giant steam hoist, and rusty mining equipment is scattered around the yard like a sculpture park.

A drive north through the Keweenaw Peninsula took us to the Jampot in Eagle River, a bakery run by monks where you can get the most delicious assortment of cookies, muffins, truffles, and of course, jam. With so many scenic roadside overlooks, we were able to enjoy a delicious brownie at a picturesque beach nearby.

Continuing north to Brockway Mountain Drive was the perfect way to experience the magic of fall color on the Keweenaw. The winding road showed off the trees at their most beautiful, eventually opening up to a breathtaking view of the peninsula in oranges, yellows, and reds surrounded by unending blue. The drive ended at Copper Harbor, the northern-most community in Michigan and home to Fort Wilkins State Park and Lake Fannie Hooe.

Leaving the Keweenaw peninsula behind, we stopped for one last hike at Point Abbaye, north of L'Anse. Completely off the beaten path, we had the place entirely to ourselves to explore and climb on the rocks. After getting a bunch of great pictures and seeing yet another unique view of Lake Superior, we were happy we had gone out of our way for Point Abbaye.

Itinerary aside, Michigan's upper peninsula felt like a good vacation choice because we were happy to support our state's economy by keeping our vacation dollars in Michigan. But after the trip, I'm even happier to have fallen in love with a state treasure that makes me even more proud to call this state my home.

Itinerary at a Glance:

My Favorites:

Shannon Kuchera is a talented mosaic artist who currently resides in Ann Arbor. She's a lifelong resident of Michigan, and enjoys cooking, traveling, and spending time with her husband and two cats, Jones and Skeletor.