Snowshoe Your Way Through a Pure Michigan Snow Day
Tahquamenon Falls State Park is an ideal destination to snowshoe, whether you are trying it for the first time or are looking for someplace new to explore. Theresa Neal with the Michigan Department of Natural Resources, sells readers on why snowshoeing is a great way to get outside this winter season.
Winter can be a tough time for people to stay active. It's cold outside, it gets dark early, and curling up in a blanket with a tablet or book sounds SO good! But if you are feeling a bit dreary, maybe gained a few pounds over the holidays, or find yourself in a routine that is getting a bit old, I would suggest giving snowshoeing a try. Many people are intimidated to strap giant paddles to their feet and try walking around, understandably so. I find that once people are outfitted correctly, and given a few pointers, the majority are amazed at how easy it is to snowshoe.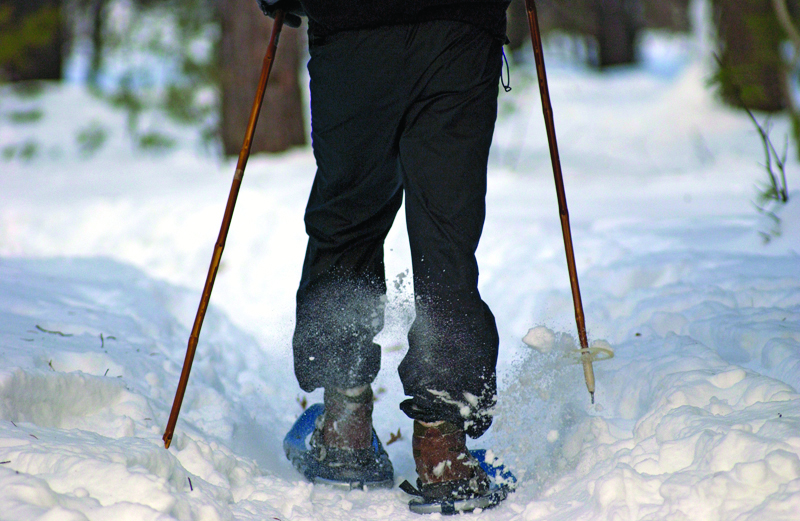 Photo Courtesy of D. Kenyon
Snowshoeing Tips:


If you can walk, you can snowshoe! You may need to adjust your stride slightly, and many people find poles helpful in the beginning.


Aluminum snowshoes are best for icy or hard-packed snow conditions. The crampons (pokey-grips on the bottom) will give you traction, but can trip you up if you drag your feet.


Traditional wooden snowshoes are great for deep, fluffy snow conditions. They are very quiet (no squeaky noises) compared to aluminum, and they leave beautiful tracks in the snow where you have walked!


Used cross-country ski poles from a second-hand store or garage sale work great for snowshoeing.


Expect to sweat! Avoid cotton base layers, as they soak up moisture and can make you cold. Fleece, polyester and wool are good options. Dress in thin layers so you can easily adjust your body temperature while snowshoeing.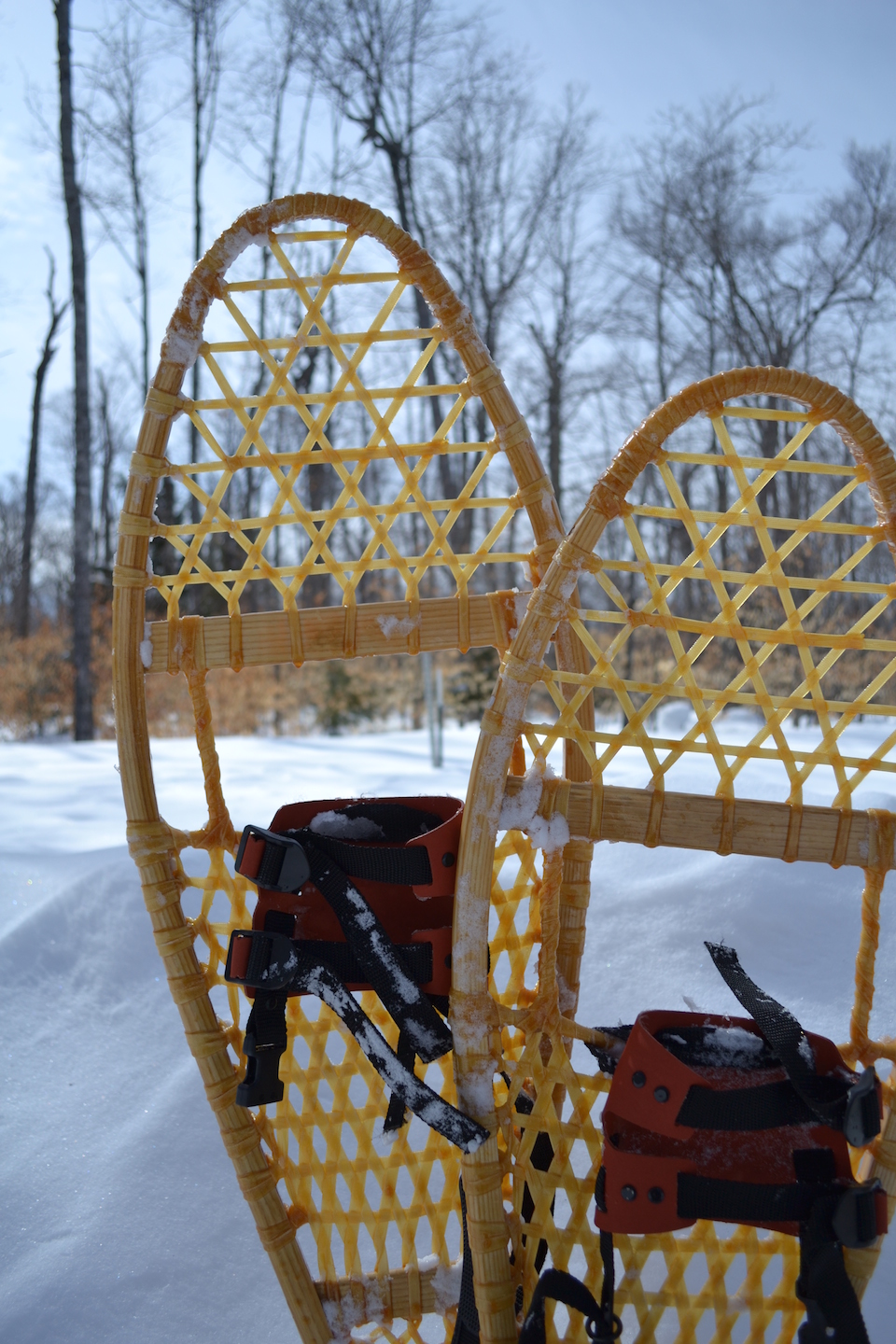 Photo Courtesy of T. Neal
Benefits of snowshoeing:


You burn twice as many calories snowshoeing versus walking!


You can be outside WITHOUT getting cold!


After the initial investment of purchasing snowshoes, it's free! Many state parks offer free snowshoe rental, including Tahquamenon Falls, Ludington, Hartwick Pines and Porcupine Mountains.


You can explore places that are inaccessible during the summer. At Tahquamenon we hike 'off-trail', across marshes and through forests that are usually too wet or thick with vegetation to get through.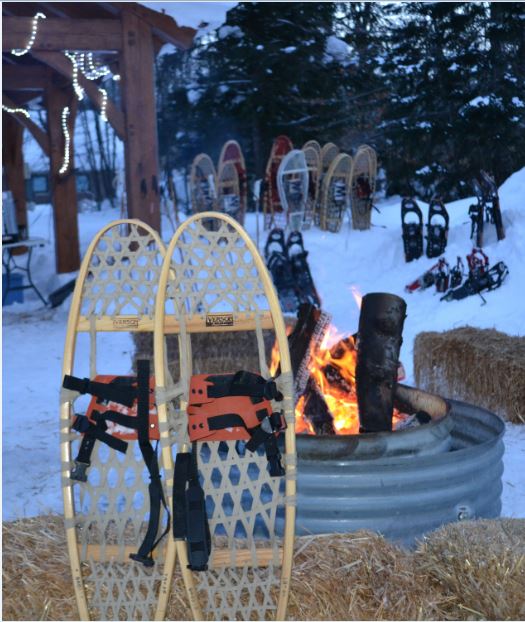 Photo Courtesy of Michigan DNR
My favorite part of winter is snowshoeing at night. The cold, crisp air seems so clean and refreshing, forcing the fog from my head and waking up my senses. The light from my headlamp glistens off the snow, and I enjoy scanning the trail for animal tracks to see who has been out since my last hike. Red fox, coyote, snowshoe hare, ruffed grouse and deer mouse tracks are most common. The best nights are those without cloud cover, when the moon is shining and the sky is filled with stars, lighting my path without needing a headlamp.
With an average annual snowfall of over 15 feet, Tahquamenon Falls State Park is a great place to explore winter on snowshoes. The park is open year-round, with two main destinations for snowshoeing (Upper Falls and Lower Falls). Check our
website
to print winter maps and join us on
Facebook
or
Twitter
to stay up to date on current conditions and events.
Have you ever been snowshoeing? Comment on your experience below!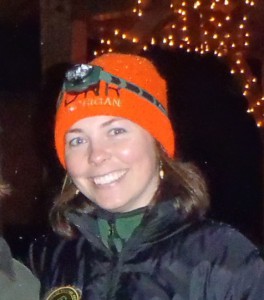 Theresa has served as the park interpreter at Tahquamenon Falls since 2005. She began her career as a naturalist with the DNR at Holland State Park as an Adventure Ranger, delivering nature programs and leading hikes for park visitors. She was then hired as a naturalist for DeGraaf Nature Center in Holland, designing and presenting programs for children and school groups. During the summer of 2005, she again worked for the DNR Explorer Program as a mentor for the Explorer Guides in southeast Michigan. Theresa is a proud graduate of Michigan State University.