Five Unique Winter Sports to Try Out in Pure Michigan
Winter is a wonderful time of year to break out the skis and snowboards and hit the slopes in Pure Michigan. However, there are a number of other winter sports to try out around the state that aren't quite as common. Some adventurous winter sports enthusiasts have put their own spin on outdoor recreation with these five unique activities to try out in Pure Michigan.

Ice Climbing

With miles of sandstone cliffs lined with hundreds of frozen waterfalls, Michigan is home to some of the best ice climbing spots in the country. As one of winter's emerging sports, ice climbing combines challenge and adventure. With ropes and harness, ice climbers ascend stunning natural ice structures such as icefalls, frozen waterfalls, cliffs and rock slabs. Ice climbing takes daring participants to breathtaking scenery that few experience.

If you'd like to try out ice climbing, Peabody Ice Climing in Fenton, MI features two towers, 45 and 75 ft tall located on an old apple orchard. Ice climbing varies in difficulty; most beginners will start on a climb with a low incline until they are prepared for the challenge of vertical ice. Peabody's is a great place for seasoned ice climbers to train and great introduction for people interested in the sport.

Check out the video to see some daring ice climbers traverse a frozen waterfall.


Ice Luge

For those who were inspired by the spectacular athletes going for the gold this winter, Muskegon Winter Sports Complex located on the shores of Lake Michigan in Muskegon State Park offers three luge tracks designed to introduce beginners to the sport of luge. Shorter in overall length than Olympic-style tracks, the Muskegon track provides an Olympic thrill with the safety of the participant in mind. There is also a naturbahn style track (all-natural) in Marquette, Michigan.

The 850' track consists of six curves and two starting areas. Participants slide from the 3/4 mark at speeds up to 30 mph. The track is designed specifically for general public use and those who never have slid before! Equipment is provided.

See what it's like to luge like a pro in the video below.


Snow Biking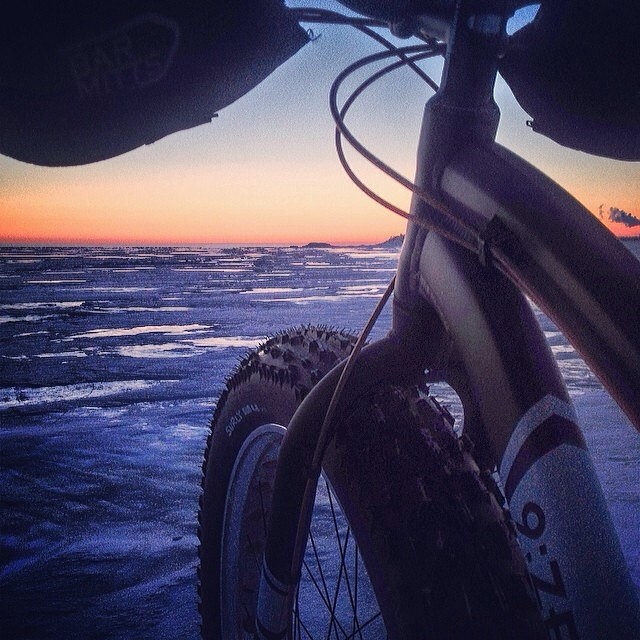 Photo by Instagram user @ryanstephensphoto
Some cyclists across Michigan have put a new winter twist on their sport with snow biking! Snow biking is gaining popularity around the state, and particularly in the Upper Peninsula. The Range Mountain Bike Club of Negaunee/Ishpeming is planning to groom some of its system this season, making
Marquette County
a true hub for winter cycling.
Currently, Fatbikes (locally known as snow bikes) are a fast growing segment of the bike industry. They use an oversized tire with low pressure to increase flotation and traction in soft conditions, they work in all types of terrain but excel like no other bike when it comes to riding on snow. Snow bikes need a packed surface of some sort, like a
ski trail,
dedicated snow bike trail or anywhere a snowmobile of snowshoe traffic has compressed fluffy snow.
Experienced snow biker, Aaron Peterson says, "Riding on snow is surreal. For an experienced cyclist, the feeling is similar to mountain biking but different enough that it lets you feel an entirely new experience on a bike."
See a full Q & A with Aaron
here
along with his video series on snow biking in Upper Peninsula.
Ice Sailing
Ice sailing combines elements of sports like sailing, skating, skiing and snowboarding. Michigan is an ideal location for ice sailing because there are so many frozen lakes. The Great Lakes are especially great for ice sailing with the unobstructed wind. Michigan also has a lot of open space with snow which can also be great places to snow sail.
There are four different kinds of devices used for ice sailing:


The wing: The wing is similar to a mini hang-glider. You're not harnessed in and really feel the wind.


The kite: The kite is like a parachute that is attached to you. We recommend having an instructor to harness you in.


The sled: The sled allows you to hold onto the sail and have either skis or blades on to navigate over the snow and ice.


The sail: The sails allows you to sail across the ice with an ice boat


Watch ice sailing in action below.
Winter Surfing
Surfing in Michigan in the winter takes some dedication and planning. Due to extremely cold wind and water, some research and planning is required to find the best waves for winter surfing. However, dealing with the cold and often brutal weather elements is well worth it when you are surfing winter waves with a handful of friends.
To surf in Michigan (or anywhere with a cold climate), you must have the proper wetsuit and wetsuit accessories (boots and gloves or mittens). Many winter surfers use boards that are a little bigger (longer, wider, and/or thicker) than what might be used on an ocean coast. Here are a few Michigan surf shops to help you gear up:
For more inspiration, check out these brave winter surfers catching waves near Charlevoix earlier this winter
here
.
Which of these unique winter sports would you like to try out in Pure Michigan?