Sugarloaf Mountain: A Short Hike to an Amazing View
Michigan is home to hundreds of great hiking trails to explore - many of which offer spectacular views to enjoy along the way. Today, native "Yooper" Jesse Land takes us on a journey through Sugarloaf Mountain in Marquette, which he thinks rewards hikers with one of the best views in Michigan.

Marquette is full of excellent hikes and beautiful views. One shining example is Sugarloaf Mountain. The trailhead for Sugarloaf is just a few miles from downtown Marquette, the turnoff from county road 550 is well marked, and it's a relatively quick hike to the top where you're rewarded with one of the best views in the Upper Peninsula.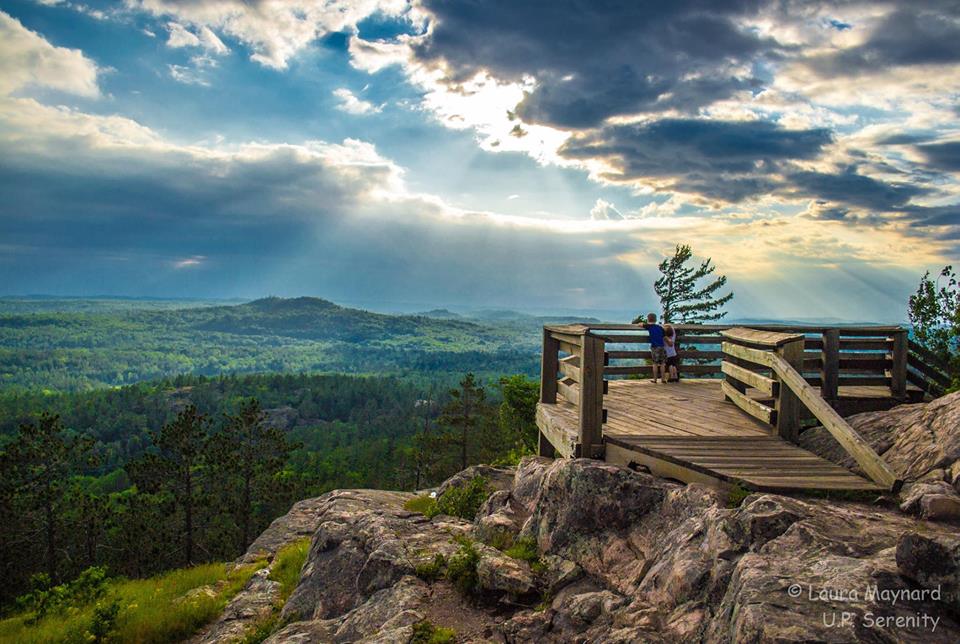 The Hike to the Top

On a recent hike, my first time to Sugarloaf Mountain, two friends and I took the "difficult" route and made it up in about fifteen minutes. There's an optional "easy" route with a tamer grade that takes a little longer, but both paths up the mountain do require a extra care as rocks and roots stick out of the ground along much of the path.

Most people come to Sugarloaf for the view, but the forest canopy that envelops the trails is worth mentioning. With century old trees and ancient rock outcroppings, this trail reminds me of a few of the better hikes I've done in the rainforests of Australia. It really is a gorgeous area.

As we approached the top, the dirt trail switched to a series of wooden stairs that brought us up to the viewing area. At the top we were rewarded with a stunning view of Lake Superior, Marquette, Presque Isle Park and Little Presque Isle as well as Hogsback Mountain and the large swath of forest between Marquette and Big Bay.
The Stone Monument

Also at the summit is a stone obelisk erected long ago by Boy Scout Troop 1 to commemorate their assistant scoutmaster Bartlett King. King had helped to establish the local troop, which is one of the claimants of first Boy Scout Troop in the U.S. He later fought and died in World War I and his troop members wanted to construct a memorial that his mother could see from her home on Marquette's arch street.
Three Observation Decks

As we stood there, about 1,000 feet above sea level, I was impressed with how much work has been put into this viewing area. Three viewing platforms situated atop Sugarloaf Mountain offer three slightly different vantage points. The first observation deck faces southward toward Marquette and offers a view of the Superior Dome, the Upper Ore Dock and Presque Isle Park. The second deck faces northward toward Wetmore Landing and Little Presque Isle island. And the third platform faces westward and offers a great view of Hogsback Mountain.
After the Hike
After our hike we opted for a late lunch in downtown Marquette, but deciding where to eat was no easy task as Marquette County is filled with excellent dining options, not to mention being home to four of the thirteen Upper Peninsula Breweries.
Getting There

Sugarloaf Mountain is located about six miles north of downtown Marquette on CR 550. Get there by taking Washington Street to Fourth Avenue. Turn north onto Fourth Ave., which becomes Presque Isle Ave and drive .4 miles to Hawley Street. At Hawley Street, turn west (left). Hawley becomes CR 550. Drive about 4.0 miles on Hawley Street/CR-550 to the parking area. A sign that reads "Sugarloaf Mountain" marks the parking area and is easily visible from CR 550.

This blog post was written by Jesse Land on behalf of Travel Marquette Michigan. Marquette County is home to some of the best hiking, biking, motorcycling, beaches, breweries and restaurants in the Upper Peninsula. Learn more about beautiful Marquette County at www.travelmarquettemichigan.com.