Sweet Summer Activities in Pure Michigan
Jesse Land, a native Yooper, runs the U.P. travel site "Things to do in the U.P." (www.thingstodointheup.com). Today on our blog, he shares his favorite summer activities to enjoy in Michigan's Upper Peninsula.
Last summer, as part of my "things to do in the Upper Peninsula" project, I spent just about every other weekend traveling the U.P. Following are a few of my favorite activities from last summer. In fact, I enjoyed them all so much I'll be doing each of them again this year!
Whitewater Rafting on Piers Gorge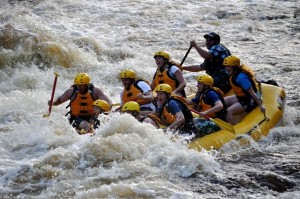 Near Iron Mountain lies the famed stretch of the Menominee River known as Piers Gorge. Thousands of gallons of water rush through this constricted section river each second, creating class four (out of five) foaming whitewater rapids.
Rafting these rapids is a real adventure, and each of my three trips through Piers Gorge last summer was with
Northwoods Adventures
, based in Vulcan, MI, just a few miles from the gorge. Their guides were very competent and super fun, and they provided us with some awesome pictures! And for those of you who'd prefer to stay on land, a wonderful hiking trail runs along all of Piers Gorge and offers terrific views of the rapids.
Hike Bare Bluff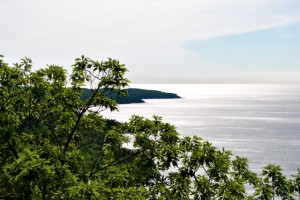 Way up in the
Keweenaw Peninsula
is a rock formation called Bare Bluff, and looping around it is a three mile hiking trail that starts in lush, almost rainforest-like undergrowth, and then climbs up several hundred feet to the top of the rocky bluff. The views from the top of the bluff are stunning and on a clear day you can see all the way to the tip of the Keweenaw. This is definitely one of the most beautiful spots I've visited in the Upper Peninsula so far and I can't wait to get back.
The Great Lakes Shipwreck Museum and Whitefish Point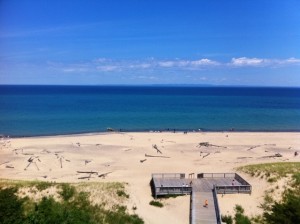 Everyone has heard of
Tahquamenon Falls
, but just north of there, a few miles past Paradise, MI you'll find the Great Lakes Shipwreck Museum and Whitefish Point. I'd have to say this little stop was probably the most unexpectedly pleasant surprise of last summer. After visiting Lower Tahquamenon Falls, my wife and I decided to check out the shipwreck museum, and I'm glad we did.
The museum has shipwreck artifacts dating back hundreds of years, and even has a special room where they show a short film about the infamous wreck of the Edmund Fitzgerald. For a small fee you're allowed to climb to the top of the lighthouse tower, which I did (and I'd say it's worth it for the awesome view).
After touring the museum, my wife and I walked along the beach at Whitefish Point to relax for a bit and hunt for agates. It's easy to see Canada from the point, which was pretty cool, and the area is also a big birding hotspot, with thousands of migratory birds stopping by each season. Oh, and when you're up in this area, don't forget to stop at Brown Fisheries Fish House in Paradise for some of the best fish you've ever had!
This summer we have trips planned to the "old standbys," the
Porcupine Mountains
,
Pictured Rocks
and
Mackinac Island
, but Piers Gorge, Bare Bluff and Whitefish Point are once again on our list of things to do. If you love the Upper Peninsula, I'd highly recommend adding the above items to your summer to do list!
A native Yooper, Jesse Land lives in Iron Mountain and enjoys hiking, biking, boating, and camping with his family. He runs the U.P. travel site "Things to do in the U.P." (
www.thingstodointheup.com
).