Trail Happy at Porcupine Mountain Wilderness State Park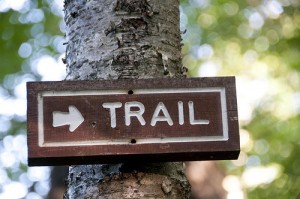 With 60,000 acres of stunning forests, secluded lakes and scenic rivers, Porcupine Mountains Wilderness State Park is one of the few remaining large wild areas in the Midwest. The editors of Michigan Travel Ideas share what makes this massive state park Pure Michigan.
The still of the predawn morning is the perfect time to walk along the Lake Superior shore. Only the gentle hush of the water lapping on shore and the first birdcalls of the day accompany you. Watch the sunrise over the Porkies and experience all the beauty nature has to offer in a fleeting moment. Serenity is attainable here.
The size and variety of
Porcupine Mountains Wilderness State Park
allows you to choose your level of immersion in nature, and your level of difficulty on the 90-plus miles of hiking trails.
If you have part of a day…
The Union Mine Trail is an easy 1-mile loop north of the Union Spring trailhead, where interpretive signs point to evidence of copper miners who once worked here. On the hunt for waterfalls? Take the East or West River trails, which skirt the Presque Isle River to form a 2-mile loop.
If you have half a day…
For breathtaking views and a little more difficulty, tackle Escarpment Trail, which rises and falls along a ridgeline for more than 4 miles before accessing Lake of the Clouds Overlook. Only go half as far as you want to hike because you'll have to turn back the way you came—unless you're prepared for a much longer hike into the heart of the park.
If you have a full day…
Leave from the Summit Peak Scenic Area on the park's south boundary and follow a 10-mile loop on the South Mirror Lake, Little Carp River and Lily Pond trails. The route hits many of the park's highlights, including a wilderness lake, bird-filled marshes, dense forest, the Little Carp River and the Summit Peak Observation Tower, which soars three stories above the treetops. A day or annual permit is required for this hike.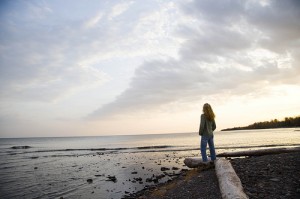 Just as the sunrise exhilarates you for an adventurous day, the sunset (and the day's hikes) will leave you satisfied and ready for a good night's sleep. Visitors can choose from 10 campgrounds in the park, including rustic or backcountry camping and cabins as well as more modern areas with electrical service and restrooms.
Before you go, make sure you're prepared for the level of difficulty on the trails you want to try. For more information on
Porcupine Mountains
Wilderness State Park, call 906/885-5275 or check out
Michigan DNR
.
[wp_geo_map]