Experience Winter Cycling in Grand Rapids This Season
If you're looking for a new activity to enjoy during your Pure Michigan Snow Day, or just need a new way of staying active, try winter cycling! Using fat-tire bikes, you can experience the joyful scenery of the state while also staying fit. Guest blogger Howard Meyerson provides some suggestions of top Grand Rapids trails for your cycling pleasure.
When the lure of winter woods grows strong and the urge to ride is even stronger, Grand Rapids is the place to be. Outside magazine, in 2010, named Grand Rapids a "Best Town for Mountain Biking." Michigan's second largest city is also now becoming a hub for winter biking trails.
Grand Rapids and the surrounding area offers riders a choice of groomed, winter cycling trails. Free demo-days are offered on some by bike shops in the area. Curious riders or enthusiasts can come out on those days and test-drive the newest fat-tire designs.
Fat-bikes, as they are commonly called, have soft, wide tires and comfortable frames that make riding in wet and snowy conditions easy. They appeared on the Michigan cycling scene several years ago and were considered a fad, but riders soon found their utility and comfort appealing. Stable with enhanced traction, they opened the door to winter riding at a time of year when most bikes stay in storage.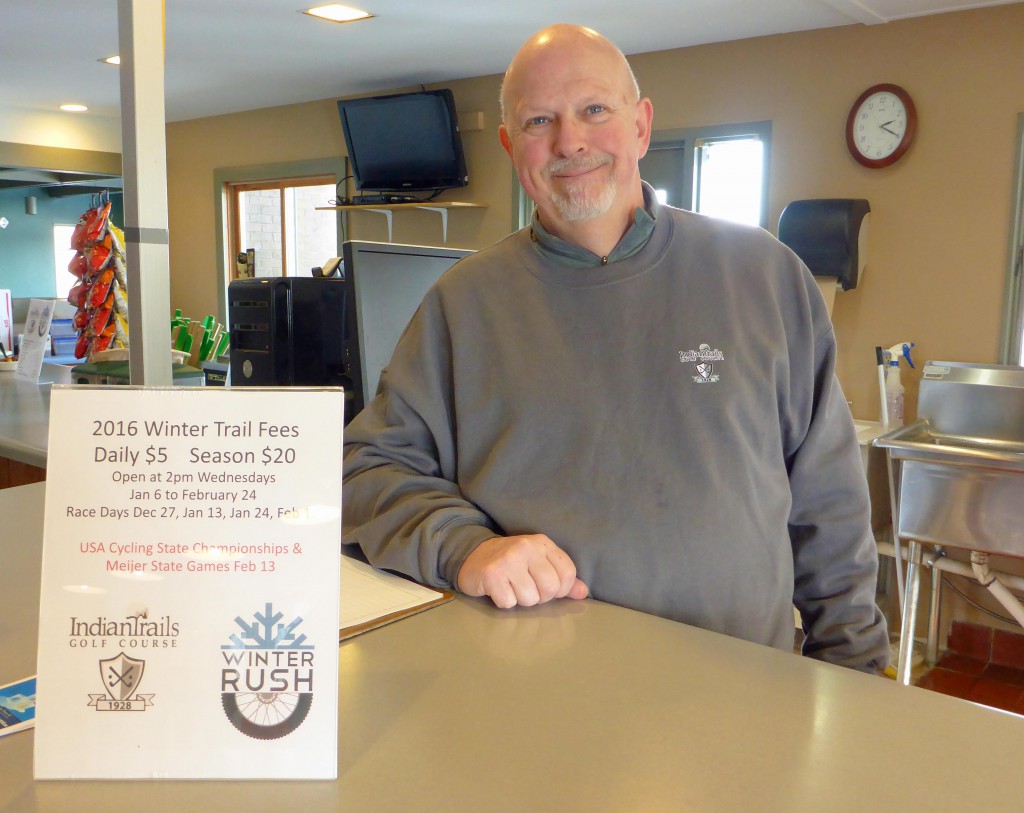 Lance Climie, clubhouse manager at Indian Trails Golf Course, Photo Courtesy of Howard Meyerson
If you're looking for a good winter cycling trail, or to try-out a fat-tire bicycle, visit these top trails around Grand Rapids, in no particular order:


Indian Trails Golf Course: Located 15-minutes from downtown Grand Rapids, at 2776 Kalamazoo Ave SE, the golf center has become a popular in-city riding destination with 3-miles of groomed trail in rolling, wooded terrain. Riders gather at the heated clubhouse for hot chili and beer by the fireplace. The trail is open to the public from 2 p.m. to 9 p.m. every Wednesday in January and February. It closes at 7 p.m. on race nights. A $5 daily trail-pass or $20 seasonal pass is required to ride. Wednesday is free demo-day on the trail and area bike shops bring 10 to 15 fat-bikes to try.


Merrell Trail: The very popular 4 to 5-mile groomed winter forest bike trail at 2908 10 Mile Rd. NE, Rockford, has become a destination for intermediate and advanced riders. It is maintained by the West Michigan Mountain Biking Alliance. There is no charge to ride. The trail opened in 2012 and was developed by WMMBA, Plainfield Township, Kent County Parks, the Wolverine World wide Foundation and Merrell.


Deep Lake Trail:

The hilly woods of Yankee Springs State Recreation Area are a magnet for mountain bikers year-round. The long-popular Barry County cycling trail at 2526 S. Yankee Springs Rd., Middleville, offers seven groomed miles for winter riding. It is maintained by the West Michigan Mountain Biking Alliance. There is no charge to ride.



Cannonsburg Ski Area: This is hilly terrain. The ski area at 6800 Cannonsburg Rd. NE, Belmont, grooms a 5 to 6-mile loop for fat-tire bicycles. Trail fees are $5/day, $30 for the season. Rental bikes are available.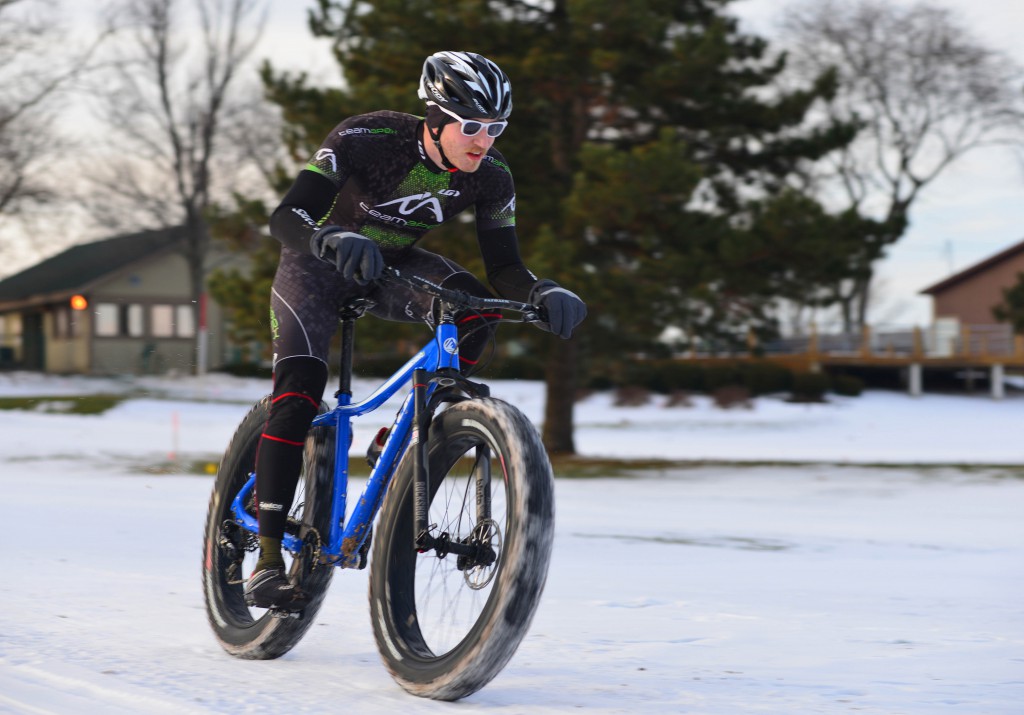 James Gunderman riding at Indian Trails Golf Course, Photo Courtesy of Howard Meyerson
If you're thinking to try winter fat-tire cycling, be sure to:


Wear a helmet.


Dress warm, but not too warm. Think hat and gloves.


Choose layers for active play.


Pick footwear that will keep your feet warm.


Howard Meyerson is lifelong outdoor enthusiast and freelance writer/photographer in Grand Rapids, Michigan. His work appears in a variety of publications.
Have you ever cycled in the winter? Share your experiences with us by commenting below!