Winter Ziplining in Pure Michigan
Did you know that you can zipline in Michigan year-round? Yes, it's true! Not only can you glide through Michigan's forests in the summer, but also in the winter. Chris Coole, one of the producers of the Michigan winter video series,
A Pure Michigan Winter
, shares with us how winter offers a scenic backdrop to glide 50 feet above the air and take in the sights and sounds of Pure Michigan.
Q. Can you tell us a little about yourself?
A.
I work as a senior producer/production manager with the team that produced the Pure Michigan Winter Video Series. We had a great time traveling across the state to capture all of the winter stories. I have also lived in Michigan for pretty much my entire life, except for a few years in Indiana a little while back. I have always loved this state and have a lot of great memories from my childhood of going "Up North" to our cabin in Elk Rapids, Michigan.
Q. What are some of your favorite winter activities?
A.
I actually don't do a ton of recreational activities outdoors in the winter. I have always loved sledding though and have gone skiing and snowboarding in previous years. And amazingly, I actually enjoy shoveling snow in the evening when you get that purple sky and light snowfall.
Q. Do you have favorite places or recommendations for those activities?
A.
Our family always goes up to Frankenmuth around the holidays each year and have taken part in some of the indoor water parks across the state. After doing this video series, I would highly recommend the Boyne resort where we shot some of the skiing footage. It was a great time up there.
Q. What do you love about the Michigan outdoors in the winter?
A.
I love fresh snow. I love waking up on the weekend and seeing a blanket of white snow outside. I also love the holiday lights and decorations in all of the towns around our area. It puts you a good mood when you drive or walk through those areas.
Q. Why do you think it's important to get outdoors in the winter?
A.
I think you can go a little stir crazy if you don't get outside and enjoy the weather. We have a trail by our house and sometimes we'll go for a winter stroll just to soak up the scenery and breathe in some fresh air. That always seems to relax me and I feel like a new man when I walk back inside the house.
Q. To you, what is "Pure Michigan"?
A.
I think to me Pure Michigan is going "Up North." Our trips to our cabin in Elk Rapids are some of my fondest memories as a kid and I always get a special feeling when my family jumps on I-75 on our way up north. I can remember the anticipation of reaching our destination and how fun it was to vacation near Traverse City on Elk Lake.
Q. What do you like about ziplining?
A.
Well this was my first time ziplining so my experience is from a newbie's perspective. But I really, really liked it. It was a whole lot of fun. The instructors were really great to work with and were cracking jokes the entire time. The only time I was a bit nervous was right before that first run. It was awesome and I couldn't wait to get to the next run. I had two highlights during my experience: the instructors encouraged us to try and lock our legs together above our harness in order to zipline upside down, it took a couple of tries but I was able to master it, and then at one point we were encouraged to try a front flip because the platform was more than high enough. I thought "How many times in your life do you get to try and do a front flip off a platform in the middle of the woods" I thought I would have about a 50 percent chance of success, but I did it and afterward I kind of felt like a ninja. It was also cool to capture all my jumps with a GroPro cam strapped to my helmet.
Q. How is ziplining different in the winter months? Describe the experience, sights and sounds.
A.
I would imagine scenery is the biggest difference between ziplining during the different seasons. Ziplining is similar to other winter sports in the fact that, once you get going you don't even notice the cold because you are having so much fun.
Q. Is ziplining an activity that everyone can do? Who do you think would enjoy ziplining?
A.
I think anyone can zipline. The instructors are great and teach you everything you need to know. You are hooked after just one jump. Our group included zipliners from all age groups and everyone had a blast. As for who would enjoy it, I think anyone who is looking for an adventure and gets a kick out of trying new things. I really hadn't ever thought about even trying this before this video project— but I will totally do it again if I get the chance.
Q. Ziplining is one of many things you can do in Michigan in the winter – do you have any other suggestions on things that people should consider doing?
A.
I think all of the outdoor sports are a great way to relax and enjoy our great state. While shooting these videos I got the ski and snowboard bug, even though I haven't participated in those activities in years. Anything that gets you outdoors for a few hours and gives you a chance to get your mind off the daily grind is a great way to experience Pure Michigan.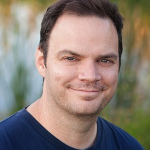 Chris Coole is a video producer in the metro Detroit area. While filming
A Pure Michigan Winter
, he was able to experience Michigan's many winter offerings firsthand.
Have you ever been ziplining in Michigan? Share with us below!
---