An Off the Beaten Path Fall Color Tour in the Central U.P.
Jesse Land, founder of Things to do in the U.P., a website dedicated to helping people discover the best of the Upper Peninsula, fills us in on his recommendations for taking a fall color tour around the central U.P.
Check out Jesse's last post for tips on taking a fall color tour around one of the U.P.'s most cherished areas – the Keweenaw Peninsula. Stay tuned for additional fall color tour ideas from Jesse later this season!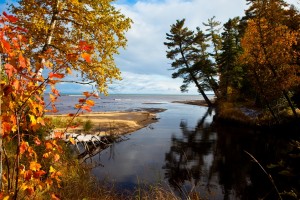 When most people think of a fall color tour in the
Upper Peninsula
, the central
U.P.
(the Iron Mountain – Menominee – Escanaba area) is not what they have in mind.
Well, I'll let you in on a little secret. It's actually pretty cool if you know where to look!
Breakfast
Let's start off with breakfast in
Iron Mountain
, shall we? The tourists eat at the Holiday Kitchen. I suggest you do like the locals do and pop into B's County Café (629 S. Stephenson) for an authentic Upper Peninsula greasy spoon experience. The service is always friendly and the women bustling behind the retro countertop sure make a mean breakfast! Try the French toast on homemade bread. My stomach is growling just thinking about it.
The Morning Drive
Here's where you leave the pack behind. Head east out of Iron Mountain on the ever popular U.S. 2, but make a right at the caution light in Vulcan (just past the Iron Mountain Iron Mine but before Northwood's Adventures) and pick up county road 577. This smooth, curvy road is lined with hardwoods and birch and always makes for a beautiful fall drive.
Follow 577 all the way to
Menominee
, where I'd recommend exploring the historic downtown waterfront district for a while before heading north on M-35. This scenic route follows the coast of Lake Michigan's Green Bay, and connects Menominee to
Escanaba
. There are plenty of beachside pit stop opportunities along M-35 and there's sure to be plenty of color!
Lunch
All of that sightseeing is bound to make a person hungry. If you're in the mood for a sit down, quality (though somewhat pricey) meal,
The Stonehouse
is tough to beat. They've got consistently excellent food and terrific service. Ferdinand's Mexican Restaurant is a great place for a casual lunch, and if you're looking to keep on trucking, grab a couple sub sandwiches from D&M subs and hit the road.
If you feel like stretching your legs a little while in town, drive down Ludington Street until you reach Lake Michigan, then park and walk around. The
Sand Point Lighthouse
is probably the most popular landmark in Escanaba, but the House of Ludington is also fun to check out.
Now it gets Interesting
Kitch-iti-Kippi (say that three times fast) in Palms Brook Sate Park, also known as "Big Spring", is a standout attraction of this general region. And from Escanaba, you're about fifty two miles away. Follow U.S. 2 east to county road 442 and then follow the signs from there. You'll enjoy gazing down at huge trout as you float over Michigan's largest natural spring. The water is crystal clear and the sand "erupting" below as water bursts upward through the ground is really something to see!
In my opinion, the Garden Peninsula is one of the most overlooked parts of the Upper Peninsula, and that's where you're headed next.
From Kitch-iti-Kippi, backtrack a couple miles on U.S. 2 then head south on county road 183, the road that heads to Fayette State Park. You'll pass both the
Garden Bay Winery
and
Threefold Vine Winery
(wine tour, anyone?), as well as a couple art galleries. Of course, the standout feature here is
Fayette Historic State Park
, but one could just as easily spend the rest of the day exploring the Garden Peninsula's other gems and beautiful fall colors.
County road 183 is a wonderful drive and the colors in this area are gorgeous in the fall. But best of all, since this
is
an off the beaten path fall color tour, you'll have it all to yourself!
Jesse Land is the founder of Things to do in the U.P., a website dedicated to helping people discover the best of the Upper Peninsula. To learn about the best things to do in the U.P., follow Jesse on Facebook at
http://www.facebook.com/thingstodointheup
.