From Our Community: 29 Must-Do Activities in Pure Michigan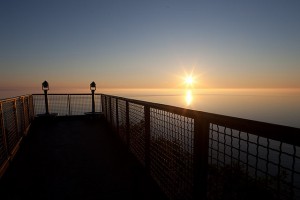 In honor of Leap Day (February 29th), we asked fans on our Facebook page what they would include on a list of 29 must-do activities in Michigan.
In no particular order, here are 29 of our favorite suggestions. Thanks to everyone who responded!


"Go to Frankenmuth and visit Bronner's, swim in Lake Michigan" – Robin Lynn Humble


"Visit the Tulip Time Festival in Holland in May." – Karen Zuverink Heyboer


"Ride across Lake Michigan from Ludington to Wisconsin on the Badger!! Visit House of Flavors in Ludington!" – Becky Davis


"Kayak across Lake Huron to Turnip Rock!!" – Autumn Richards


"Traverse City, the bay, the wineries, cherry festival. Stay at the Cherry Tree Inn." – Thomas Batzmarowsky


"Sunrise side of the state! Visit the harbors in Lexington and Port Sanilac!" – Marianne Kern


"Watch a U of M vs. MSU game, eat at Zingerman's, and fall asleep on the lawn in the Diag. You can't do that anywhere else in the world!!" – Lisa Robinson


"Definitely....Tunnel of Trees just north of Petoskey! :)" – Donna Ryan-Shyrock


"Make your own snowshoes at Ludington State Park." – Kristi Kiki Dunigan


"Visit Henry Ford Museum and Greenfield Village. Visit any of our wonderful lighthouses. See Pictured Rocks and Tequamanon Falls. Visit Hartwick Pines." – Ric Booth


"Climb Sugarloaf Mountain near Marquette on a clear day, and take panoramic photos." – Lisa Guenther


"Definitely Sleeping Bear Dunes National Lakeshore!" – Ruth Snyder Wass


"A short drive to Grosse Point Pier. Just beautiful on a sunny day!" – Brian Williams


"Have a cinnamon roll at the Hilltop Restaurant in L'Anse! By the way, this "cinnamon roll" could feed a family of four.....hahaha" – Laurie Napp VanHorn


"Driving on the M-22 Coast!" – Amy Kozlowski Murrin


"Wade in every great lake. I have just one more to go! Lake Ontario!" – Amanda Marie Wilk Ames


"4th of July fireworks show in Bay City. 50th anniversary this year...bigger and better show than ever before!" – Mike Metzler II


"Frankenmuth and of course attend a Wings game!" – Jill Stern


"Keweenaw Peninsula....breathe the cleanest, freshest air in Michigan." – Christa Larson-Bazzi


"Visit a Michigan winery -- yum!" – Julie Dean Wingett


"Go to the Ann Arbor Art Fair. A treat for all the senses." – Felicity Gologram


"Get your vote in at ArtPrize in Grand Rapids!" – Erin Barkel


"Go to Charlevoix and listen to music in the park" – Noah Muszall


"PLAY GOLF!!!!" – Jason Leonard


"Attend the Woodward Dream Cruise." – Nancy Perkins


"Tahquamenon Falls! Hike there, snow shoe, ski, snowmobile. Whatever your pleasure you can do it all here in Paradise Michigan!!!" – Laurie Winkler


"Bells Brewery in Kalamazoo!!" – Emily Ferenc Powell


"Lake Michigan sunset." – Tom Fischer


"Go to Mackinac Island!!! My favorite place in the World!!!" – Susan Senn