From Our Community: Why is Michigan the Real Mitten State?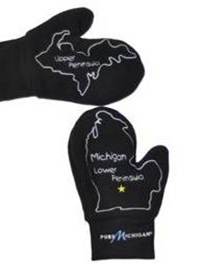 "The Great Mitten debate," "Mittengate" and "The Battle for the Mitten" are just some of the interesting names popping up from the fallout from the Wisconsin Department of Tourism's decision to put up an image of a somewhat stretched-out mitten for its new winter activity section on its website. That move has sparked a wave of pride and defense from
Michiganders
and has gained national attention. We've started a website to help determine who truly is the mitten state that you can find
on michigan.org.
There have been hundreds of comments and Tweets we've read responding to the question we posed today on our
Facebook
and
Twitter
pages asking: "Why is Michigan the real mitten state?" Here are a few we came across. Thanks to all who responded!
"Because when Paul Bunyan was chopping down trees in the winter he dropped his mittens and over time it became the state of Michigan!!!! Why do you think we have statues of Paul Bunyan all over in the state???" –Mary Doyle on Facebook
"Their [Wisconsin's] attempt looks like they pulled a mitten over the top of some guy wearing a cheesehead hat." –Brent L. Larson on Facebook
"I had hoped to support Wisconsin's mittenosity, but after wasting some time in Photoshop, I must concede that the lower peninsula of Michigan requires the least hand deformation to wear." –Rexella Van Impe on
michigan.org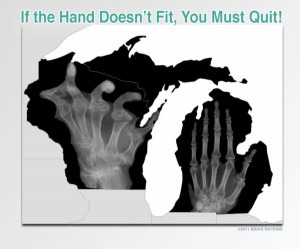 "I knit a mitten once that looked kind of looked like Wisconsin. I didn't knit the second one." –
@JulieKay0919
on Twitter
"Dear Wisconsin, Identity check: You are not a mitten. But as they say, imitation is the greatest form of flattery. #PureMichigan" –
@mattfrendewey
on Twitter
"We have an attitude and we show it. Everyone can "talk to the mitten" if you wanna dish Mich!!!" –Cheryl Love Taylor on Facebook
"Because it's the only state where you might have to wear mittens in May, but may NOT need them on Thanksgiving?" –Kathy Wolf Smyser on Facebook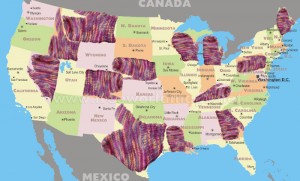 "You know, this mitten thing could really take off!" -
@MKelto
on Twitter
"If you look at the shape, it's obviously a mitten. No matter where you go in the U.S.A. if you say you're from Michigan people get it when you hold up your hand and show them where you're from. No other state can you do that without confusing the crap out of someone." – Kristen Wheeler on Facebook
"Because, even on the map, our hand is raised in greeting hello!" - Lois Payette on Facebook
"I don't want to get into it. Talk to the hand." - Sue Stuever Battel on Facebook