How Did Michigan Cities Get Their Names? Part 3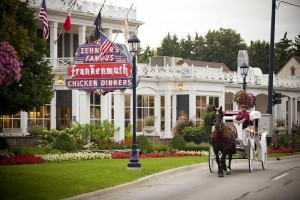 In parts
one
and
two
of our series explaining how Michigan cities were named, we shared unique stories and history of various areas of our state. This week, check out how the five cities below got their names.
Kalamazoo:
Kalamazoo
, the largest city in Southwest Michigan, was originally known as "Bronson," after founder Titus Bronson. In the 1830s, the name was changed to the Native American word "
Kalamazoo
," but there are several theories to its exact origin. Some say it means "the mirage of reflecting river," while others say it means bubbling or boiling water. Another legend is that the image of "boiling water" referred to fog on the river as seen from the hills above the current downtown.
Grosse Pointe:
Grosse Pointe, sometimes called "the Pointes," refers to a comprised area of five individual communities outside of Metro Detroit. The name "Grosse Pointe" derives from the size of the area and its projection into Lake St. Clair.
Frankenmuth:
Frankenmuth
, often referred to as "Michigan's Little Bavaria," was settled and named in 1845 by immigrants from Franconia (now part of Bavaria) in Germany. The German word "franken" represents the Province of Franconia in the Kingdom of Bavaria, and the German word "mut" means courage, which makes the city name of
Frankenmuth
stand for "courage of the Franconians." Families flock to
Frankenmuth
to enjoy Christmas celebrations yearlong, in addition to a number of other activities.
Albion:
The city of Albion was almost named "Peabodyville," after Tenney Peabody, the first European-American settler to arrive in the area in 1833. The area remained nameless until 1835, when a man named Jesse Crowell formed a residence and land development company called the Albion Company. Peabody's wife was then asked to name the settlement and while she considered using her husband's name, she ultimately selected "Albion." The name was appropriate, since "Albion" is an old and poetic name for England, and many of the early settlers were of English decent.
Muskegon:
Like many other cities in Michigan, Native American tribes inhabited what's known as
Muskegon
during historic times. The word "
Muskegon
" is derived the Ottawa Native American term "Masquigon," meaning "marshy river or swamp." The "Masquigon" river was identifed on French maps dating back to the late 17th century, suggesting that French explorers had reached Michigan's western coast by that time. Today, people enjoy the water and sand dunes in
Muskegon
every summer.