How Did Michigan Cities Get Their Names? Part 4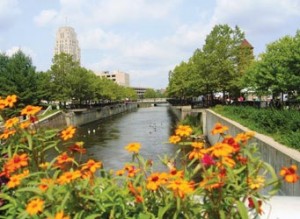 Photo courtesy of Battle Creek-Calhoun County Convention & Visitors Bureau
We're happy to share with you another post in our ongoing series of how cities in Michigan got their names. Here are five more – including a seasonal city, perfect for this time of year. In case you missed them, here are
Part 1
,
Part 2
and
Part 3
.
Battle Creek
You might already be thinking, "Battle Creek must have been the site of some epic battle!" The reality of it though is a bit less epic. In 1825 a group of government surveyors were working near a stream near the present day site of the city when two Pottawatomi Native Americans appeared at their camp asking for food. A discussion turned angry and, during a brief skirmish, one of the surveyors took the Native Americans captive when he produced a rifle. The surveyors reported the skirmish to the Governor and later surveyors at the site recalled it as "Battle Creek."
Royal Oak
The city of Royal Oak is named after a legendary oak tree. In 1819 Michigan Governor Lewis Cass set out to explore Michigan and prove surveyors' claims that the area wasn't completely swampy and uninhabitable. At first, swampy land was all they were finding until the group came across a massive oak tree, much larger than any other in the area. It reminded Gov. Cass about an oak tree King Charles II of England is said to have taken refuge under during an enemy attack in 1660. Recalling that story, Cass and his companions named the tree and the surrounding area "Royal Oak."
Flint
Flint's recorded history also dates back to 1819 when a trading post opened. It was originally called "Grand Traverse," however over the course of 17 years it had other names as well like "Todd's Crossing", "Sidney" and "Flint River" after the local Indian name "Pawanunking," which referred to the nearby river's rocky bed. It was later shortened to Flint in 1836 before being incorporated as a city in 1855.
Hell
There are a few theories on the origin of the name for Hell, Michigan. The most popular involves a man in the 1840's named George Reeves who, when asked by officials what he wanted to name the settlement he helped start, replied, "Call it Hell for I care!" Another story of the town's name comes from the frontiersmen who traveled the low-lying wetlands at the height of mosquito season. After traveling through such wet and infested terrain they referred to it as "Hell."
Christmas
The story of Christmas, Michigan's name is a bit more merry. A Munising man began a roadside factory in 1938 so that he could create holiday gift items. Unfortunately, the factory burned down shortly thereafter, but the name and the factory's roadside Santa Claus stuck around to this day.