Your Pure Michigan Fall Color Report Sept 28, 2012
Peak fall color is fast approaching in Pure Michigan, which means it's the perfect time to start planning your fall color tour! Below is a recap of this week's Michigan fall color report. For more details, visit michigan.org.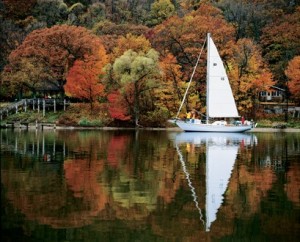 Upper Peninsula
Yellow is making a strong showing among the Chippewa County Aspens, oaks, Tamarack, and beech species with the area forecasting 25-50 percent peak color conditions for the up-coming weekend. A full spectrum of vibrant fall color is expected to sweep across the Chippewa area in one to two more weeks. The eastern end of the Upper Peninsula is at about 40-50 percent; but further inland, color is only about 30 percent. Looking for a fall adventure? Look no further than Sault Ste. Marie! The Sault is the perfect hub for a weekend getaway; with the Soo Locks Park filled with amazing trees that are filling with color.
Color on Michigan's Keweenaw Peninsula is still a work in progress. The reds and yellows are showing up mainly in the southern portion of the Keweenaw around the Twin Lakes area, but can also be found along some of the roadsides as you head north to the tip. Color in the Copper Harbor area is very minimal at this time; however viewers can get a glimpse of red and yellow maples and some red oaks.
Northwest Michigan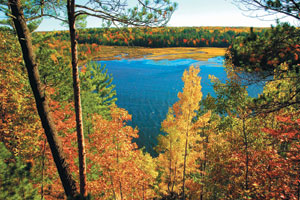 Just east of Traverse City, in Michigan's northwest region, you'll find two watery jewels of the Michigan landscape--Elk Lake and Torch Lake-- beloved by generations of cottage owners but relatively unknown to the outside world. Even less famous is the steep valley of the little Rapid River, whose forested slopes look as though they were transported from somewhere in the Appalachian Mountains. Head north from Traverse City's eastern edge on US- 31, following the highway as it carves its way past orchards and farms along the shore of East Bay. At the lively little port of Elk Rapids, turn right at the light and follow Ames Street (which becomes the Cairn Highway) along the northern shore of Elk Lake, through the village of Kewadin and southward again on County Road 593. This road will take you along the eastern shore of the lake, across the Torch River as it empties into Torch Lake, and into the village of Rapid City. Continue east on 593 (now known also as Valley Road) as it winds its way up through the narrow valley of the Rapid River. A good stop here is at The Seven Bridges, where the river separates briefly into several braided streams. Continue up the valley past Rugg Pond-- another very scenic area where Ernest Hemingway once camped during a teenage fishing trip--until the road ends at M-72. Turn right and follow the highway west to Traverse City, where you'll pass a dramatic vista of Elk Lake and nearby Lake Skegemog.
The Traverse Bay region's kaleidoscope is boasting crimson, gold, red and yellow maples, along with crimson and russet oaks and a splash of gold and purple on a variety of other trees. With 25 percent saturation, peak conditions are projected to arrive in one or two more weeks.
Northeast Michigan
Alpena's bronze hickory and red, gold and yellow maples and oaks, make a dramatic statement against a backdrop of mostly summer leaves. It is anticipated that the area will peak in coming weeks.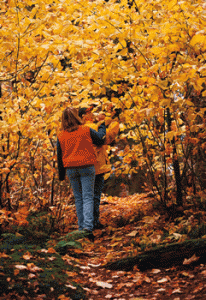 The Gaylord area is currently approaching 25 percent peak with its yellow Aspens and red maples and oak; however, color throughout the area is still expected to be fairly limited for this weekend viewing.
Visitors to Alcona and surrounding communities will find a beautiful burst of yellow Aspens throughout the vicinity. With most other trees still displaying predominately summer foliage; peak conditions are still three to four weeks away.
The Charlevoix area is reporting color change ranging from golden yellow and bronze to red crimson and purple among the Aspens, beech, hickory, maples. The color is most prevalent along the wetland areas along US-131 north of Cadillac. Good color is also visible on the hillsides east of Mancelona and in the Chandler Hills area northwest of Gaylord.
North Central Michigan
In the North Central Lower Peninsula, the season brings an abundance of violet and amethyst blossoms among the Chicory and English Aster plants, which provide a colorful welcome for the full-out gilt of the Golden Rod and the emerging yellows of Poplar and Birch trees found throughout the Alcona vicinity. This coming weekend, viewers can fill up on multi-grain pancakes at the Tin Fish Boathouse in Hubbard Lake. Then head on over to the Black Bear Festival on September 29, and discover how autumn is celebrated in Curran.
West Central
Currently reporting 26-50 percent peak conditions, the Grand Haven area rolls out a fall-color itinerary that you want to travel to view the colors at their best.
Lakeshore Drive, just south of downtown Grand Haven, is a beautiful 40-mile round-trip drive or bike ride between Grand Haven and Holland. You'll spot fall colors along the way at Rosy Mound Natural Area, and Kirk Park or Olive Shores parks. Downtown Grand Haven also has color along Harbor Drive, the Grand River, and Lake Michigan.
Leaving downtown, take M-104 east through Spring Lake and stop at Vander Mill Cider & Winery to grab some apple cider and their famous cider donuts. Plan enough time for a sampling of their hard cider tastings and be sure to pick up lots of yummy Michigan-made goods such as honey, jams, and more.
Take the next right (South) at 148th Avenue and follow it to Leonard Road and take a left to follow it down a beautiful stretch through the country side for a burst of red, yellow, gold, bronze, and pale cream.
Take a right (South) at 68th towards Allendale. Follow 68th Avenue until you reach Lake Michigan Drive/M-45.
From here you can choose to go east towards the Grand Valley State University campus—absolutely stunning in fall-- or back west towards Grand Haven or both.
Follow Waverly in Grand Haven east to Mercury Drive to get on Historic River Road. You can follow it east along the Grand River all the way to 68th Avenue in Eastmanville.
East Central Michigan
The Lexington area is displaying yellow Aspens, Pale cream beech, bronze hickory, red maples, russet oaks and a splash of purple can also be spotted in the area. This charming harbor hamlet along the Lake Huron shore is anticipated length of time until peak tree color arrives is still three or four weeks away.
State parks along M-25 are a great place to see the fall colors and squeeze in a brisk a walk along the beach. Your fall color tour of these maritime communities won't be complete without a detour to see the Fort Gratiot, Port Sanilac and Point Aux Barques lighthouses.
The area is still mostly dominated by summer foliage; but a slight showing of red, yellows, golds russet and pale cream has begun to make a presence here. It is expected that peak will take place within the next one or two weeks.
Southwest Michigan
The locust trees lining Phoenix Street in downtown South Haven have started turning a golden yellow brightening the shopping district and inspiring everyone to declare that fall is really here. Be sure to stop for a warm cup of coffee or hot chocolate at the Golden Brown Bakery or the Chocolate Cafe. Or, plan time to browse the Farmer's Market (open on Wednesday and Saturday only) to stock up on locally-grown fall veggies and beautiful floral arrangements for the week.
Visit michigan.org for a complete update on Michigan's peak colors - including deals, events and more in regions with the most vibrant color displays.