Cruising, Dancing and Dining with the Wind
Set sail across the coastal waters of Michigan for a relaxing cruise against a backdrop of some of the most majestic sunsets you'll ever see. Or, for an enchanted evening, book a dinner cruise with that special someone and savor Michigan's great cuisine and award-winning wines and craft beers. Cruise our lakes, rivers and streams and learn of our history, take part in the customs of a bygone era or simply take in the breathtaking scenery.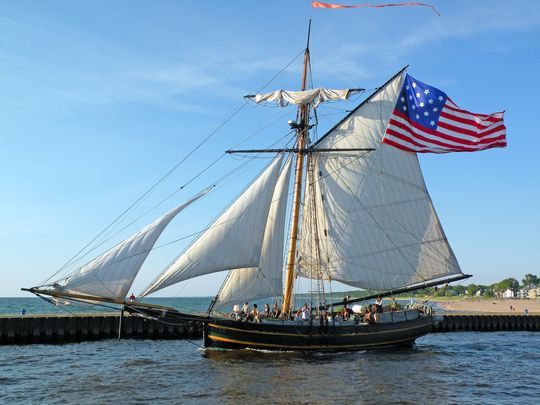 Set sail with Wind Dancer Charters. The 61-foot double gaff-rigged schooner departs from South Harbor along the Grand Haven boardwalk for three trips daily, from May to September.Take turns raising the sails and steering the 22-passenger ship around Lake Michigan, led by the captain and first mate. You can feel the breeze toss your hair as you look out toward the majestic sand dunes and wooded hills that edge the shoreline. Kick back with a cocktail from the cash bar as the stereo plays familiar Caribbean tunes.
The last sail of the day is the romantic two-hour sunset cruise, where you can watch the sun dip into the horizon, splashing colors across the evening sky. Call ahead for schedules and advance reservations.


The Tall Ship Manitou is a replica of an 1800's coasting cargo schooner, similar to those that sailed the Great Lakes and the Atlantic Ocean. There are overnight accommodations for 24 guests in 12 private cabins which are rustic and fitting of a mid-1800s style windjammer. Sailing out of Traverse City from Memorial Day weekend through early September, Manitou offers a noon sail, afternoon sail and a popular evening sail, with each adventure being two hours in length (a specially catered picnic meal is included on the evening sail). Additional excursions include Wine Tasting Cruises on Tuesday and Thursday evenings, Entertainment Nights on Wednesday evenings and our Moomers Ice Cream Sails on Monday and Friday afternoons.

Superior Odyssey Cruise offers the opportunity to sail on a historic schooner the Coaster II into the wildest and most ruggedly beautiful seascape of Lake Superior. Choose a sail of your liking or customize a sail to fit your event. You can choose from a two hour sail to an overnight sail. The Coaster II is a passenger vessel offering day and sunset cruises on a wooden hulled, gaff-schooner with topsails.

The dramatic story of the Great Lakes historic replica tall ship, Friends Good Will, speaks to the history of commerce in the early 1800s, as well as her pivotal role in the War of 1812. Stand at her bow, feel the wind on your face, hear the crack of her billowing sails and her 6-pound pivot cannon. Do more than imagine how seamen felt as they set sail for uncharted courses - experience it for yourself. Available for dockside tours, passenger sails, and charters at the Michigan Maritime Museum.

For your next special getaway, why not book a dinner cruise aboard one of the following floating restaurants, tour vessels or party boats:
Great Lakes Cruise Company, Ann Arbor
Appledore Tall Ships, Bay City
Bay City Boat Lines, Bay City
Detroit Princess Riverboat, Detroit
Shepler's Lighthouse Cruises Mackinaw City
Port City Princess Cruises Muskegon
Huron Lady River Cruises, Port Huron
Saugatuck Boat Cruises, Saugatuck
Soo Lock Boat Tours and Dinner Cruises Sault Ste. Marie
Captain Hook Charters and Party Time Cruise, St. Joseph
Nauti-Cat Cruise, Traverse City
Traverse Tall Shio Co., Traverse City

The Michigan Charter Boat Association supplies information about all types of boating charters. Fishing, Diving, Sailing, etc. The captains and mates adhere to the highest ethical standards and strive to make your trip an experience to remember. The Michigan Charter Boat Association (MCBA) is a nonprofit organization organized and located in the State of Michigan. The individual members are United States Coast Guard licensed for the Great Lakes and all charter boats are state inspected. MCBA and the individual members are dedicated to establishing a professional charter industry in the State of Michigan.

See you soon on one of Pure Michigan's lakes, rivers and streams!