Marquette County's Spectacular Natural Wonders
Retreat, relax, revive--become mesmerized by the natural beauty of Marquette County. Nestled against 83 miles of sandy Lake Superior shoreline, Marquette County is home to 77 magnificent waterfalls, some of the most pristine and secluded beaches in the country—and the best that nature has to offer, from proud waters and rugged landscapes to forests as far as the eye can see.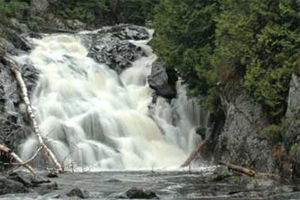 Michigan has many hidden gems—little-known places of natural beauty and wonder; places that the locals know about, love and treasure; places that out-of-towners stumble upon and immediately feel like they've hit the vacation jackpot. Michigan's Upper Peninsula's is one of those places--and Marquette County is a vacation destination jewel worth consideration.

Marquette County, situated on the shimmering shore of Lake Superior in the heart of Michigan's Upper Peninsula, is a place that puts everything into perspective. Here, you will experience life at a different pace and find the best nature has to offer. Stroll along sandy beaches, wander through towering pines and visit historic towns and villages. Lake Superior shoreline, rugged landscape and forests that stretch as far as the eye can see, Marquette, a place where we don't miss the noise, the crowds or the congestion.


This beautiful Upper Peninsula destination boasts some of the most picturesque waterfalls in the state. Nestled throughout the county, these rocky and rugged cascading rapids are ideal for a day expedition with friends or family. You'll see waterfalls of various sizes drops from 5 to 40 feet high. Viewers are advised to take the upmost care when traveling to observe this beautiful natural wonders.

With 77 magnificent waterfalls, Marquette County is home to more of these cascading wonders than any other county in Michigan. Come to a place where the locals welcome you to celebrate their spectacular scenery with a self-guided waterfall tour by requesting a copy of their complimentary tour map. So, plan your Marquette County waterfall tour and experience the area's other amazing recreation options including biking, hiking, rock climbing and fishing—just to name a few.

Don't let summer's pleasures slip away before you plan a getaway to Marquette County.