Northern Lower Peninsula County Road Agencies "Don't Miss" Fall Colors Routes
The leaves are changing colors which means fall is here! Northern Michigan county road agencies have recommended local roads for fall color tours. Peak fall color for Northern Michigan should be October 7-14! Plug intersections into your vehicle or smartphone navigation system and admire another Northern Michigan fall during peak viewing conditions.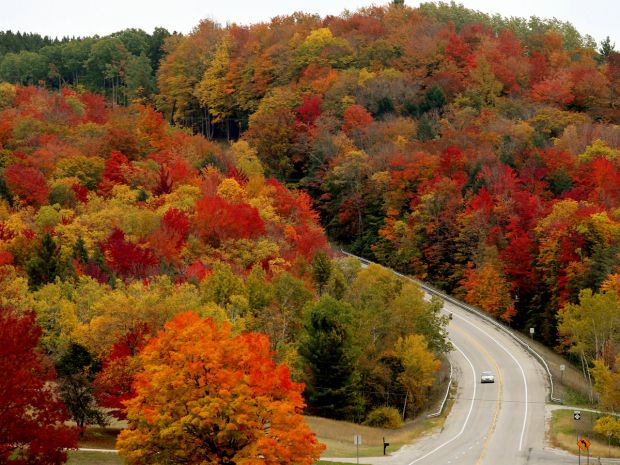 Alpena County
Bolton Road to Long Lake Road
Nicholson Hill Road and Scott Road
Antrim County
Deadman Hill overlook off US 131 viewing Jordan River Valley
Jordan River Road off US-131
Pinney Bridge Road off M-66
Cascade Road off Alba Highway (CR 620)
Emmet County
Lake Grove Road from US-31 to Resort Pike Road
Indian Garden Road from Resort Pike Road along Walloon Lake
Lower Shore Drive from M-119 to M-119 in West Travers Township near M-119 Tunnel of Trees
Lamkin Road from M-119 to M-119 in Friendship and Readmond Townships
Leelanau County
North Eagle Highway
Newman Road
Port Oneida Road
Gills Pier Road
Schomberg Road
Mason County
Lakeshore Drive from Oceana Drive to Iris Road
Hawley from Pere Marquette Highway to Walhalla Road
South Masten Road to Washington Road and the Ruby Creek area
North Lakeshore Drive along Hamlin Lake
Custer Road from Hogue Road to US-10
Presque Isle County
Long Lake Highway from M-65 into Alpena County
E-634 Highway from Polaski Road west to Lake May Road
W-638 Highway Ocqueoc Road from Walker Highway to North Allis Highway from Ocqueoc Road west to M-211.
Montmorency County
Pleasant Valley Road
Farrier Road
Carter Road
Meridian Line Road
Know of a beautiful road in the UP not listed here? Let everyone know with a post to
Facebook
at
https://www.facebook.com/micountyroads
or on Twitter at
https://twitter.com/hashtag/micountyroads
.
Article submitted by
County Road Association of Michigan
---