10 Michigan Trails to Experience This Winter
With thousands of miles of trails throughout the state, Michigan offers a winter wonderland of picturesque scenery and distinct features. These are trail systems that vary in terrain and level of difficulty – from wide, groomed pathways to more natural, narrow lanes – allowing everyone to get in on the fun.
If you're already thinking about where you want to go this winter, you might want to consider adding these to your list.
The Heritage Trail is a 3-mile nature trail perfect for hiking and snowshoeing, offering picturesque landscapes of Drummond Island Township Park.
Visitors can experience beautiful forest scenery and the Potagannissing Bay shoreline on its lower levels, while the upper levels wind along limestone ledges and shallow caves. There is also a 50-foot drop in elevation along the trail.
The majority of Heritage Trail can be snowshoed easily by beginners, although the upper level does have some uneven terrain. Visitors may also see a wide array of wildlife inhabiting the area, from forest birds to whitetail deer.
With a 37.9-mile trail system, the Big M Cross Country Ski and Mountain Bike Trail is located off of M-55 between Manistee and Cadillac. This site is perfect for cross-country skiing and fat tire biking.
Big-M was one of the first downhill ski resorts in Michigan and is now home to 18 miles of groomed classic cross country skiing trails.  For a top fat bike destination, look to Big-M's Outer Loop. This 17-mile, 20″ wide groomed trail is an incredible experience for any fat tire riding enthusiast.  With its remote location and difficult terrain, this trail is geared for advanced riders. There is also a great 6-mile loop that is relatively flat and ideal for beginners. It is a little wider at 30″ and is directly accessed from the primary Big-M parking lot. Big-M is located in the National Forest, and a parking fee is required. A pay station is available onsite.
From gently rolling to slightly more challenging, the 28.3-mile, one-way Corsair Cross Country Ski and Hiking Trail offers a splendid way to take in Michigan's winter beauty by cross-country skis. 
The blue diamond-shaped confidence markers and the Silver Valley Trailhead offers a gentler and less hilly experience for skiers, while the Wrights Lake Trailhead is more challenging with longer loops and steeper hills.
The Keweenaw Peninsula is always a great choice for anyone looking to experience beautiful trails under a canopy of Michigan forests by cross-country skiing, snowshoeing and fat tire biking.
The cross-country ski season can run from Thanksgiving to mid-April with the region boasting 250 inches of annual snowfall, making it a great way to satisfy your hunger for winter sports. The area also has a wide variety of trails, from the wide and groomed daily to the more narrow striding-only wooded trails.
Keweenaw Trails include four trail systems – the Chassell, Michigan Tech, Swedetown and Maasto Hiihto/Churning Rapids – where visitors can get a combined annual pass or get a day rate for an individual trail.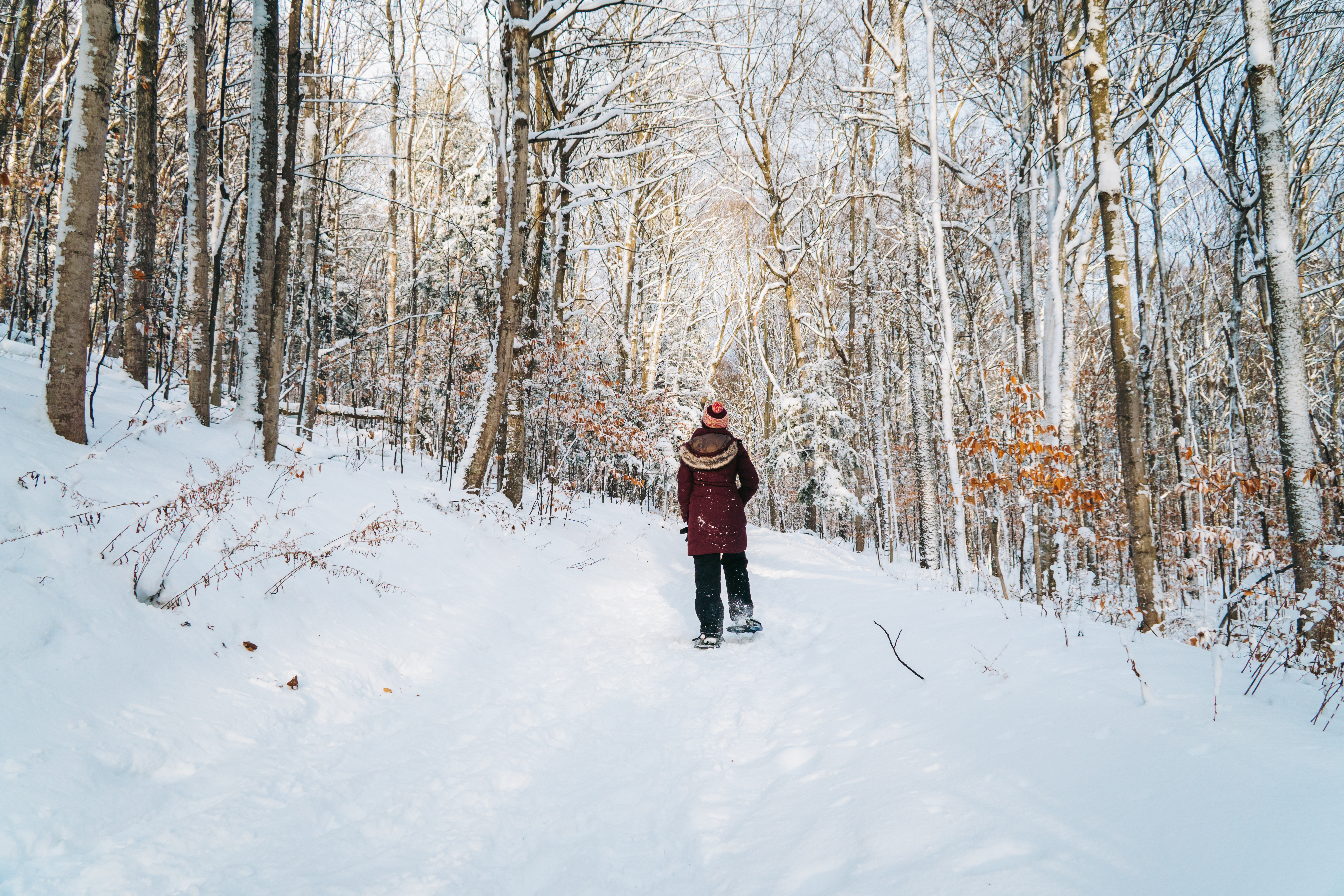 Groomed and marked for novice skiers, the 11.5-mile Muncie Lake Pathway is one of the most popular trail systems in Grand Traverse County, perfect for hiking and cross-country skiing.
The trail is about 13 miles south of Traverse City and takes visitors through fantastic views of Muncie Lake. While there are numerous hills, there are no sharp grades or sudden changes of directions.  The back loop of the trail system does include three long downhills for more experienced skiers.
With its seven interconnecting loops that go from 1.36 miles to 4.34 miles, Loud Creek Cross Country Ski and Hiking Trail is a great experience for people of all skill levels for cross-country skiing, hiking and snowshoeing.
The complete trail features signage that indicates difficulty information and blue diamond confidence markers.
Visitors will experience the peaceful solitude of northern hardwoods and large pine, as well as bridge crossings, beaver ponds and rolling hills on the groomed trail.
Experience the scenic beauty of the Au Sable State Forest by hitting the 13.6 miles of groomed trail known as the Ogemaw Hills Pathway to go hiking or cross-country skiing.
Located at the corner of Clear Lake and Fairview roads, the trail is perfect for the beginner, as well as intermediate and more experienced cross-country skiing enthusiasts.
With its distinct features formed thousands of years ago by retreating glaciers, the opening to the Ogemaw Hills Pathway is actually what is left of abandoned pioneer farms that are being reclaimed by the forest. The location and elevation of the trail also means it will get between six to 10 inches more snowfall than surrounding areas.
Loved by locals and built specifically for cross-country skiing, the Pine Baron Pathway has four interconnected loops that range from 2 to 2.5 miles.
While much of the trail is flat with some minor changes in elevation, the 2-mile Whoopsy Loop does feature some descents and climbs, but isn't too challenging for beginners. And since area averages about 180 inches of snow every winter, the Pine Baron Pathway makes for a quick and pleasurable experience for anyone who loves cross country skiing.
Known for getting up to 200 inches of snow during the winter, the Valley Spur Trail is located in the snow-belt of southern Lake Superior. Visitors like to cross-country ski and snowshoe here.
The trails reside in heavy forest cover, sometimes following old logging roads, in a 27-mile stretch that is groomed daily from December to March. Beginners, as well as more intermediate and expert skiers, can enjoy the mixture of pine and hardwoods that populate the forest as they traverse through the winter snow.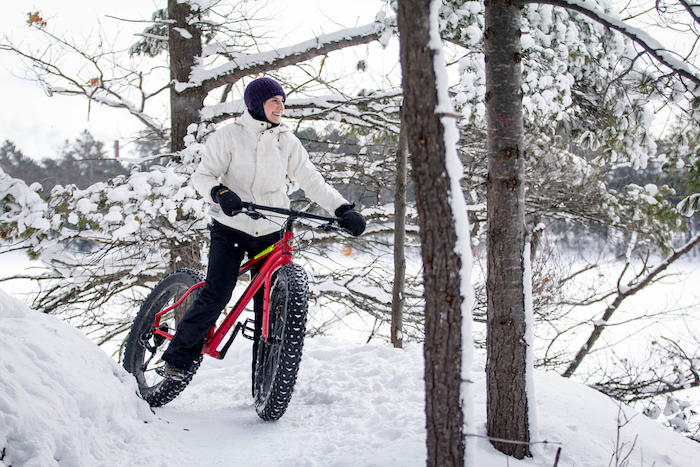 Another great trail on Lake Superior's southern shore is Wolverine Nordic Trails, where the average winter starts early and lasts longer than other parts of the Midwest. It's perfect for cross-country skiing, snowshoeing and fat tire biking.
The trail has five different loops for a combined 10 miles on a natural rolling terrain that is suitable for striders and skaters. The system's four snowshoe trails are marked with red or blue diamonds and ribbons too indicate difficulty. The hardest of these is the Hospital Loop Trail, which is marked with blue. The easiest, the Snowflake Loop Trail, is marked with red.