Summertime at the Shore
Along Lake Michigan's scenic shoreline, you'll find sugar sand beaches and charming towns, each with a character all its own. Go for the beaches, boating, golf, hiking, biking and paddling. Stay for the amazing sunsets.  Ride the dunes.  Tour the towering lighthouses.  Shop fresh and locally sourced produce at u-pick stands and farmers markets.
In Michigan, you're never more than 85 miles from a Great Lake. And the coasts of Lakes Michigan, Huron or Superior all offer experiences uniquely flavored by each lake's personality.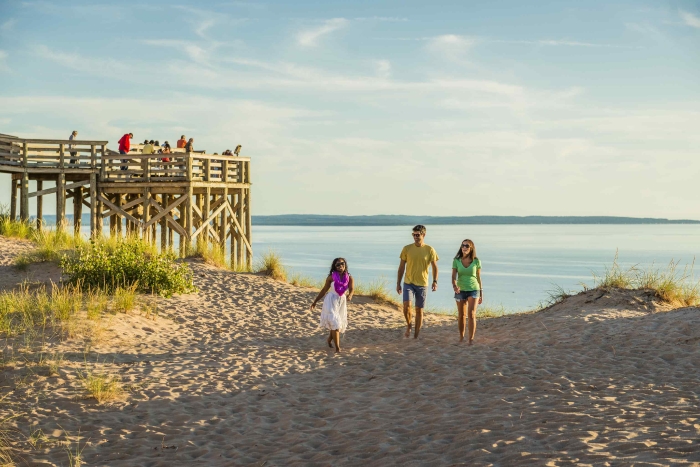 Sleeping Bear Dunes National Lakeshore, Empire | Courtesy Midwest Living Magazine/ Tony Demin
This is the Mitten's glamour side, a line of picturesque shoreline towns strung from the southern state line to the Mackinac Bridge. A drive north blurs into a pleasant rhythm of sandy beaches and ice cream shops, seasoned with inland orchards and wineries. In the marinas, dream boats and runabouts bob at their moorings while seagulls wheel above lighthouses. Charter boats bristling with fishing rods cruise out in the mornings and come home loaded with fresh catches in the afternoons. In multiple spots, massive dunes guard the coast, creating one-of-a-kind scenery and tempting visitors to race down sandy mountains (think twice; the trip up is a lot less fun). Even the highways threading through the region—Red Arrow, Blue Star and M-22—have names that conjure vivid memories for anyone who's driven them.
 
On Water: Lake Michigan
Catch A Wave
Yes, you can surf the Great Lakes. It's more of a thing when winter brings big waves. But even during typical beach weather, Sleeping Bear Surf and Kayak provides lessons near the Empire lighthouse, a few miles south of Sleeping Bear Dunes National Lakeshore. When Lake Michigan is at its calmest, your instructor will give your board a push and cheer when you pop up like you just carved a monster in January. Find calmer waters on rivers traversing the dunes. The Honor Trading Post gets you on the water via canoes, kayaks and tubes for a float down the slow-moving Lower Platte and the much faster Upper Platte. Your float ends inside Sleeping Bear, and the outfitter shuttles your vehicle for you. Or rent canoes and kayaks at Crystal River Outfitters in Glen Arbor for a two- to three-hour paddle on the Crystal River, which flows from Glen Lake to Lake Michigan.
 
Mac Wood's Dunes, Mears |Courtesy Midwest Living Magazine/ John Noltner
Discover Beach Towns
The 400-mile shoreline from New Buffalo to Mackinaw City presents a variety of recreational activities. Three miles of white sandy beach line Warren Dunes State Park. For more of a challenge, tackle the dunes rising 260 feet above the lake. Follow the Red Arrow and Blue Star highways north to Grand Haven State Park. RVs and tent campers line the beach with volleyball courts, grills and fire pits. Seeking solitude? An undeveloped beachfront leads to the entrance of Ludington State Park. Within the park, paddle Lake Michigan or calmer Hamlin Lake. Away from the water, active travelers find 22 miles of hiking trails and 2 miles of biking trails.
 
On Water: Kalamazoo River
Cruise the River
Tours don't get much more mellow than slowly motoring around Saugatuck Harbor in one of 10 vintage boats available at Saugatuck's Retro Boat Rentals. The small fiberglass crafts come outfitted with electric motors, cute names like Flo and a Bluetooth boom box so you can dial in some period-appropriate Dean Martin on your trip.
On Land: Sand Dunes
Kick Up Some Sand
Buggies power their way to the crest of dunes and skid down the other side at Silver Lake State Park near Mears at the only Michigan state park to allow off-road vehicles. The park's 340 football fields' worth of sand attracts dune-riding daredevils. Silver Lake Buggy Rentals hooks you up with certain vehicles that can reach speeds of 45 mph. Novices prefer letting others do the driving of open-air trucks, which carry guests on a guided 40-minute roller-coaster-like ride along the lake—and briefly into the water—at Mac Wood's Dune Rides. There's also plenty to explore away from the hum of engines. Hike among swaths of sugar sand to reach Little Sable Point Lighthouse (worth the 130-step climb). Nearby Silver Lake delivers a refreshing dip.
 
A Day at the Dunes
Hike
Thirteen trails include options such as a stroll to Good Harbor Bay or a 3-mile trek to Sleeping Bear Point, which carries hikers across dunes and through a ghost forest of dead trees to a Lake Michigan overlook.
 
Bike
The paved 16-mile Sleeping Bear Heritage Trail connects Empire and Port Oneida. Make a stop at a working general store and blacksmith shop in the restored 1920s village of Glen Haven.
 
Climb
Run up a 110-foot-high sand dune for views of Glen Lake before tumbling down the Dune Climb. Parking and a picnic area sit at the base of the climb (on M-109, 5 miles north of Empire).  
 
Paddle
The shallow 6-mile Crystal River flows from Glen Lake to Lake Michigan (kayak and canoe rentals in Glen Arbor). The serene Lower Platte flows through Loon Lake before reaching Lake Michigan (rentals at M-22 bridge).