Trendy Shopping Discoveries
Three visionary Michigan designers are ready to show you around town. Score apparel and accessories from their flagship stores, then explore some of their favorite shops, trendy boutiques and eateries. Check out trend-forward apparel, artwork and sculptures. Our trendy shopping hotspots also shine the spotlight on one-of-a-kind retail experiences in Ironwood, Traverse City, Frankenmuth and a few other destinations around the state.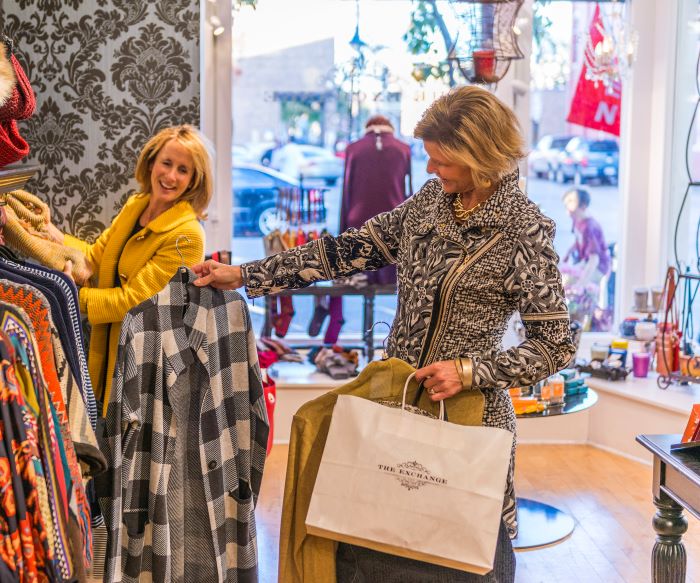 Downtown Traverse City| Photo Courtesy of Traverse City Tourism
Roslyn Karamoko
Détroit is the New Black
Detroit
Stark black-and-white contrasts—with a little gray mixed in for good measure—greet visitors to Détroit is the New Black's HQ on Woodward Avenue. It's all part of the message of duality Roslyn Karamoko hopes to convey in her business. "The idea is to attract individuals from all walks of life and create a harmonious space that bridges those differences," says Roslyn, named Motor City's Hottest Designer by TIME magazine in 2016.
Roslyn arrived in Detroit in 2013, taking an entrepreneurship class that sparked the idea of her
simple yet trend-forward apparel
for all. The name, she says, is "a bit of a double narrative, speaking to the exciting 'cool factor' the city has garnered over recent years, but also recognizing the need for diversity and minority representation in the changing city landscape." (And that accent on the "e" of "Detroit"? A wink to the city's French origins.)
Roslyn features to add another unifying layer to her store. "It's an opportunity to invite the community in, even if only to view the gallery. A luxury retail experience should be accessible to all, not just the privileged."
Roslyn's favorite Detroit stops for…
A memorable meal
"I absolutely love
Blue Nile
, an authentic Ethiopian restaurant in Ferndale. The vegetarian
feast is my fave."
Tapping into culture
"The
Charles H. Wright Museum of African American History
has the most thoughtful exhibitions. It's such a great place to experience the rich black history of the city."
Getting inspiration
"A slow drive around Belle Isle will always bring me back to creativity. I love nature, and
Belle Isle
is just so pure."
Connecting with locals
"
Eastern Market
is a great place to interact with people on winter Saturdays. Red Bull Arts Detroit within the market offers a vibrant scene for art-lovers."
Sue Burns
Baabaazuzu
Lake Leelanau
A husband mistakenly tossing his wife's wool sweaters into the dryer sounds like the start of a timeworn sitcom. In the case of Sue Burns, it was the start of a new business. Rather than chew the hubby out, she cut up the shrunken sweaters, transformed them into jackets and matching hats for her daughters, and started Baabaazuzu in 1993, well before upcycling was a thing. Having lived in Leelanau County for more than 30 years, Sue plans on keeping her now-international business with four full-time employees there. "Though I could produce Baabaazuzu from many other places, I love northern Michigan," she says. "It sure doesn't hurt to be known for the warmest mittens in the Mitten state."
Sue's favorite Leelanau Peninsula stops for…
Local flavor
"Joe's Friendly Tavern in Empire truly has a friendly staff and the best burgers anywhere!"
Cool views
"An excursion to
Glen Arbor's Inspiration Point
is spectacular."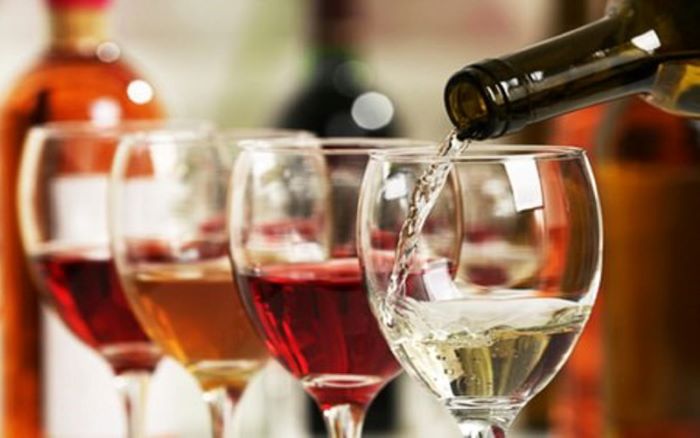 Photo Courtesy Big Rapids Convention & Visitors Bureau
Sipping wine
"While Leelanau County boasts an array of fine wineries, one of my favorites is
Willow Vineyards
in Suttons Bay. It feels like a chateau situated in the south of France— 
so charming!"
Exploring the arts scene
"Each town in the county features top-notch galleries, such as
The Painted Bird
in Suttons Bay,
Two Fish Gallery
in Leland and
The Secret Garden
in Empire."
Jenna Kator
Jenna Kator Collection
Howell
Fancy yourself a rustic tan Charlevoix? How about a black licorice Silver Lake? Jenna Kator's diverse line of handbags—each named after a Michigan locale—was born out of a lost job and a newfound passion. After being laid off from an automotive advertising job in 2008, Jenna pursued what she initially thought impossible and started her dream business: the Jenna Kator Collection. Eleven years later, 50 in-state shops sell her merch, and her first flagship store launched in downtown Howell in early 2019. "One would think you would have to move to New York or Los Angeles to be a handbag designer," the Michigan native says. "I found that isn't the case here. Local shops and customers welcomed me with open arms. I felt their support,
and in turn, it fueled my dreams."
Jenna's favorite Howell stops for…

Shopping local
"
Carriage House Designs
for enchanting gifts,
Heart of Michigan
for all things Michigan,
Sage and Slate
for home goods, and
the Winter Farmers Market
for fresh-baked goods."
Current or classic flicks
"The
Historic Howell Theater
has been refurbished but stays true to its past, and the owner runs it for the love of it."
An evening with friends
"It's always cozy in the basement at speakeasy-esque
2FOG's Pub
. I always order some comfort food along with a craft cocktail."
Connecting with nature
"The
Howell Nature Center
is beautiful. They have resident animals that can't return to the wild."
Shopping List
These destinations deliver one-of-a-kind retail experiences, whether you're looking for a holiday card, a housewarming present or a just-because gift.
Stormy Kromer – Ironwood
The iconic red plaid pull-down earband hat and other rugged apparel are handcrafted in the western edge of the Upper Peninsula. Shop the headquarters' retail store, where factory tours depart weekdays (1:30 p.m.; free) for a behind-the-scenes look at the company that's been making caps since 1903.
Downtown – Holland
Snow-free sidewalks (they're heated!) line West 8th and adjoining side streets. Trendy fashion stores like Frances Jaye and jb and me mingle with national clothing retailers (Chico's, Jos. A. Bank).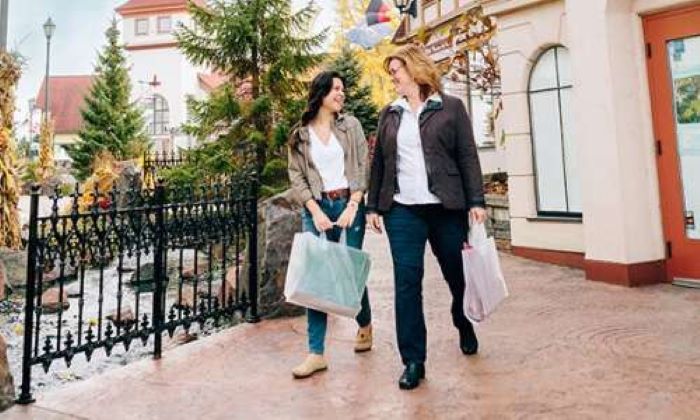 Downtown Frankenmuth | Photo Courtesy of Frankenmuth Convention & Visitors Bureau
Frankenmuth River Place Shops – Frankenmuth
Shop for fashionable apparel, gourmet cupcakes and pet-friendly stores at the German-theme outdoor mall. Three minutes south of
River Place Shops
, at
Bronner's CHRISTmas Wonderland
, be sure to grab a map—the holiday trimmings outpost is about the size of one-and-a-half football fields.
Bridge Street – Charlevoix
Boutique shops like French-inspired
Maison and Jardin
,
The Clothing Company
, and
Ga Ga for kids
line downtown. Find works of art from local and Michigan artists at
Elements Gallery
.
Kerrytown – Ann Arbor
Hometown favorite and one-of-a-kind deli "food experience"
Zingerman's Delicatessen
plus gift stores line the historic district, a mile from the University of Michigan's campus.
Historic Gaslight District – Petoskey
Overlooking Little Traverse Bay, Petoskey's charming downtown attracts with more than 150 shops, eateries and galleries. Home decor and more grace the shelves of
Cutler's
. Find gifts galore at
Grandpa Shorter's
. For a taste of local goodness, sample preserves made from area fruits at
American Spoon
.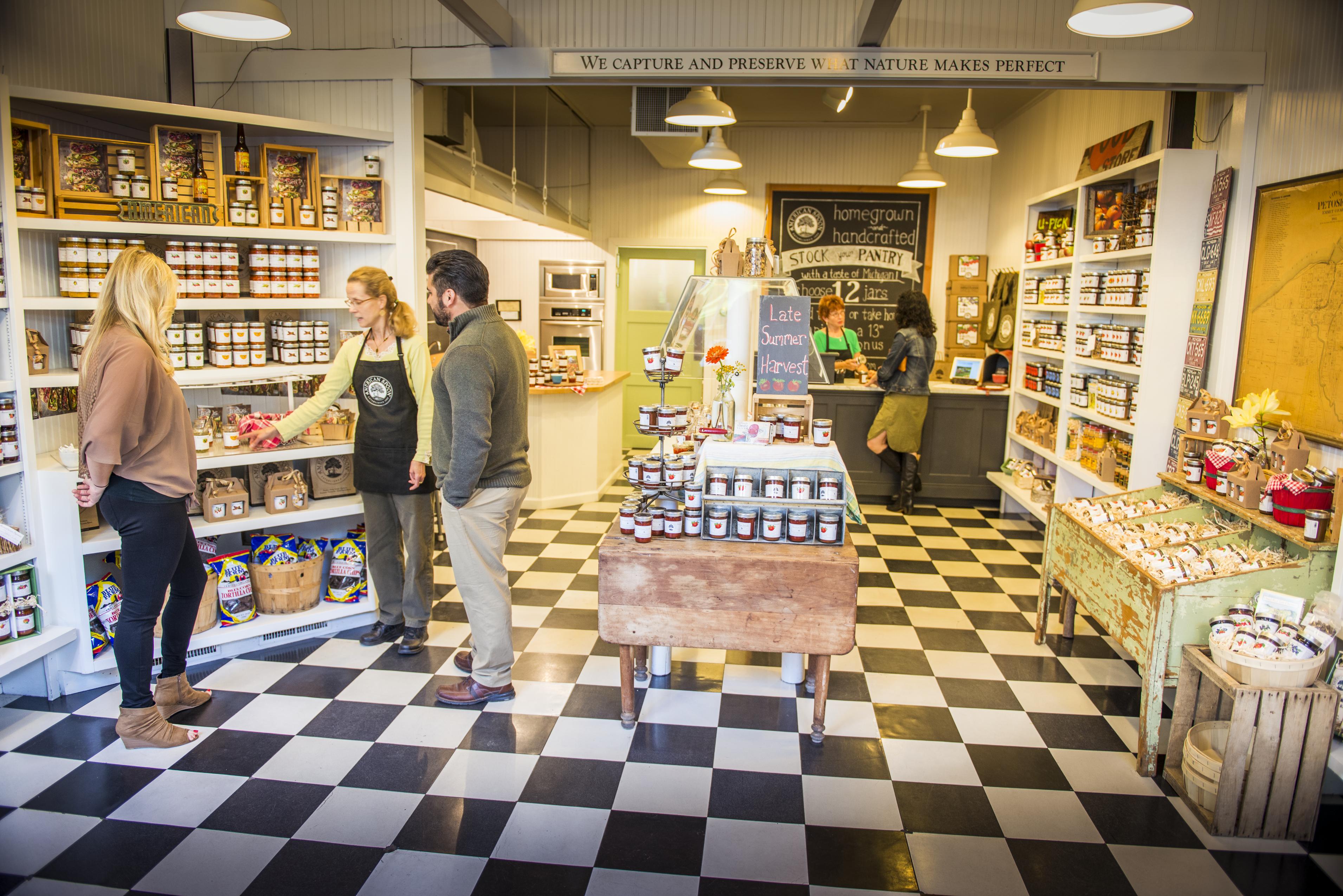 American Spoon | Photo Courtesy MIDWEST LIVING/Tony Demin
The Village at Grand Traverse Commons – Traverse City
Twirl a fork of squid ink fettuccine under stone arches at
Trattoria Stella
. The Italian restaurant, boutiques and an art gallery fill
The Village at Grand Traverse Commons Commons
, built in 1885 as a mental hospital. A two-hour tour details the fascinating history of the property.
---