Fly Fishing in Michigan: Your Ultimate Guide
Michigan has more miles of rivers and lakes to fly fish than anywhere in the United States – it's no wonder Michigan was voted best fly fishing state by Field and Stream and many other magazines! If you're looking to take up this time-honored sport or simply improve your skills, check out our complete guide to fly fishing in Michigan.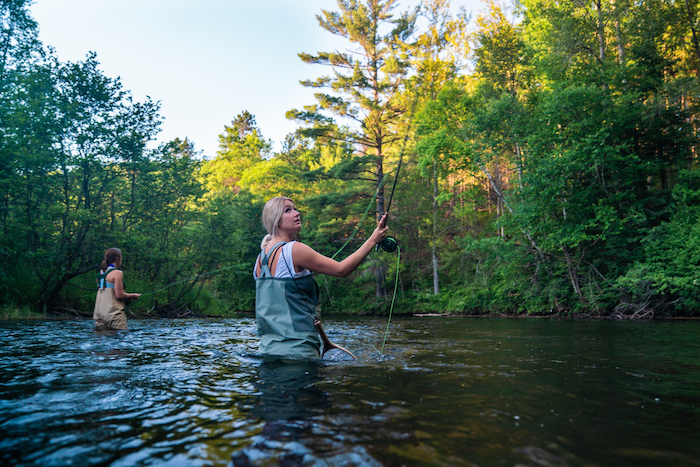 1. Learn the lingo
Sound like a pro when you learn the proper fly fishing lingo before you head out onto the water! Check out this glossary of fly fishing terms below.
Back and Forward Cast: A basic fly fishing cast that can be used when there is plenty of open area behind you and when you need to move your fly further out into the water.
Flies: Any commonly accepted single hook wet and dry flies, streamers and nymphs that are usually tied with feathers and yarn and without spinner, spoon, scoop, lip or any other fish lure or bait attached.
Fly Line: The fishing line you use when fly fishing. It is heavier and thicker than regular fishing line. Some lines are designed to float while others to sink.
Leader: A piece of clear monofilament line called a leader connects the fly line to the fly.
Reel: The item attached to your fly fishing rod that stores extra fly line.
Fly Rod: The equipment you use when fly fishing. Most fly rods are longer and more flexible than spinning rods.
Roll Cast: An advanced fly fishing cast that can be used when there isn't plenty of open area behind you.
Sinking or Wet Flies: These types of flies are made with materials that cause them to sink.
Surface or Dry Flies: These types of flies float on top of the water.
2. Get the right equipment
Basic fly fishing equipment includes a rod, reel, fly line and leader. Instead of using bait, fly anglers use artificial flies. Most fly rods are longer and more flexible than spinning rods. The fly rod must bend enough to cast the fly line without requiring extra work by you to get the fly to where you want it to go. Fly line is heavier and thicker than regular fishing line. It's covered with plastic and the weight of the fly line itself is what propels it forward when you cast. A piece of clear monofilament line called a leader connects the fly line to the fly. The leader is much less visible than the fly line and it also splashes less on the water.
 
The leader is tapered so it's thicker where it attaches to the fly line and thinner where it connects with the fly. The thinner end of the leader is called the tippet. As you tie on new flies the tippet gets shorter and shorter. When this happens you can tie on new tippet material. It's essential to learn some basic knots when learning how to fly fish. A leader is connected to the fly line with a "nail knot" and a length of tippet may be added with a "surgeon's knot" or a "blood knot". The fly is tied onto the end of the leader (or tippet) using an improved clinch knot or another similar knot.
Additional equipment you will need when fly fishing includes something to cut the fly line (such as fingernail clippers), polarized sunglasses so you can see better into the water you are fishing, and a hat with a brim to protect you from the elements. You should include a selection of both dry and wet flies in an easy-to-access container, needle-nose pliers or a hemostat to help remove the hook, and a license valid for the area you are fishing. Also, unless you have a boat you most likely will need to get into the water when fly fishing so waders will be necessary to have as well. And don't forget your sunscreen and bug spray!
 
3. It's all about the flies
When you fly fish you're attempting to fool the fish into thinking your fly is its natural prey. Flies are small, lightweight artificial lures created with thread, feathers and yarn without the use of a spinner, spoon, scoop, lip or plastic. They are too light to cast with spinning tackle. These flies are designed to mimic insects or larva on the water. Some flies will float on top of the water (dry) or will sink below the surface (wet or nymph) to appear similar to items the target fish are feeding on. What you choose and use depends on the fish you are targeting, the time of year, where you are fishing, and what the fish are feeding on. Understanding fly hatches in the area you would like to fish can be very helpful. To find this information, contact local bait shops and guide outposts based on where you'd like to fish.
 
4. Practice your grip and casting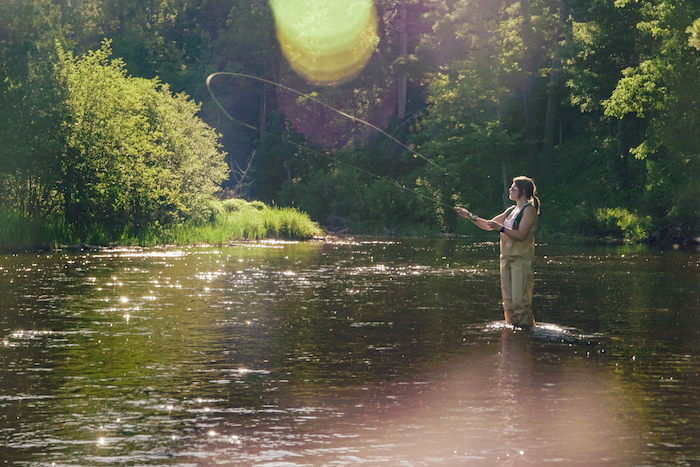 There are numerous casting techniques you can use when you go fly fishing. The important thing to remember is that it takes practice to perfect these casts. To be able to cast properly, it is necessary to properly grip the fly rod and reel and to control the fly fishing line and fly as you cast. The most common, comfortable and effective grip in fly fishing is to extend your thumb along the cork, pointing it toward the tip of the rod. When it comes to casting, there are several types of casting methods including the "back and forward cast" and the "roll cast". The Michigan Department of Natural Resources (DNR) provides excellent diagrams and detailed descriptions of these casts to help you learn and practice.
 
5. Take a class
Looking to build your fly fishing skills? Consider finding a class or workshop in your area that can help. Several state parks and recreation areas throughout Michigan offer "Fly Fishing 101" classes through the "Rec 101" program. This series of intro classes are taught by DNR staff or expert volunteers at no charge to the DNR or the participants. Many other organizations in Michigan offer a variety of activities and events to enhance your fly fishing skills and can be found through the DNR.
6. Know which species to target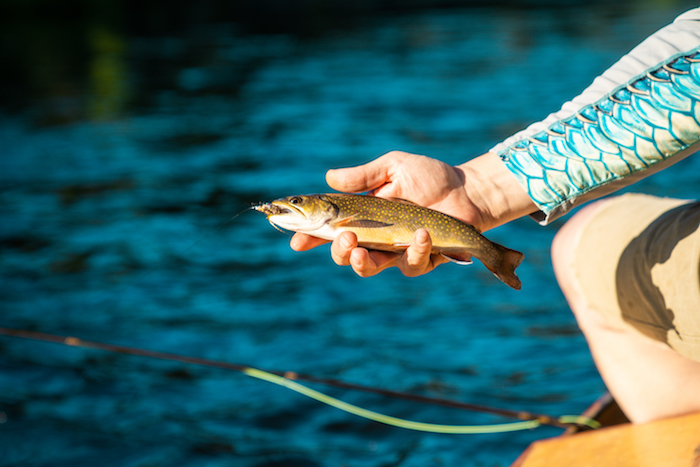 While many people usually think of fly fishing as exclusively targeting trout, when in fact lots of other fish species can be fished with flies! Target large and smallmouth bass in Michigan's lakes using small fish, frogs and crayfish. You can also target sunfish and crappie in lakes using small fish, insects, snails, zooplankton and terrestrials. Don't forget about northern pike and muskellunge, they can be targeted in lakes and some rivers using medium fish.
 
7. Find the holy waters
Michigan is nationally known as a fly fishing mecca for trout and is blessed with roughly 20,000 miles of cold, quality trout waters, of which many have wild, sustaining trout populations. With all these trout streams to choose from, where are the best places for a fly angler to consider fishing for wild trout? The Michigan DNR has compiled a handy spreadsheet with a list of approximately 850 miles of streams for easy fly casting, are shallow enough to wade, and have good to excellent stocks of wild, resident trout. Additionally, these streams produce diverse insect life and good fly hatches, have a reputation for providing quality trout fishing experiences, and have excellent water quality.
 
---