Things to Do in Ludington: The Ultimate Pure Michigan Guide
This lakeside town has a family-friendly vibe, beaches and rolling dunes of soft sugar sand, and a history brought to life in fun ways from a vintage car ferry to inns in which you can live like a lumber baron. Start your own vacation tradition, as you:
1. Climb a Lighthouse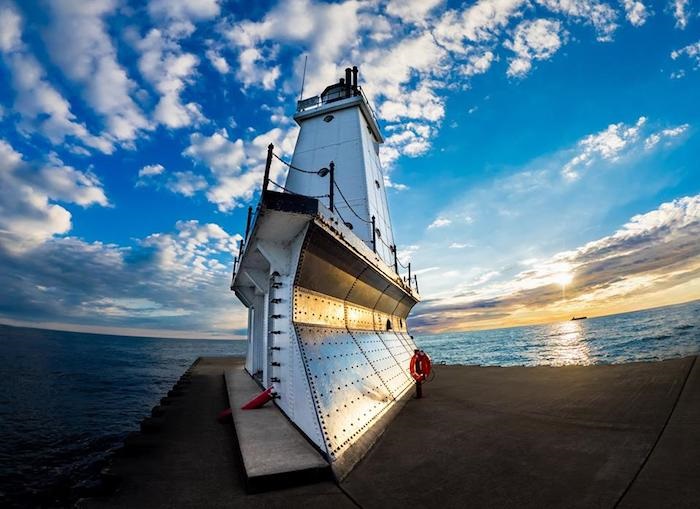 Ludington has two lighthouses accessible for tours and the chance to see for miles from the top of the light tower. The circa-1867 Big Sable Point Lighthouse, with its iconic black and white tower, reaches more than 100 feet tall, and getting there is half the fun. The light is nestled among jack pines at the end of a two-mile trail. The Ludington North Breakwater Light in Stearns Park is also reachable by a half-mile walk on a pier, and the tower is open for summer climbs.
2. Join the Community Beach Bonfire
Michigan's best beach town shows are free—case in point, the community beach bonfire. Here, you don't even need to light your own fire; the city hosts a free bonfire on the beach, accompanied by live music, the fourth Thursday of June, July and August, 8-10 p.m. Just bring a beach chair and blanket and enjoy the show. And there's more: music in the plaza; Friday night life; and movies in the park.
3. Sleep Like a Lumber Baron
You can live the past in one of the many gingerbread-style bed and breakfasts that line the wide parkway called Ludington Avenue. Book the Cartier Mansion Bed and Breakfast and Conference Center for an elegant circa-1905 neoclassical estate stay, the Ludington House Bed and Breakfast once owned by a lumber baron, or sweet Candlelite Inn Bed and Breakfast or just follow the self-guided tour of lumber baron homes and historic sites.
4. Follow the Sculpture Trail
The city's natural beauty attracts artists, and downtown boasts galleries of photographers, painting, and sculptures. You can also follow the Waterfront Park Sculpture Garden through Ludington's past, adjacent to the marina. Spaced among the 5.3-acre park are nine bronze sculptures that depict various aspects of Ludington's history.
5. Beach It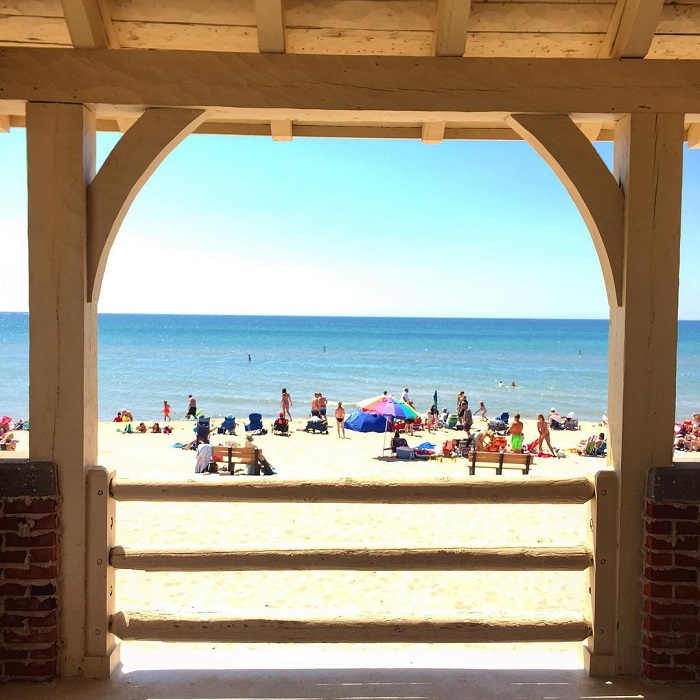 Grab that shovel and pail or just the beach umbrella. Here, you have 28 miles of sandy shoreline to choose from starting with the most visible—Stearns Park Beach right downtown to more private and expansive dune-line options in Ludington State Park.
6. Take a Cruise
Ludington is the home port of this last coal-fire steamship operating in North America, the S.S. Badger. The car ferry crosses Lake Michigan twice a day—to and from Manitowoc, Wisconsin—but special two-hour cruises are themed around pirates, fireworks and the rockin' 50s—the year the Badger first set sail.
7. Charter a Fishing Boat
There are multiple licensed charter boats for hire, but worry not. There'll be plenty of fish since more salmon and trout are caught from this port each year than any other in Michigan.
8. Paddle the Canoe Trail
A numbered water trail is comforting for the directionally challenged, even when it runs along a shoreline. Ludington State Park's easy to follow trail starts at the pretty Hamlin Lake Beach, where you can rent a canoe or kayak, then winds into and along wildlife rich marshes and shorelines.
9. Taste Some Craft Beer
Downtown's Jamesport Brewing Company and its Ludington Bay Brewing Company are favorites for beer made on site and gastropub fare too, and Mitten Bar features Michigan-only craft beer and wine. Ludington also has two popular beer fests: BrrrewFest in January and Suds on the Shore in August.
10. Hike, Bike and Float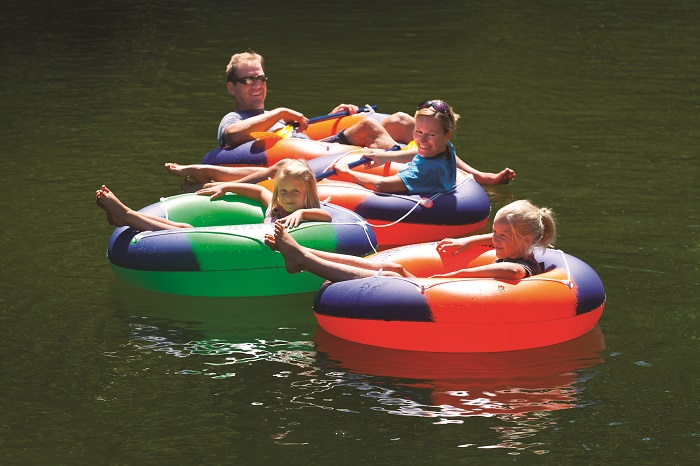 There are 21 miles of hiking trails in Ludington State Park, meandering through wooded forests, over dunes and along shorelines. Mountain bikers love the 10 miles of single-track on Ludington School Forest and Cartier Park trails. Or enjoy the cool waters by paddling or floating in an inner tube!