4 Types of Salmon Fishing in Pure Michigan

Did you know that there are about 146 kinds of fish that can be found in Michigan? Bass, walleye, pike, perch and more fill the waters of the state all year. But for some anglers, salmon is the ultimate prize, which can be found in the tributaries of the Great Lakes virtually all year long.

Take a look below to learn more about four different types of salmon in Michigan as well as tips for catching each kind. For even more tips on catching fish, along with more information on fishing regulations, records and reports, check out the fishing section at Michigan's Department of Natural Resources web site.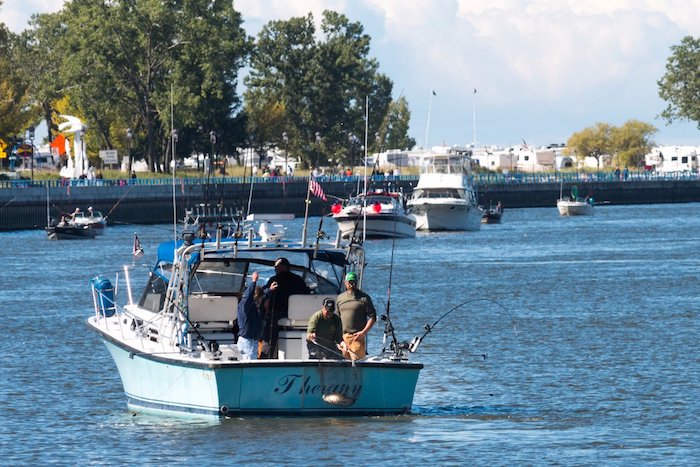 The Chinook are the largest of the Pacific salmon and have been stocked in the Great Lakes for more than 130 years. Because they generally prefer cooler temperatures, Chinook are caught in deeper waters. Chinooks begin their upstream migration in late summer and are usually present in catchable numbers by mid-August. These fish are often called "kings" and with good reason, with anything in excess of 20 pounds being considered a good-size fish. Popular spots to target Chinook in the fall include Lake Michigan piers, streams along the Lake Michigan coast, or inland streams such as the Manistee (Tippy Dam), Pere Marquette and St. Joseph rivers.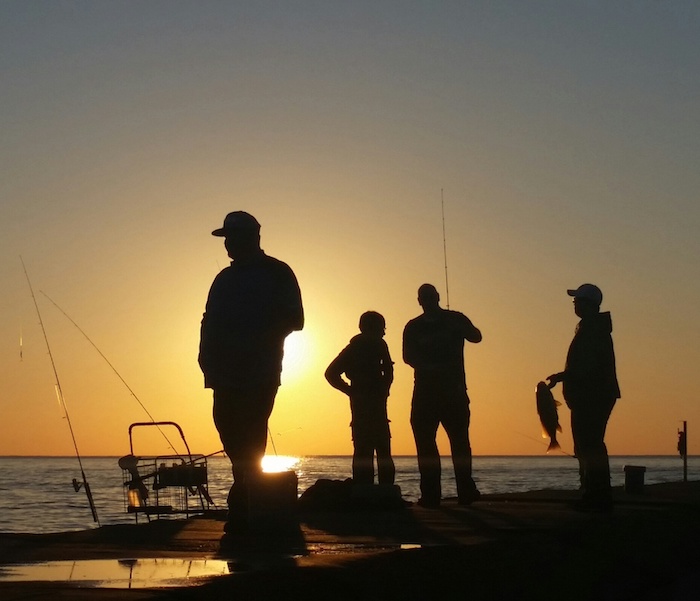 According to the Department of Natural Resources, Coho salmon is "the fish that really started the Great Lakes salmon fishery." This popular species can be caught in Lake Michigan throughout the year, though the best fisheries on the lake's east side occur in early spring and again in late summer and early fall. Other popular seasonal locations for the Coho include the Manistee River in late October, the Platte River in northern Michigan, and migrating fish are caught in the St. Joseph River as late as Christmas. If you're fishing for Coho in the Upper Peninsula, check out the Anna River.

The smallest of the Pacific salmon (the state record for a pink salmon is a little more than eight pounds), pink salmon established themselves in Lake Huron in the 1950s. The best places for pink salmon are the Lake Huron tributaries, in the Carp River in the southeastern Upper Peninsula and the St. Marys River. Fun fact: the pink salmon ordinarily spawn every two years, but enough one and three-year-old salmon spawn to make spawning runs an annual occurrence, with the largest runs occurring during odd-numbered years.

Originally from the North Atlantic Ocean, Atlantic salmon are known for their leaping and fighting ability. There is a fishery in Torch Lake, where fly fishers find success fishing at the mouths of tributaries as they prepare for spawning. However, the primary place for Atlantic salmon fishing is the St. Marys River. The salmon begin spawning in mid-summer and fly fishers pursue the fish in the fast-flowing rapids of the river.

Tips for Reeling in Salmon in Michigan
Chinook Salmon: Many anglers focus on low-light time periods – such as in the morning or in the evening – but others target Chinook after dark with glow-in-the-dark spoons. Artificial bait is what most anglers use to appeal to this species, but salmon eggs are popular as well.
Coho Salmon: You'll find lots of anglers use spinners, spoons, and plugs when fishing for this species.
Pink Salmon: Anglers trolling with downriggers or jigging with spoons catch appreciable numbers or pink salmon in the deeper waters of the St. Marys in the weeks before the fish make their way into the rapids.
Atlantic Salmon: Anglers troll for them using downriggers, though some anglers drift in the current below the rapids, casting with streamers or soft-plastic jerk baits.


Fishing with a Pure Michigan fishing lure in South Haven | Photo Courtesy of Instagram fan olsen_twin
---