The Ultimate List of Upper Peninsula Wineries
Wineries are popping up regularly in Michigan's Upper Peninsula, and sticking around, thanks partly to new cold-hardy grapes specifically designed to thrive during the snowiest Upper Midwest winters. If you're a wine lover, or just someone curious to meet the industrious people growing great wine in not-always-hospitable conditions, carve out a little time to visit a few of these great and often unexpected vineyards and tasting rooms on your next Upper Peninsula vacation.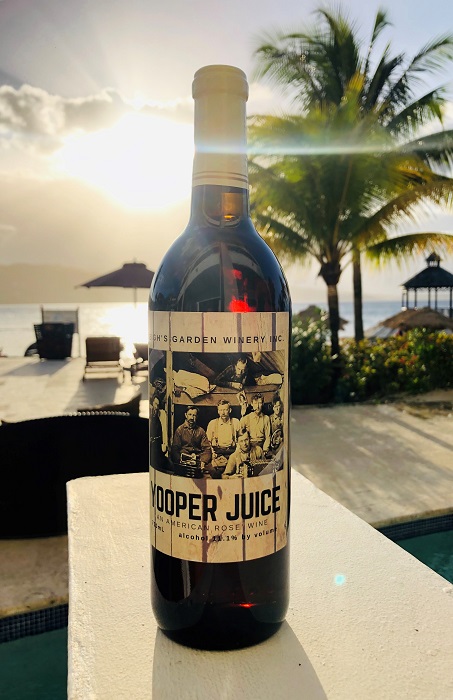 Leigh's hosts a summer artist series featuring the rotating works of local artists. There's art on (and in) the bottle too; many labels feature vintage photographs of Yooper miners and other scenes. Inside, you'll find offerings like "Yooper juice," a rosé, and even rose pedal, made with U.P. Flowers. Cold-climate varietals star in Little Bay de Noc White, a dry wine made from LaCrescent and Prairie Star grapes and Ludington Street Blues, which is actually a red made of Foch and Marquette. Leigh's makes a great stop amid a shopping trip to Escanaba, where it's located inside one of the historic downtown buildings.
Tip: Ask what's in season. They make seasonal wines focused around local fruits including strawberries, plums and blackberries.
 
Not far from Leigh's in Bark River sits Dave and Susie Anthony's estate winery. Northern Sun has been growing grapes for well over a decade, and their 3 1/2-acre vineyard is now home to more than 3,000 vines. A fully equipped below-ground cellar and Mediterranean style cottage tasting room round out this excellent winery.
 
The Mediterranean style cottage tasting room is alone worth the trip, especially for how perfectly it matches the winery's inspiration. The couple was inspired by their old-world Italian neighborhood in the U.P. There, by late afternoon, everyone would retire to someone's wine cellar for a treat of homemade wine, bread, sausage and cheese. They weren't sure they could replicate the growing conditions of Tuscany, even in the so-called banana belt of the U.P., but eventually learned they didn't need to. They worked with researchers at the University of Minnesota, and the cold-hardy varietals they eventually planted have led to multiple awards and return visits from self-described wine snobs.
 
Formerly located on the Garden Peninsula, Threefold Vine Winery relocated to the town of Stephenson, making it a first stop for visitors coming in from Wisconsin and worth the journey from all-parts-Michigan as well. The tasting room is located inside the town's historic bank building, but the grapes, apples and other fruits still come from the family farm.
 
The Greens are vintners and bee keepers both, and their honey meads –fermented and aged in Kentucky bourbon barrels – are among best sellers. They ferment other UP fruit (raspberries, blackberries and cranberries) and add it to honey. Leaders in the local organic food movement, they come by their label "Honestly U.P." with a focus on creating flavors so authentic to region they could not be replicated elsewhere. Local art's for sale on the shelves—pottery, watercolors, photography and hand-made wooden wine stoppers.
Tip: Gift the Christmas Tree Ship table wine for its story and good cause. The wine pays homage to the trees carried from the Upper Peninsula to Chicago more than a century ago, and a portion of each sale goes toward a local history group.
 
When the golf course owned by Garden Bay Winery owners John and Gloria could no longer support itself, they repurposed the course by planting grapes and berries and began making wine in what used to be the club house. Now they've opened a new tasting room in Cooks, which is just a few minutes away from Manistique. The winery's motto is "made with a lot of berries and a lot of love," and the owners are committed to staying small (but good) and keeping customer interactions personal. Their vineyard position allows for the growing of European varietals like Pinot Grigio and Riesling, but the all-time best-seller, says John, remains the "Yooper Stupor" high-alcohol blend of raspberry, strawberry, blueberry and blackberry wine.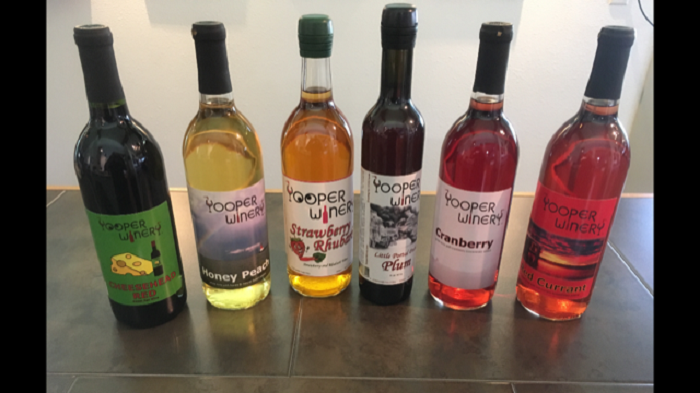 The tasting room by the owners of Garden Bay Winery bottles under its own label, with combined wines of the two vineyards taking home many recent awards including golds each for the blackberry and strawberry wines. Owners buy grapes and "the sweetest fruit" from across the Upper Peninsula and lower Michigan and are expanding into wines made from cold-hardy varietals that grow best nearby. Favorite sellers at this location include the plum, strawberry-rhubarb, strawberry gold, "Lights Out Blackberry," honey peach and cranberry, enjoyed straight or in a spritzer.
 
Just 15 minutes from the Garden Bay Winery location sits Mackinaw Trail Winery's Manistique tasting room. With live music outside in the summer and world-class sangria on hand, this cool little tasting room makes for a fun stop. The unusual marina setting for a tasting room offers a feast for the eyes of unspoiled beaches, for the taste buds grapes crafted into wine using the old-world techniques of the owners' Italian immigrant heritage. Owner/winemaker Ralph Stabile compares the experience of tasting rooms across Michigan's north to those he experienced in Tuscany, where you "know that the people behind the bar pouring your wine made it or own it."
 
This was the Upper Peninsula's first meadery, and the latest evolution focuses on the making of small batches of artisanal meads, some fermented with grape juice, others with apples. At the tasting room location inside a historic Catholic church, you'll also find beeswax candles, natural soaps and bees. They keep 50 to 100 hives at any given time. Tip: Anything you ever wanted to know about mead, ask! Owners know all about mead, a drink with a history dating back 20,000 to 40,000 years such as that the June full moon is called the mead moon since it's the time when hives are most full of honey. It's also the root of the term "honeymoon" since it's the month of lovers.
 
The end of the road, at least in Germfask, means a pretty drive to a tasting room nestled within a region known for its clear streams and wildlife, to a tasting room featuring wines generally in the $13 to $15 a bottle range. The opening year, 2016, featured nine fruit wines with fun names like "Son of a Peach" and "Superior Plum" and five cold-climate grape wines. The raspberry wine is a must-taste, winning awards in its first vintage, as is Happy Sap made from local maple syrup and Tahqua Rush, a fruit wine made from rhubarb picked on local family farms with an added splash of white grape.
Tip: Say hello to Bristol, the winery dog. He's the star of the place, featured on many wine labels.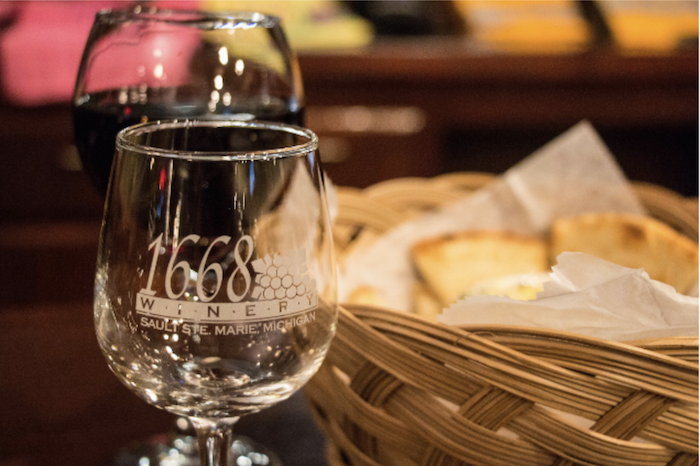 Since the wine growing season is short in Michigan's Upper Peninsula, owners of 1668 Winery and Lockside Brewery (named after the year Sault Ste. Marie was founded) have taken to making wine with grapes from around the world but with distinctly local names and labels. The Laker Red Merlot features pictures of freighters going through the Soo Locks, the City Noir Pinot Noir a scene overlooking the city and International Bridge. Wines are served alongside food with a local link, too, the hand-tossed pizzas featuring meats from a local butcher, the smoked whitefish dip served seasonally when the fish can be locally caught. There's a local artist featured monthly, too, in the art gallery room.
Tip: Head to the deck to watch freighters while sipping, or on bad-weather days, know that you can watch from inside via a live feed mounted on the roof!
 
---