4 Upper Peninsula Kayaking Trips For Exploring the Keweenaw
 
The much acclaimed Pictured Rocks cliffs are often what come to mind to travelers venturing into Michigan's Lake Superior's shores. Yet, Pictured Rocks has grown so much in popularity that we thought we'd let Michigan adventure seekers on one of Michigan's best kept secrets. As the northernmost shoreline of the United States' mainland and with the designated Keweenaw Water Trail encircling it, the Keweenaw Peninsula can be considered a world-class sea kayaking destination.
 
Video courtesy of Keweenaw Adventure Company
Here's how you can discover less well-known waters of the Keweenaw Peninsula and the stunningly scenic paddle trips that Keweenaw Adventure Company can guide you on.
 
A family kayaking tour is a great choice for exploring the sights and history of Keweenaw, and the Keweenaw Adventure Company offers beginner guided kayaking tours that are suited for the whole family. Enjoy a beautiful afternoon or spectacular sunset during an easy introductory Porter's Island paddle—a two-and-a-half-hour trip.Explore ancient rock shoreline, an uninhabited island and learn about the history of the largest, natural harbor on the Keweenaw Peninsula.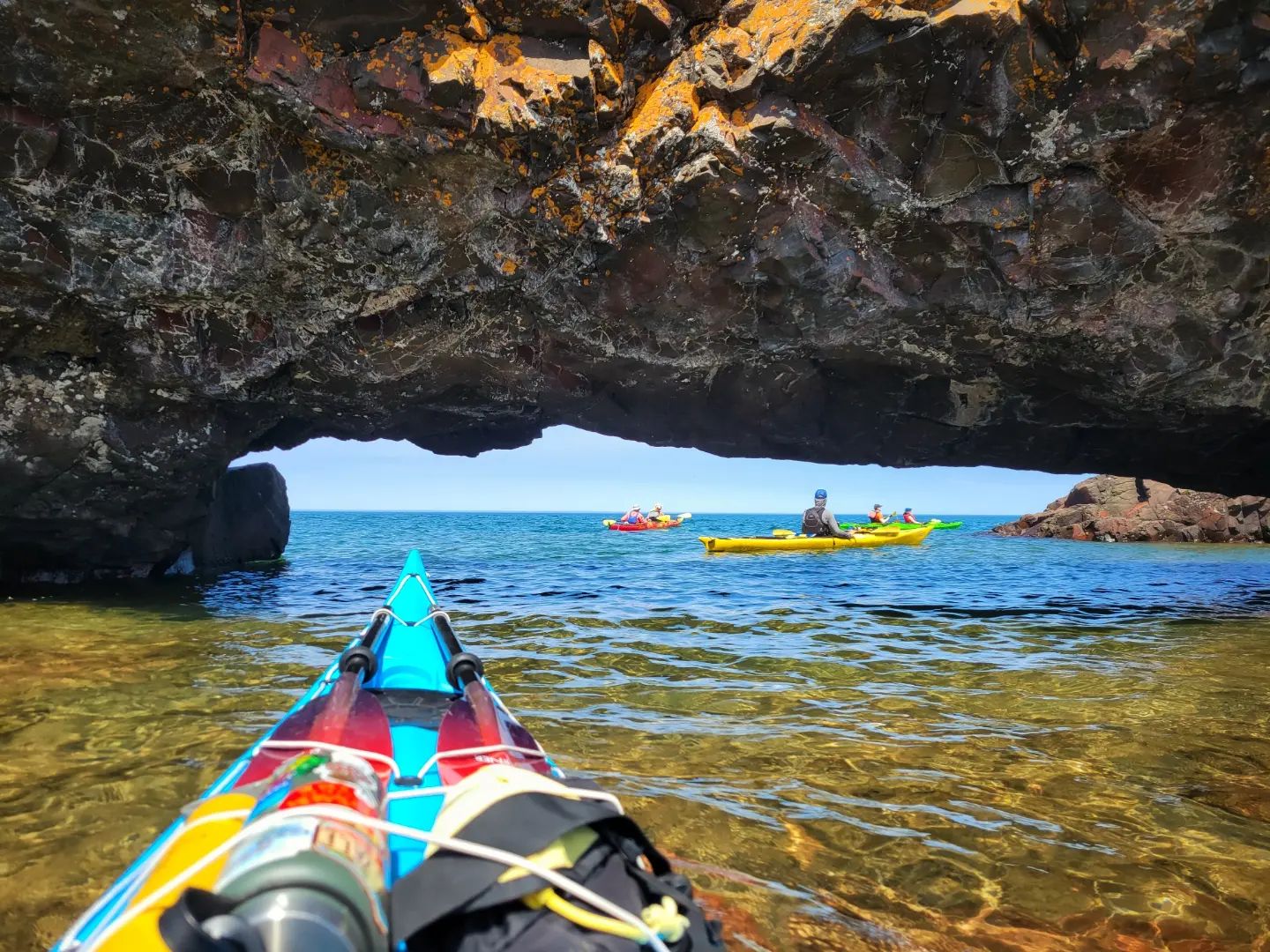 The Keweenaw Peninsula (also known as the Copper Island) has a fascinating geologic story, which is apparent when kayaking the dramatic coastlines and clear blue waters. On our half day Agate Harbor paddle tour, we'll launch from a rocky beach and explore a chain of barrier islands, the "arch rock," finger bays and view the spiny ridgelines that parallel the peninsula.
 
Experience some of the most spectacular scenery and challenge yourself to have a spectacular adventure on our full day Bare Bluff paddle tour. We'll launch from a sandy beach and explore sea caves, arches and sea stacks that rise up like pillars from the water and visit a historic fishery on-route to the mouth of the Montreal River where the discovery of one of the peninsula's most scenic and remote waterfalls awaits us.
 
If you're up for a longer sea kayak adventure, Keweenaw Adventure Company offers multi-day Isle Royale trips, too! Additionally, customers are offered the choice between state-of-the-art single and tandem (two-people) kayaks and are equipped with all gear and equipment, including the use of a wetsuit, which is an essential piece of safety gear that not all outfitters require. Keweenaw Adventure Company provides more than just a guide and outfitter; they become a meaningful and memorable part of your get-away-from-it-all experience!
Tips for What To Bring on a Kayaking Adventure:
A synthetic top such as polyester, polypropylene or capaline. Fleece is great for cooler days or evenings. Cotton should be avoided.
Shorts or a swimsuit that a wetsuit can be slipped over.
Water-shoes or sandals. Participants can choose to go barefoot if they desire. Shoes with laces are not allowed!
Hat for shade when it's sunny. Cap for warmth if it's cool.
Sunglasses and Sunscreen
Drinking Water – a pint is sufficient for most.
Camera – take advantage of the many photo opportunities while on 'da Big Lake!
 
About the Author: Shelby Laubhan is co-owner of the Keweenaw Adventure Company, located in Copper Harbor. She loves adventuring in her own backyard, the purest part of Pure Michigan!
 
---